According to census data, 2.5 million people live in Brooklyn. Marty Markowitz, president of the borough, estimates he's shaken hands with almost half of them.
"I would be surprised if it was less than a million," he said when I met him in early March at his office in Brooklyn Borough Hall. "Between all of the things — the meetings, the functions, the concerts, the graduations, the campaigning, the everyday whatever — up here, over the course of 35 years, that's a lot of time."
Given his druthers, Markowitz would be borough president for the rest of his life. But term limits (tossed aside by the City Council in 2008, then reinstated two years later) preclude him from running again this fall. Though he considered a bid for the mayorship, he ultimately decided against it. Instead, after more than three decades in office, including twelve years as borough president, Markowitz is retiring from public life.
As he prepares to leave office, it seems he's left most Brooklynites with at least one Marty Markowitz story. At a brunch last month celebrating volunteers for the Prospect Park Alliance, which helps maintain and restore the park, I met a woman named Ida Love. She moved to Brooklyn in February 2002, just a month after Markowitz's initial inauguration as borough president. "I … love Marty Markowitz," she said, smiling a little bashfully. "He's such a big personality."
She went on to recall the first time she heard of Markowitz — it was one of his more famous stunts, during the Northeast Blackout of August 2003. Markowitz stood at the base of the Brooklyn Bridge with a megaphone, greeting commuters who had been forced to walk from their jobs in Manhattan home to the borough and personally handing out bottles of water.
"I was like, 'Who is this guy?'" Love remembers. "Oh, my God, I think I might have teared up a little. I was so tired, and it was so nice. … I just remember how big and bright and happy he was in welcoming us back to Brooklyn, telling us we were almost home."
"I think he's wonderful," agreed Hyacinth Constance, another volunteer. "He's totally for Brooklyn. … He's around. He doesn't sort of appear — you get the fifteen-minute speech or whatever — and then disappear. No, Marty's not like that."
But that's actually more or less exactly what Markowitz had done. By the time I spoke to Constance, after all the speeches had been completed and the awards distributed, Markowitz had long since slipped out and taken off in a chauffeured black car.
It's a useful trait for a politician to have — the ability to make you think he's still in the room even long after he's left it. Markowitz is like that, and you get the impression he knows it. In his decades as a public servant, he has made an art of playing his image to his advantage — even if it is just that, image.
(To be fair, one possible explanation for his departure: Markowitz devoted part of his speech to praising the weight-loss efforts of Brooklyn Parks Chief of Staff Marty Maher and expressing his desire to follow in Maher's footsteps — after which it might have seemed disingenuous to fill up on fried chicken and quiche, as the volunteers were doing. And, as Alliance President Emily Lloyd noted, he did personally sign all the volunteer-recognition certificates: "He said to me he feels that's so important. You all give so much that he's not going to give it to some machine to sign.")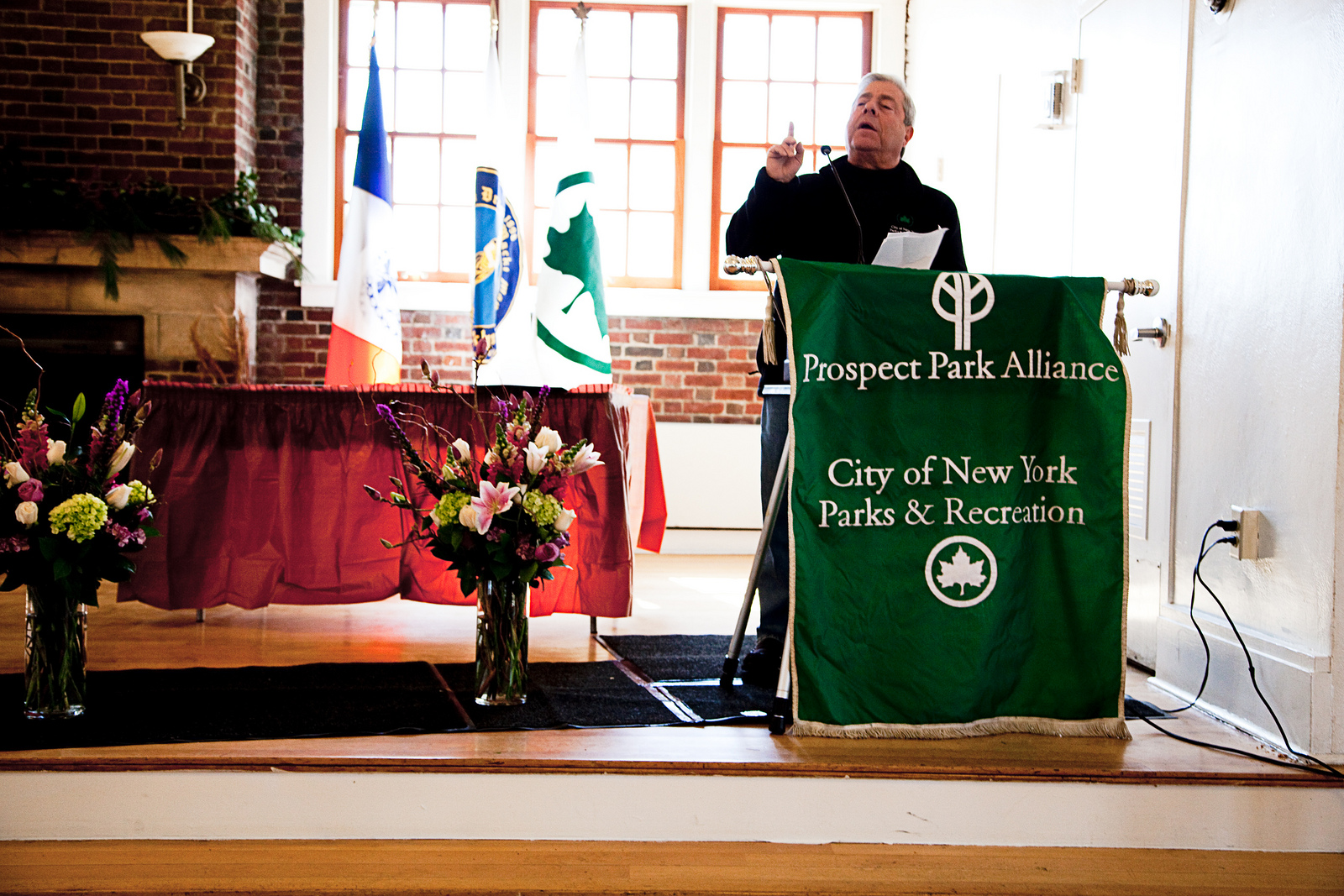 Marty Markowitz is invariably described as Brooklyn's most ardent supporter and tireless cheerleader — which is hard to dispute. From there, though, descriptions diverge. Because of his outsized, gregarious personality and his inclination toward attention-grabbing stunts — like the viral video his office made as an open letter to Steve Jobs, asking him to bring an Apple store to Brooklyn, or the signs he installed on bridges and parkways into Brooklyn emblazoned with slogans like "Brooklyn's in the House!" "Welcome to Brooklyn — Name It, We Got It," and, upon exiting the borough, "Leaving Brooklyn — Oy Vey!" or "Leaving Brooklyn — Fuhgeddaboudit" — Markowitz has a reputation as a kind of merry prankster or lovable goober.
After spending time with Markowitz, though, I'm not convinced. I think he knows exactly how well the goofy-uncle bit plays among the average civilian Brooklynite — the borough's Ida Loves and Hyacinth Constances, who aren't especially concerned with politics and don't want anything more from their borough president than a bottle of water during a blackout or a smile and a handshake at a city event — and so he's happy to play up the shtick.
■
The job of the borough president, or Beep, is a vestige of another era in city politics, and most people have a limited sense of what a borough president actually does. Established after the 1898 consolidation of New York City, the office, for much of its history, brought with it considerable power. The five borough presidents sat on the city's Board of Estimate — along with the mayor, comptroller, and City Council president — and, in that capacity, had significant influence over both the city's budget, which the board controlled, and land-use and zoning decisions, which it oversaw.
But in 1989, the Supreme Court found the structure of the Board of Estimate — which afforded the same voting power to Staten Island (the smallest borough by population) as to Brooklyn (the largest) — to be unconstitutional, a violation of the Equal Protection Clause of the Fourteenth Amendment. Two years later, the board was abolished, drastically reducing the borough presidents' measurable influence.
Because the modern borough president has a small budget (just over $5 million a year) and little legislative power, another common view of Marty Markowitz is that he is a figurehead with no real authority. Markowitz himself acknowledges there's some truth to that characterization. He makes frequent reference, for example, to the limited finances available to him. The relationship between his office and the mayor's, he explained, is a tricky one: "The budget of the borough presidents is directly tied to the generosity, or lack of, with the mayor, and with the City Council and its speaker. So to both the speaker and the mayor, we're an unwanted dependent."
The borough president maintains a variety of advisory and advocacy positions, however; and given his ability to be both perpetually effusive and occasionally quite persuasive, the Brooklyn borough presidency might be the single job in the world to which Marty Markowitz is best suited. Markowitz has proven to be a master at managing — and in some cases, testing — the powers the presidency does make available to him.
"A majority that I set out to do, I achieved," Markowitz said in his office last month. "That doesn't mean that everything I set out to do has been achieved, not at all. Nor does it mean that those things that I think I had a role in achieving, that it's been uniformly celebrated."
That last bit is something of an understatement, considering that Markowitz's signal achievement happens to be perhaps the most ambitious and controversial development project in the history of Brooklyn: the $4.9 billion Atlantic Yards project at the confluence of Prospect Heights, Park Slope, and Fort Greene, which incorporates sixteen high-rise commercial and residential buildings along with the Barclays Center, the sports arena that's home to the Brooklyn Nets — the first major-league sports team to call Brooklyn home in more than half a century.
Markowitz's current pet passion is the idea of bringing an electronics manufacturer to Brooklyn — a factory. "I don't see anything other than manufacturing; we have to make stuff," he told me. "And I have tried. We have very meager resources here in Borough Hall to really be the agency that goes out aggressively around the world, to Samsung, to LH, to Panasonic—"
Here, his press secretary, a wiry and very polite young man named John Hill, broke in. "LG."
"To who?" Markowitz asked.
"LG," Hill repeated.
"LG, I mean, I'm sorry," Markowitz continued. "LG, to Apple and others, to make a pitch, to look at Brooklyn as a home for manufacturing and make it economically feasible."
The moment is pure Markowitz: he acknowledges the relative impotence of his office even as he's enthusiastically promoting what seems like a pie-in-the-sky idea. The verbal fumble, too, is typical for him — his speech is not especially deliberate, which might explain what many Brooklynites find so appealingly authentic about him. But focus too much on the slip of the tongue and you might lose sight of what he's actually suggesting. Marty Markowitz wants to bring an electronics factory to Brooklyn. Sure, chances are good it will never happen — but twelve years ago, chances were good that Brooklyn would never have a major-league sports team or an arena in which to house one.
Tonight, the Nets play the Bulls. At home.
■
Marty Markowitz was born in Crown Heights on Valentine's Day, 1945, and he describes his childhood as "the last innocent era in Brooklyn, no question about it." He reminisces about "stickball, stoop ball, skelly," plus the scooters he and his friends made from milk cartons and roller-skate wheels.
Until his death when Marty was nine, Markowitz's father, Robert, worked six days a week at the kosher delicatessen downstairs from the family's apartment and spent the other day working as a shipping clerk. The family was working class; they didn't want for the necessities — a refrigerator, a stove, and occasional Brooklyn Dodgers tickets — but Markowitz remembers no vacations. After Robert's death, Marty moved with his mother and sisters into public housing, living on his father's Social Security survivor's benefits — though he is quick to add that public housing in that era was markedly different from what it is now.
"The public housing in the fifties was New York's pride," he said. "It was the best housing, it really was, for poverty and people of low income and working-class. It was well maintained; crime rates were very, very low. It's not like it is today, where in some buildings it's drugs, crime, filth, lack of repairs." He cites Goldman-Sachs CEO Lloyd Blankfein as another product of the public-housing system, and confirms that his support of basic social programs was probably informed in part by the experiences of his adolescence.
Throughout middle and high school, Markowitz was involved in student government; he says he was sixteen years old when he decided he wanted to be borough president, after his George W. Wingate High School class took a trip to Borough Hall. "When I went to this building, whatever, I knew I was not going to be President of the United States," he said. "I was more interested in the Brooklyn borough presidency. Because to me, it was my world, and it still is."
After Wingate, Markowitz enrolled at Brooklyn College as a night student. He spent nine years there, six of them as student-body president, before graduating in 1970 with a degree in political science. To pay for his education, he worked a variety of jobs, including one that involved traveling to supermarkets to set up cigarette displays for P. Lorillard, the oldest tobacco company in the United States. "Of course, that's before any of us knew that cigarettes were bad," he clarified. "I used to smoke three packs a day."
He also worked as a salesman for the pharmaceutical company Bristol-Myers and in placement at two personnel agencies, where he helped lawyers and business executives find better jobs. (Incidentally, for an espresso shot of Markowitz's Brooklyn accent, listen to him say the phrase "corporate marketing departments.")
In 1971, when he was 26, Markowitz founded the Flatbush Tenants Council, which is still in operation as Brooklyn Housing and Family Services and has grown, according to Markowitz's official bio, into New York State's largest organization advocating on behalf of tenants. In 1973, he quit his day job to run for the City Council, and lost; it wasn't until 1978, when he was elected to the State Senate, that his political career began in earnest.
Other than an unsuccessful 1985 challenge to Borough President Howard Golden, Markowitz's 23-year tenure in the State Senate was relatively quiet. As a state senator, representing Flatbush and some of Park Slope, he organized concerts; "fixed a lot of potholes, pruned a lot of trees," as then-executive director of the Brooklyn Democratic Party Jeffrey C. Feldman told the Times in 1996; and, arguably, bided his time until he could claim the job he'd wanted since he was sixteen.
■
In his dozen years as borough president, Markowitz has strived to become the closest thing possible to a living embodiment of the borough. Everything about Marty Markowitz is also about Brooklyn; his genuine, abiding love for the borough is a fact acknowledged even by some of his harshest critics. He leaves as infrequently as he possibly can; he met his wife, Jamie Snow, on Manhattan Beach, and after they were married at the Brooklyn Botanic Garden in 1999, their honeymoon started at the Brooklyn Marriott.
His voice, especially, is Brooklyn: heavy, "Dem Bums" Brooklyn. When he talks about how, as a kid, Manhattan seemed like another world to him, he pronounces "Broadway" with the emphasis on the second syllable. Most of the time, he carries in his pocket a bunch of "Brooklyn" lapel pins identical to the one he often wears; after our second interview, he shook my hand and gave me two of them.
Markowitz calls Brooklyn "this place I love," "my world," "an international brand," "God's chosen country," "the coolest place on Earth." He frequently refers to "Brooklyn, USA," and the "Republic of Brooklyn," and you get the sense that if he were to recreate that famous Saul Steinberg New Yorker cover, Manhattan would be a dot and the rest of the world a speck. He takes as a matter of course that the way Brooklynites do things is the best way to do them; that Brooklyn has the best amenities, the best food, the best people.
His boosting ranges from enthusiastic to hyperbolic, and he draws from a bottomless well of superlatives. On March 10, he issued a proclamation nearly as large as his torso — Markowitz is very, very fond of issuing proclamations — at an Azerbaijan Society of America celebration of Nowruz, the Persian New Year, at Borough Hall. In a short speech beforehand, he declared Brooklyn "the perfect place to celebrate the new year" — discounting, presumably, the whole of the Iranian cultural continent.
"It is the envy of urban parks in America," Markowitz said of Prospect Park during his comments at the volunteers' brunch. "It is the park of urban America."
■
Nowhere is this monomaniacal devotion to Brooklyn more evident than in the contents of Markowitz's office, which most closely resembles a well-curated novelty shop. It is not messy, exactly, but every available surface is packed with tchotchkes and knickknacks from every corner of the borough, from dozens of baseball caps and an impressive collection of flags to multiple steel drums, a tiny piano on the windowsill, countless figurines, stuffed animals, and multiple hard hats. Markowitz's desk overflows with copies of the newsletter Borough Hall produces, Brooklyn!! ("Where New York City Begins").
Brooklyn!! offers ample support for Markowitz's personal mythology: that he is Brooklyn. It might as well be called Marty!!, given its focus on the Beep's ubiquity in the borough. In a recent issue, a feature called "Marty on the Block" shows the borough president at just about any event you can imagine: there's Marty conducting the Brooklyn Conservatory Community Orchestra; Marty, a clock around his neck, hanging with Flavor Flav; Marty opening a Chock Full o' Nuts. If that's not enough, there's also "Marty on the Block II," plus "Brooklyn Beat," which could very well be called "Marty on the Block III." One item in the latter feature shows Marty, soon after the passage of the Marriage Equality Act, with two gay newlyweds. ("Marty just happened to meet the couple outside the Brooklyn Municipal Building after their nuptials.")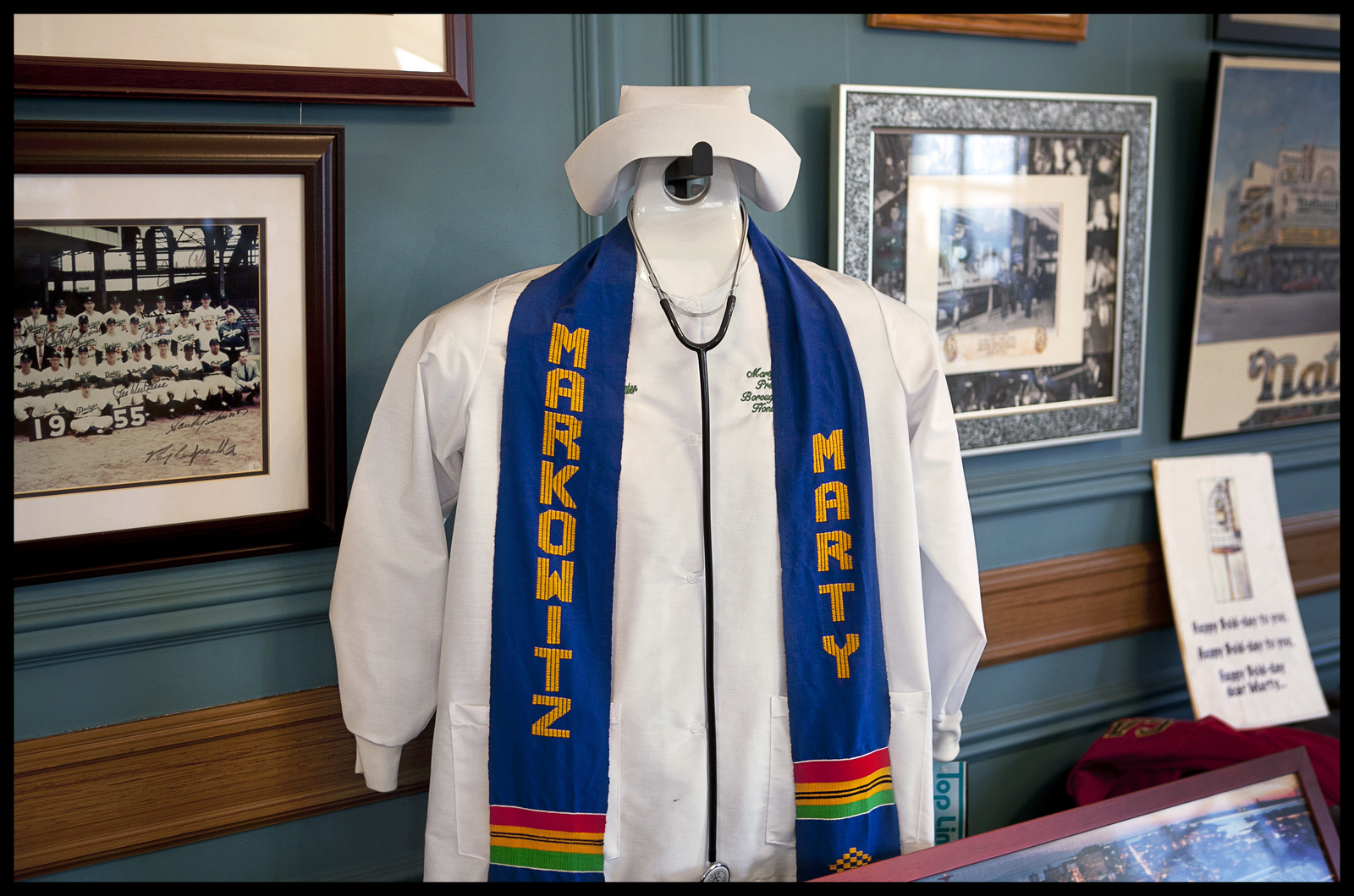 Tucked in on Markowitz's desk among the piles of papers and copies of Brooklyn!!, there's even a wind-up set of chattering teeth. As he's so fond of saying of the borough, the guy has everything. One thing that proves difficult to find, however, is a relic of Markowitz himself: a bobblehead statuette of him produced by the Brooklyn Cyclones in summer 2007, as part of the team's "Legends of Brooklyn" promotion.
"I hated it," Markowitz said when I asked, while his press secretary, John Hill, went off in search of one. "I looked like" — here, the slightest pause, to maximize the effect — "Newt Ging-a-rich."
Hill returned with a bobblehead, which Markowitz held up next to his face. "I don't understand how they could have made me look like a white Anglo-Saxon Protestant. This face — I don't."
The execution of the bobblehead was, yes, something of a failure — Markowitz is right that it looks more like Newt Gingrich, or maybe the president of a southern university, than it does like him. But he probably wouldn't have been satisfied if it were the spitting image of him, either. For someone who seems to live in front of the camera, Markowitz's sensitivity about his looks is surprising, even a little touching. "I don't like to look at myself in the paper, and when I'm on TV, I never watch it," he said. "No matter how it comes out, I'm never going to be happy with the way I see myself."
Even while sitting for the portraits for this article, Markowitz seemed uncomfortable — clearly, the constant posing is an aspect of public life he won't miss. He frequently makes self-deprecating reference to his height in public speeches, but one gets the sense it's a move made in self-defense: if he makes the joke, you can't.
There is even a little part of Markowitz that wants to cite his looks, along with his age, as the reason he is sometimes misrepresented, in his opinion, by the media. "I tend to think it's because, and I don't blame it on anything, but someone who's younger and tall and thin as opposed to shorter and older and chubbier — I just think there's a way for these younger reporters to be able to frame it in terms of the fact that I'm somewhat older than them," he said.
■
Markowitz is given to getting defensive when criticized — and his opponents have found plenty to criticize. For example, bicycling advocates argue his opposition to some Brooklyn bike lanes reflects an outmoded vision of Brooklyn transportation. "Markowitz' [sic] stance seems a bit out of whack with neighborhoods like Williamsburg, where you can't throw a Pabst can without hitting a bicyclist," offered The Huffington Post in 2011. (Markowitz, for his part, calls it "my perfect right to disagree with that as a public policy, the proliferation of bicycle lanes.")
Others take issue with the influence Markowitz's network of nonprofit agencies exercises in borough politics, as reported in The New York Times a year and a half ago, or with the travel expenses he was fined by the city's Conflicts of Interest Board for accepting so that his wife could travel overseas with him on three occasions. Still others might cite what they feel is a fundamental lack of gravity in Markowitz's character, coupled with an unwillingness to entertain dissent in a meaningful way.
"I don't think, especially as borough president, that he was a particularly serious person," said Daniel Goldstein, the co-founder of Develop Don't Destroy Brooklyn, the most prominent community coalition formed in opposition to the Atlantic Yards project. "I've heard enough stories, seen enough, to know that he had disdain for people who took different views than he did. And that's really problematic, for a politician. You can disagree and all, but you need to take serious people seriously."
When people call Marty Markowitz a cheerleader — and nearly everyone uses that exact word — at least some of them mean it in a complimentary sense; and Markowitz has no issue with that. "As mayor or as a borough president," he said, "basically, cheerleading is an important aspect of the job. Now, the mayor is maybe a little more serious than I am in terms of his public face, but he also does his share of cheerleading for the city."
There are worse things to be called than cheerleader; and Markowitz has been called a lot of them, too. On the evening of May 25, 2011, an anonymous editor changed the first line of Markowitz's Wikipedia page to read, "Marty Markowitz (born February 14, 1945) is the Borough Clown-in-Chief of Brooklyn, New York City, the most populous borough in New York City with nearly 2.6 million residents."
The citation for "Clown-in-Chief" linked to a blog post by Gothamist's John Del Signore, titled "Markowitz Calls for Bike Lanes to be Relocated to the Sky," in which Del Signore used that appellation. Markowitz had suggested to The Brooklyn Paper that a good solution to the bike-lane debate would be to elevate the lanes — "a joke," wrote Del Signore, "like pretty much everything else that comes out of his mouth." (Del Signore is a consistently creative, if maybe a little harsh, chronicler of Markowitz, whom he has also described as an "inveterate corn dog," "President of Mixed Messages," "incorrigible cornball," and "the white dude on the right.")
"Obviously, nobody wants to be thought of as a clown," Markowitz said. "Rather than debate me on the need for bicycle lanes, and whether or not it's a viable use of our city streets, they would rather poke fun at me and minimize me. That's what it's become today — it's no longer serious debate."
It's worth noting, though, that his own publicity stunts haven't always raised the level of discourse: he, after all, is the one who, in a nod to the bike-lane debate, arrived at his 2011 State of the Borough address on a tricycle.
■
Markowitz's most polarizing endeavor, though — the one for which he'll most be remembered, and the one for which he has taken the most heat — is undoubtedly the Atlantic Yards project.
The story of the Brooklyn Nets, the Barclays Center, and Atlantic Yards starts long before Markowitz's tenure began. To hear him tell it, the departure of the Brooklyn Dodgers for Los Angeles in 1957 is one of the fundamental tragedies of his childhood; and bringing a major-league team to Brooklyn became a political idée fixe early on. An August 1985 Times report on a debate between Markowitz, Howard Golden, and two other Democratic borough-presidential candidates describes Markowitz's fixation on the topic: "Mr. Markowitz, who said he was born 'in the shadow of Ebbets Field,' referred to the lack of a sports stadium and cable television in Brooklyn."
"When I ran for office in 2000 and 2001, I said that if Brooklynites elect me, I'm going to work on bringing a national team to Brooklyn," Markowitz said last month in his office, bringing his hand down hard on his desk for emphasis. "Everyone made fun of me; the local press called me a buffoon and an asshole and worse, 'another clown,' whatever, 'It'll never happen' — and then, bingo, it happened."
Indeed, the Barclays Center opened, with a sold-out Jay-Z concert, on September 28, 2012. The holiday card issued by Markowitz's office last year gleefully celebrated the events held there in its first three months, including the Nets' first games and two sold-out Barbra Streisand concerts, her first performances in the borough since she was eight years old. "Barclays here, Streisand's belting / Fans will cheer, hearts are melting / The Nets and Jay-Z, what a team they will be / Brooklyn is a Winter Wonderland," crowed the holiday-carol parody included with the card.
But, like the man himself, it's not quite that simple. The Atlantic Yards saga will go on long after Markowitz's final term is over — though the Barclays Center has been open since the fall, construction has begun on only one of the planned sixteen high-rise buildings in the complex. The build-out of the rest of the project, initially planned on a ten-year schedule, is currently projected to take 25 years. The project's developer, Forest City Ratner, has blamed the economy, and a slew of lawsuits in which it has been named, for the delays; meanwhile, the development has already radically transformed the area.
Markowitz is quick, and pleased, to take credit for Atlantic Yards. When I asked whether he thought the project, or something like it, might still have happened in this era in Brooklyn without his influence, he jumped in mid-question: "No. No. No. No. Absolutely not. Without a question. No question. Never," he said. "This project would never have happened, had I not been the catalyst."
Many of Markowitz's critics dispute this claim. "I think whether the project got done or not didn't hinge on Marty Markowitz at all," Daniel Goldstein, of DDDB, said. "It hinged on Mayor Bloomberg and a series of governors and Forest City Ratner."
Forest City Ratner has long had an expansive presence in downtown Brooklyn and the Prospect Heights area: among the company's projects in the 1990s and early 2000s were the billion-dollar, nine-building MetroTech Center and the Atlantic Center shopping malls near the Williamsburgh Savings Bank Tower. When Markowitz heard the future of the New Jersey Nets was uncertain, he says, he went straight to the head of Forest City Ratner, developer Bruce Ratner, to discuss buying the team and building an arena.
"My initial conversations with him were not met with enthusiasm," Markowitz said. "He said to me, 'Marty, I don't build arenas, and I don't buy teams. I build commercial; I build office towers and shopping malls. I don't build residential, and I certainly don't buy teams. I'm not even into sports.' And I explained to him, 'Neither am I.' He was not a jock; I'm not a jock. He wasn't into basketball; I'm not into basketball, believe me."
But, according to Markowitz, he kept at it; and eventually his haranguing paid off. Bruce Ratner bought the Nets in 2004, for $300 million. "And then the rest is history," Markowitz said.
■
To say the rest is history, though, is to elide quite a bit. The opposition to the $4.9 billion, 22-acre Atlantic Yards project was swift, wide-ranging, often very well considered, and in some areas so obvious as to be dumbfounding. Perhaps most significantly for opponents of the project, eminent domain was employed by the Empire State Development Corporation, a public authority, on behalf of Forest City Ratner to displace residents and businesses in buildings that were demolished to make way for the project.
"To me, it sounded like something from outer space was going to be plunked down in the middle of a beautiful community," said Lucy Koteen, an activist and former president of the progressive political club Central Brooklyn Independent Democrats, who first got involved in local politics because of Atlantic Yards. "Those buildings that they demolished had been recently renovated and were fully occupied. There was a growing and prosperous, developing community." According to a report from the New York Daily News, 209 residents were offered relocation agreements or cash buyouts.
There were at least two elements of the project that were supposed to mitigate the harm done by the exercise of eminent domain: first, the project was promoted as a source of good jobs for local residents; and second, the plans for the non-arena buildings included the construction of 2,250 designated affordable apartments, half of the total 4,500 units the project comprised.
In fact, according to critics, neither has materialized. Forest City Ratner's initial estimate that the Atlantic Yards project would create 15,000 jobs over the course of ten years has so far been wildly optimistic: in January 2011, The Wall Street Journal reported that fewer than a thousand jobs had been created, nearly two years after the project broke ground. Only about 100 of these jobs, mostly low-paying positions in retail, went to locals. Forest City Ratner's announcement last November that it would erect the world's largest modular apartment building on one of the Atlantic Yards sites — modular construction requires fewer and less-skilled workers than conventional construction — raised further doubts about the promise of 15,000 jobs.
As for the claims of affordable housing, some say they were suspect from the start — for the purposes of the Atlantic Yards project, "affordable" units will be reserved for tenants making less than $100,000 per year, a sizable sum in a borough where the median household income is less than $45,000 per year. The housing component of the project has also been continually delayed, even as the Barclays Center flourishes.
The unfulfilled promises may be a symptom of a larger issue — the absence of democratic oversight of the project. As journalist and activist Norman Oder writes on his exhaustively thorough Atlantic Yards watchdog blog, Atlantic Yards Report, "the state and city agreed that it would bypass the city's Uniform Land Use Review Procedure, which involves nonbinding votes by Community Boards and a vote by City Council," meaning the plans for the project were never voted on by elected officials — Markowitz included.
"Marty Markowitz actually played no official role in the project going forward at all," Daniel Goldstein, of DDDB, notes. "Which was the biggest process problem with the project — that the largest project in the history of Brooklyn, the largest project in New York City history by a single developer, bypassed the vote of a single legislator on the city or state level, including him."
As for that single developer, Koteen posits that Markowitz's devotion to the Atlantic Yards project might have something to do with his desire to be closer to Ratner. "I think he really did want a sports team, and he really did want this arena to be built so that — partially, I thought, so that he could rub elbows with the rich and famous and sit with them and claim it was his legacy to bring sports back to Brooklyn. … I think he really wanted to be next to power. He liked that he had a relationship with Bruce Ratner, who's a very powerful man."
Indeed, Markowitz says Ratner is "like an older cousin" — in fact, he calls Ratner "Cousin Brucie," a reference to legendary Brooklyn DJ Bruce Morrow, and describes him as a mensch and an "absolute delight."
Markowitz admires, too, that other indefatigable Brooklyn booster — Jay-Z, who has a very small stake in the ownership of the Nets and has been a vocal supporter of the Atlantic Yards project. "He's enormously successful," Markowitz said. (Though he cops to not being much of a fan of Hova's music. "I went to his show, when he was here at Barclays," he said. "I couldn't wait to leave, to tell you the truth. … I like music that I can understand, you know, when you walk away from a concert, you hum a couple tunes.")
■
Despite the cries of "land grab," the delays in affordable housing and job creation, and the lack of democratic oversight — not to mention concerns about noise, shadows generated by the high-rises, strain on the surrounding infrastructure, the extremely high urban density of the high-rises, and traffic congestion both on the streets surrounding the arena and in the Atlantic Avenue–Barclays Center subway station, which was already Brooklyn's second-busiest — Markowitz has continued to be a tireless proponent for the project.
He even made a video designed to attract Chinese investors to the project, uncovered by Oder, in which he assured potential backers that Brooklyn is "1000 percent" behind Atlantic Yards — a statement those opposed to the project could reasonably interpret as a dismissal or insult.
The second time I met with Markowitz, in late March, he'd just had a meeting on a separate issue that included "many people in that room [who] were vehemently opposed to Atlantic Yards. Funny, I [don't] hear anything anymore. Why? Their lives have not been upended." Later, he repeated the point. "You know what? The end of the world didn't happen. Traffic is flowing on Atlantic, traffic is flowing on Flatbush Avenue — some would argue even better than before the arena got there. The hordes of people that are going to piss on their front lawns hasn't happened, baloney, the end of the world."
(For what it's worth, on the day the Mayan calendar predicted the world would end, December 21, Dave Matthews Band played the Barclays Center.)
If Markowitz isn't hearing anything anymore from the project's critics, it might just be that he's not listening. As recently as last week, Atlantic Yards again made headlines after it was revealed that Forest City Ratner wasn't planning to build a platform over the open rail yards in the area — which were once used as evidence of neighborhood blight, one of the primary justifications for the exercise of eminent domain — until after four other towers had been built.
"The people that are opposed to it, you'll never make them happy," Markowitz told me. "Never," he whispered. And for his part, he seems unlikely to be swayed by their points, either.
It might just represent a fundamental difference of opinion: Markowitz holds the belief, generally unpopular with more progressive types, that gentrification is an unequivocal good. "It is a positive force," he said. "It brings folks in here who can create jobs and create an atmosphere for greater investment, so I think it's a positive thing."
Markowitz's belief in the healing power of gentrification, though, might gloss over the practical meaning of the term. "I don't see any negative aspect of it, as long as you can provide affordable housing, because you don't want to chase poor people out of Brooklyn," he said — which is exactly what many Brooklynites would say gentrification is doing.
In fairness to Markowitz, his understanding of the borough's socioeconomic complexities isn't entirely based in magical thinking. "There are some continued trouble spots, and we can't ignore that as good as it's been going for Brooklyn, not every neighborhood is sharing in that," he said. "Neighborhoods like Brownsville, East New York, Cypress Hills, parts of Bed-Stuy, although that's changing, parts of Bushwick, parts of East Flatbush, there's no question that drugs and gangs and guns, lack of quality education, no jobs, lack of hope — all of that is still too present."
Still, though, one gets the sense that Markowitz fervently believes that Brooklyn's rising tide will lift, and is lifting, all boats — which might be worth the collateral damage of some uprooted anchors. "I feel overwhelmingly positive that the future of Brooklyn has been set; that we're well on our way to even greater success," he said. And later: "I think Brooklyn is now in its time. There's no question about it."
■
In early 2008, a Marist College/WNBC poll had Marty Markowitz as the frontrunner for the mayoral election that year. It's unclear how much traction a Markowitz candidacy for mayor would actually have gained (in an article about the poll results, the New York Daily News reported that Markowitz's wife reacted by asking, "Is this serious?"). And thanks to New York City Council's vote later that year to extend term limits, we'll never know. With Michael Bloomberg running again for mayor, Markowitz bowed out; instead, he sought his third term as borough president, a race he won easily.
"Frankly, part of me was somewhat disappointed, and the other part was, I was relieved! Because that means that I can run again for Brooklyn borough president," Markowitz said. "I've never made it a secret: I never looked upon this job, as borough president, as a stepping stone to greater heights."
When we discussed this year's mayoral election, I noticed Markowitz's famous energy waver (if only a little) for the first time. "I do believe I would have made an excellent mayor. Now, having said that, I'm not sure what it would do for me personally," he said. "I don't know what it would take out of me. And that's why I'm not running." For a man whose life is this borough, "Mr. New York City" doesn't have quite the same ring to it as "Mr. Brooklyn."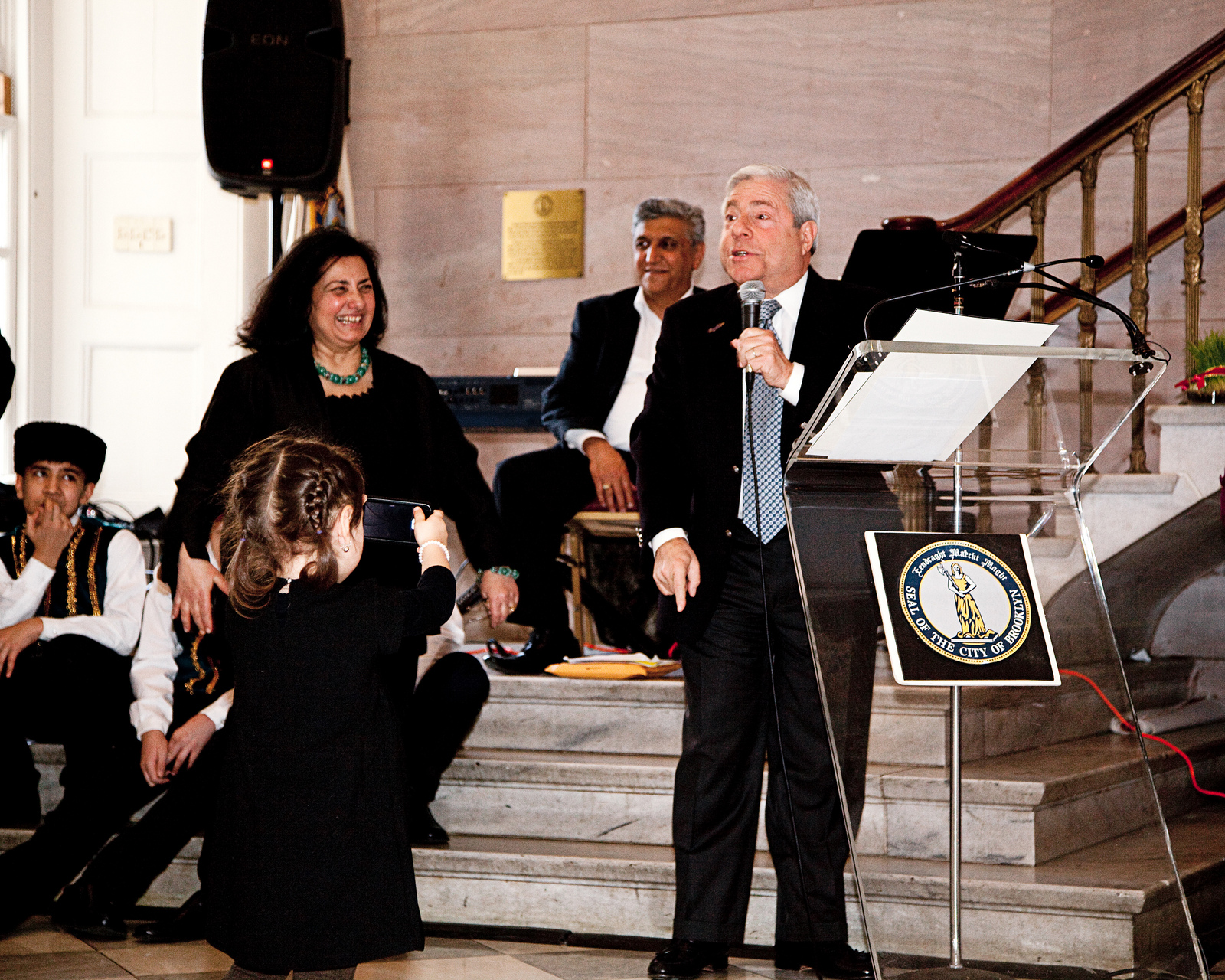 With his time in office winding down, Markowitz says, he won't be launching any significant new initiatives. He wants to make the transition easy for his successor, a courtesy he said wasn't extended to him, and one way to do that is not to leave any huge projects in limbo — except, of course, for Atlantic Yards, which at its current rate could extend long past the next Beep's tenure.
For the moment, his team's biggest focus is on Markowitz's final State of the Borough address, which he'll be delivering April 11 at — where else? — the Barclays Center. John Hill, the press secretary, hastened to explain that Markowitz's team wasn't expecting to fill the 19,000-seat arena.
"We're developing it," Hill said of the speech.
"We're nowhere near ready," Markowitz corrected.
It's a tricky speech to compose, after eleven years and change; and it's taken longer to write than Markowitz's previous States of the Borough. But Markowitz insists he isn't concerned about how he'll be remembered. "There is no legacy that I need to leave," he told me. "I'm in a unique position here: I don't need a legacy to carry on the Markowitz name, because no one is carrying on the Markowitz name once the Lord calls me. It's very simple."
When that does happen, I don't think things will be so different for him. If Marty Markowitz gets into heaven — and depending on the Brooklynite you talk to, that's either a big if or a when — I can only imagine it will look a lot like his office in Borough Hall.