When the New York Herald Tribune sent "a habituated Manhattanite to whom Brooklyn is as vast and mysterious as the polar regions" to one of the borough's remotest outposts, in 1925, it was because the historic Hendrick I. Lott House was doomed. The reporter noted the dignity of the building's Dutch Colonial architecture, with its white-painted cedar shingles, clean unadorned columns, and lofty porch overlooking a neatly-planted garden. At the time, the Lott House was already one of the oldest original houses in Brooklyn, predating the United States by nearly a century. But by the mid-1920s, the city government had decided that agriculture no longer had a place in metropolitan New York.
The house's residents at the time, Jennie Suydam (née Lott) and her bachelor brother George Lott, were descended from the first Lotts; they had farming in their blood. George and Jennie told the reporter that 1925 would be the last year George could farm on the property, as taxes on "undeveloped" land had squeezed them dry. Jennie wondered if the city could step in and preserve the house, thereby saving the farm. (It had already protected part of Marine Park as an avian migration stop.) Each day, she listened to the peals of hammers as building crews built row houses in the lot next door, which the family had been forced to sell to developers. The houses seemed to get closer and closer.
During the rise of industrial production, and then the scourge of the Great Depression, and, finally, a housing crisis that spurred the construction of row houses as far afield as Marine Park, no one stepped in to preserve old New York — not even the most famous areas of downtown Manhattan. Jennie Suydam, despite her best efforts, was not able to preserve the family farm in her lifetime. She could not have imagined that nearly a century after her brother harvested his last crop of produce, state and national organizations that barely existed in her lifetime would partner with a local foundation to refurbish her rustic farm.
By the end of this month, landscapers will have planted an orchard and garden at the Lott House designed to replicate the lost wonder of a rural, agricultural Brooklyn — though across East 36th Street and on Fillmore Avenue, row houses prevail. Though the Lotts used to call all of Marine Park their personal family farm, these days, there is much less space on the property for planting. But the cherry trees and heritage roses that will bloom next spring in the space surrounding the house are nothing short of authentic. The house's eighteen cavernous rooms, with their dark wood and peeling floral wallpaper, are slated to open as a museum and educational center this spring.
Right now, though, it is hard to imagine the Lott House in its finished state. It lies on a large plot of land heaped with piles of dirt and deep trenches. A bulldozer sits idly by the site, waiting patiently to be useful to the archaeologists in charge of the excavation project, Alyssa Loorya and Chris Ricciardi.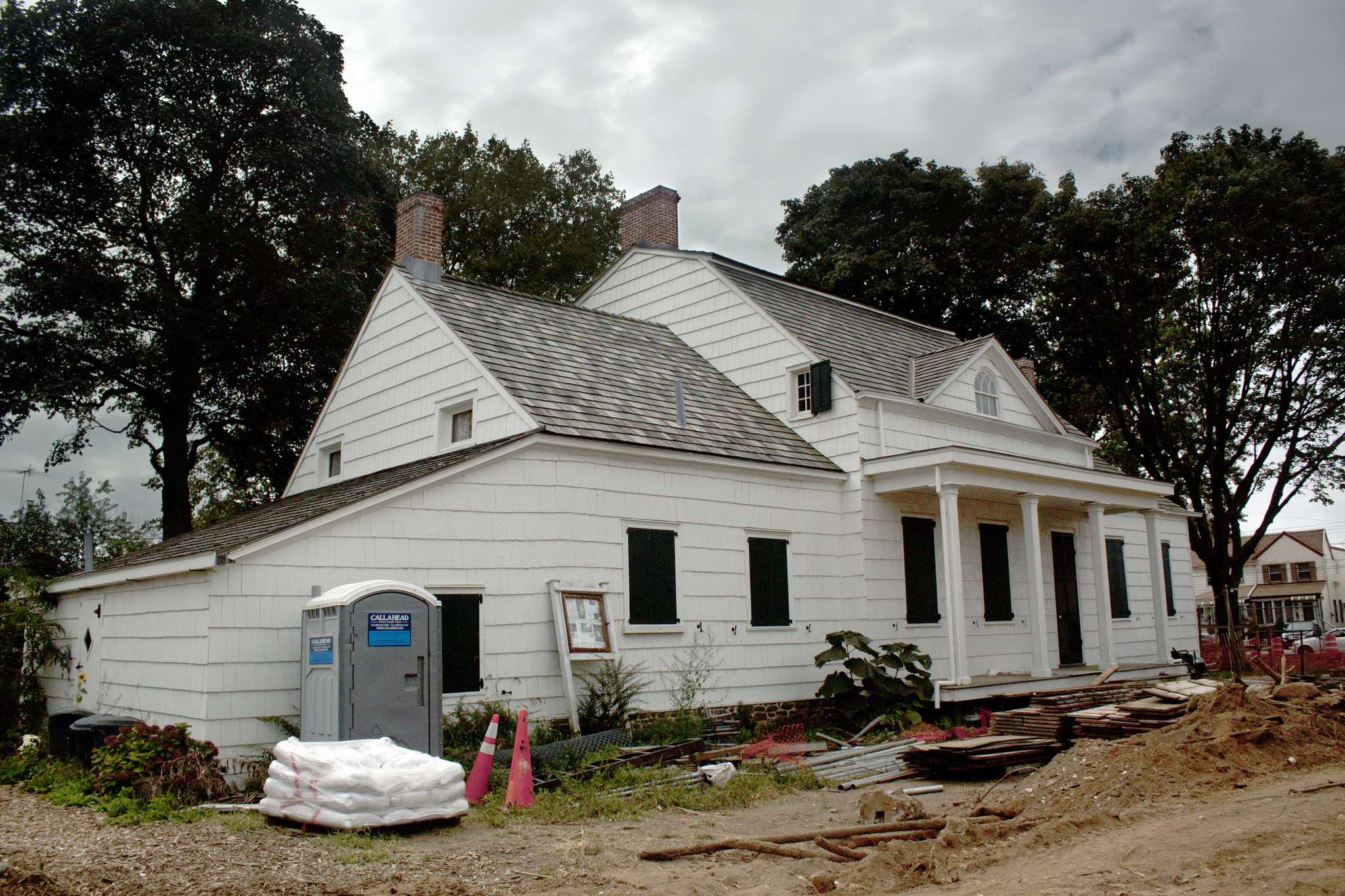 Loorya and Ricciardi, who are under contract with New York City's Department of Parks and Recreation to dig at the Lott House, have a more difficult task above ground. The husband-and-wife archaeological team has been navigating a diverse coalition of interests for the past fifteen years. Loorya and Ricciardi are the vital link connecting three different worlds: academic archaeology, whose testimony makes or breaks grant applications; city bureaus and departments; and the local community of Marine Park, the neighborhood that has been home to both of their families for generations.
For Loorya and Ricciardi, the house is personal, as is its rich local history. It bears both the scars and the triumphs of slavery and abolition that have long been buried — in memory and underground. After a century of neglect, during which rodents and mold took over, Loorya and Ricciardi are giving the remote farmhouse a second life that Jennie and George could only dream of.
■
"I remember Sheepshead Bay being this small fishing village," Loorya tells me as she ferries the two of us along the oceanfront in her purple Scion xB. Loorya, 44, wears a maroon t-shirt and sneakers, and her shoulder-length brown hair is tied back with a waffle-fabric scrunchie. Loorya grew up on the border of Marine Park and Gravesend, in a neighborhood of small houses with backyards, where almost everyone was Jewish, Italian, or Irish. Her childhood home is a short walk from the Lott House, and several blocks away from where she now lives with her husband and cat.
When Loorya was a child, her parents, a homemaker and a history teacher at a local high school, would bring her to the wharf to watch the fishermen peddle their catches. Now, cruise ships dock at the same southeastern Brooklyn waterfront, and flyers for party bus tours are plastered along the wharf. Still, she tells me, the neighborhood has not changed that much since she was a kid. "We really don't have a Starbucks here," Loorya explains. "Starbucks kind of goes along with development — it's a meaningful symbol." She hesitates for a moment, as if summoning up a repressed memory. "Let me rephrase. You can get Starbucks at the Junction [where Nostrand Avenue meets Flatbush Avenue] because Brooklyn College is there, and you can get it at the Target that's at the Junction." She then clarifies that the shopping mall has a Starbucks, but not a storefront Starbucks — an important distinction. "I feel like there are many people that don't want to see the change, but we're a long way from the change, since we're not on a subway stop."
To travel to the Lott House, one must take the 2 or 5 train to the end of the line and then either continue the journey on the B41 bus, or, as I did, accept the challenge of a two-mile trek down Flatbush Avenue. Marine Park is situated between the neighborhoods of Flatlands and Gerritsen Beach, a sleepy stretch along the water flanked by boxy, freestanding houses one or two stories high, many still bearing the marks of serious damage from Hurricane Sandy.
Until the early twentieth century, all of the fragmentary islands in Jamaica Bay were detached from the mainland. The city filled in the gaps with sand and dredge materials, connecting Marine Park to Barren Island, where New York's first airport was built at Floyd Bennett Field. Marine Park is susceptible to flooding, but its unique geography made it an ideal location for farming. During the past 50 years, the neighborhood transitioned from a farm town into the working-class suburb it is today.
Distance from transportation has spared Marine Park, a neighborhood Loorya says "is often forgotten and likes it that way," from the crowds of young people that have flooded areas, such as Bay Ridge, which are equally distant from Manhattan, but more subway-accessible. Many residents who grew up in the neighborhood chose to stay because it has remained relatively affordable over the years. But Loorya feels connected to the neighborhood because of the larger place it holds in New York City history. "When I was seven years old, I insisted that my parents were liars when they said there were no farms in Brooklyn," Loorya tells me over two margherita slices at Pronto Pizza, a local joint where she knows the owners.
She followed her love of history, and local history in particular, all the way to Brooklyn College, a short bus ride from her family home. Without the support of agricultural communities in Brooklyn and Queens, Loorya discovered in college, there would have been no Manhattan. She devoted herself to unearthing the history of rural farming within the boundaries of the country's greatest metropolis, participating in her first archaeological dig at a local field school in Brooklyn.
She studied under H. Arthur Bankoff, an anthropology professor who helped establish the field of urban archaeology. City residents had been practicing an informal cousin of archaeology, digging in the backyard for arrowheads, for many years. In fact, nineteenth- and twentieth-century "avocational" archaeologists — as Loorya calls them with a rare hint of disapprobation — were responsible for unearthing most of the Native American artifacts in New York City, leaving few for the scientists.
Bankoff began a field school at the Pieter Claesen Wyckoff House, which is recognized by the New York Landmarks Commission as the oldest house in Brooklyn. At the house — a Dutch Saltbox, with a single pitched roof on a wood frame — Bankoff introduced the idea that there could be fruitful excavations in so-called urban areas. At the same time, it allowed local students to dig in their own backyards.
"When I started teaching in Brooklyn in 1974," says Bankoff, who has a bushy white beard and wears a baseball cap in the field, "I was doing a project in Serbia, but there were lots of kids in Brooklyn who were fascinated by archaeology but unable to afford to go abroad. I said: we should give them some opportunity to do archaeology in New York, where the expense would be really minimal."
One summer while in college, Loorya hoped to travel to Guatemala to practice her new skills on Mayan ruins, but then suffered a bad asthma attack. "My allergist, Dr. Snider, who knew me since I was a baby, put the fear of God in me about going into a Central American jungle," she says. "It was such a horrible, terrible experience I had, and just one experience led to another," she says, leaning out the window to show me where Dr. Snider's office used to be, on Ocean Avenue and Avenue Z. That summer, Loorya chose to stay home and dig at another local field school.
With his field schools in Brooklyn, Bankoff drew a young class of Brooklynites toward his emerging area of study. Among these were Alyssa Loorya and Chris Ricciardi. "Neither one, as I recall, were anthropology majors to begin with, and neither one had any idea they would wind up doing what they're doing," Bankoff says. Bankoff's protégés went on to earn graduate degrees in archaeology together and then, in 2004, to get married.
■
The earliest parts of the Lott House date back to around 1719, when Johannes Lott, the scion of a wealthy Dutch family that had lived in the U.S. for generations, bought the 200 acres of land that are now part of Marine Park. The house is remarkable from the outside, an enormous structure with a gambrel roof, a creaky, expansive porch, and thick walls, which were constructed from whitewashed cedar shingles that were hewed, painted, and assembled by hand. It seems positively regal in a neighborhood where most of the houses are attached one or two-story boxes made of brick, with wiry television cables and satellite dishes poking out the roofs. Ricciardi was struck by the house early on. "You'd always drive by and see this huge farmhouse covered in trees, and everything around it is tiny row houses, and then boom: this big open farm field." Every time they passed it, Loorya, Ricciardi, and Bankoff imagined bringing a field school to the Lott House the way they did at Wyckoff. A ten-foot metal fence rings the block. Nailed to it, a sign warns that the Lott House is closed.
On my first visit, Loorya fumbled with her keys to unlock the giant padlock on the gate. She called Kristy Di Cario, the house's live-in caretaker, to be sure she still had the right key. Several attempts later, we were on the other side of the fence. Our presence in the Lott House garden felt illicit. A few neighbors had gathered around the fence to peer at Loorya and me. She quickly dismissed them. "This isn't an official visit," she warned me, "so please don't fall into one of the trenches. We don't have the insurance for it." I promised not to fall. Strolling across the grounds, Loorya explained her cautionary tone. "I don't know what it is about this house, but there's something special about it that makes people feel protective."
Ella Suydam was the house's last Lott family resident. She held court there for most of the twentieth century, taking protectiveness to an extreme. Ella and her sister Anna occupied the house after Jennie Suydam and George Lott, living together there for decades. Anna's husband had died and her children had moved away. When Ella's fiancé died during World War I, she retreated to the Lott House and remained there for the rest of her life.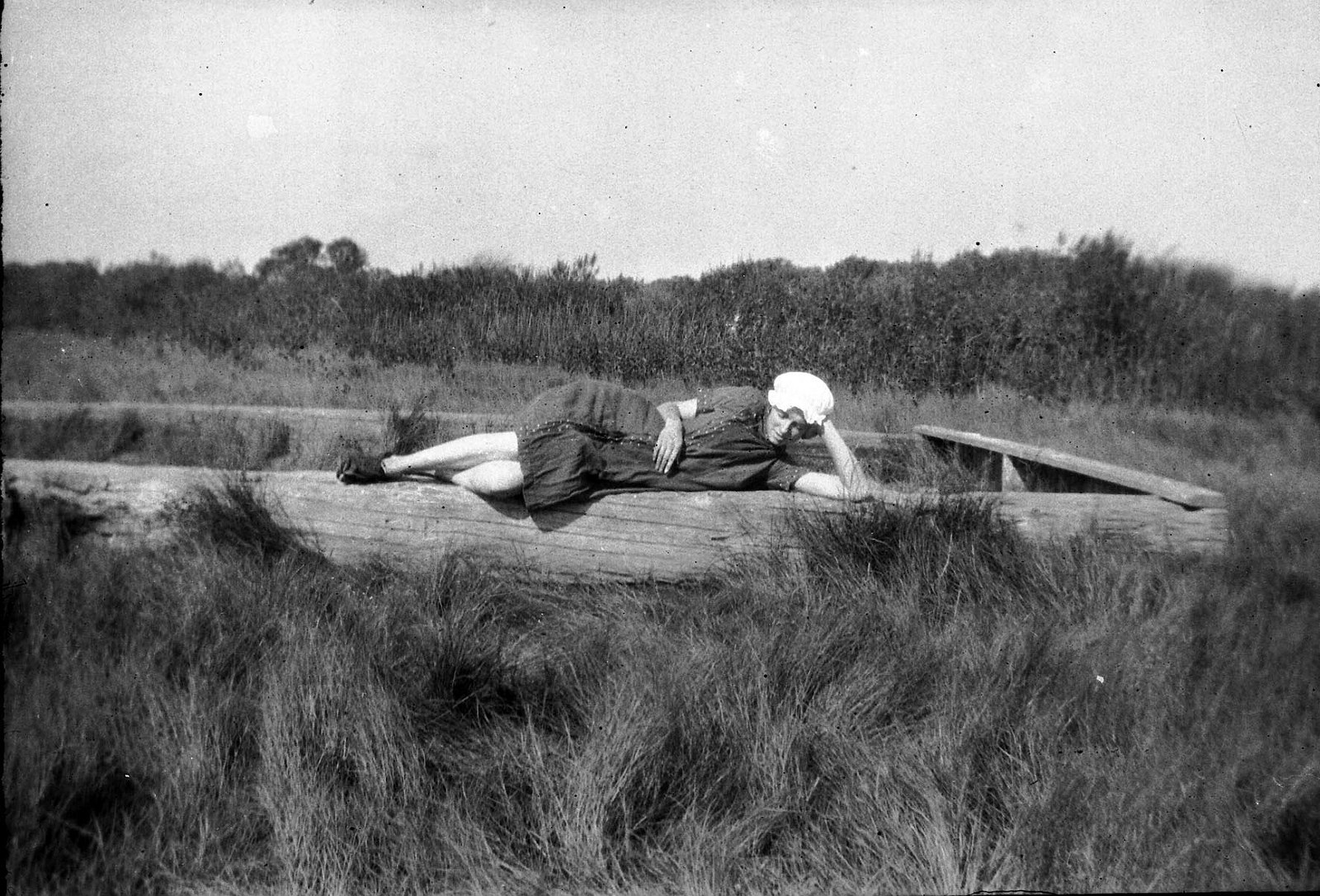 Ella worked as a librarian at a local high school. Though Loorya never met Ella, she had heard stories about the "very well-educated, big woman, who looked sort of like Eleanor Roosevelt and was apparently very intimidating." When the city council tried to have the house landmarked as a historic site in 1980, Ella stormed into the hearing and demanded that the council overturn its designation. Curious neighbors had been snooping around the property, and Ella was peeved. The New York Times reported on the hearing. Evidently, Ella demanded, "Who the hell are you to tell me what I can and cannot do with my house?" The designation was postponed for nine years, until 1989, when Ella died. It was a victory for the Lott family. After the hearing, a member of the council confessed to the Times reporter that he had felt frightened. When the reporter phoned Ella at home, she snapped at him: "Leave me alone."
When Ella died, she left behind scores of hatboxes and shoes. "We call her room the Imelda Marcos room," Ricciardi tells me. But her death did not immediately restore the house's landmark status. Ella had no heirs; her sister Anna's grandchildren, out-of-towners who had no personal attachment to the Lott House, were the legal heirs. They filed a lawsuit against the city, seeking freedom to develop on the property. They said they had been offered more than $1 million by a development company that wanted to build twenty-two row houses, on land where George Lott had once farmed vegetables.
During the eight years the court case dragged on, the abandoned building fell into disrepair. Neighbors did their best to keep the house presentable, hosting cleanups each Fourth of July and chasing off the local kids. Finally, Loorya, Ricciardi, and Bankoff decided to take measures into their own hands. Loorya and Ricciardi invited the executive director of the Historic House Trust to join them at the Lott House one night. It was pitch black inside since there was no electricity, and dead animals were littered on the ground. They had only one flashlight between them; every creak and groan made them jump. "Don't yell at me for saying this," Ricciardi recalls, "but it was our first Indiana Jones moment."
Unbeknownst to Loorya and Ricciardi, another group of locals was reaching out to the parks department (which is officially separate from the Historic House Trust) to try to save the house. "Even though they did great efforts, because they were just local, they didn't know what to do," Ricciardi says. "They weren't even archaeologists. They were just private people." The two groups consolidated to create the Hendrick I. Lott House Preservation Association, and Loorya and Ricciardi joined. The Historic House Trust director was impressed with what he saw that autumn night in 1995, and applied for a $500,000 grant from the parks department to buy the Lott House from the heirs. A few years later, the city won the Lott House case. The heirs were forced to settle for less than half the price they had wanted when they filed the lawsuit after Ella's death.
■
One doesn't have to dig at Lott House for very long to uncover the most unfortunate fact of its history: like many farming families in the 18th and 19th centuries, the Lotts owned slaves. In the South, slave housing often took the form of a small village outside the manor house. In the North, however, slave structures and artifacts are harder to identify, since slaves generally lived in the main house, working in the fields alongside the family to grow grains and vegetables. Legal papers, though, show that the Lotts owned twelve slaves in 1803, making them one of the area's largest slaveholding families. Each person is listed with a price valuation between $25 and $200.
The Lotts were also longstanding members of the Dutch Reformed Church, an early champion of the abolitionist movement. Records show that the Lotts freed most of their slaves around 1805, decades before they were required to do so. But they retained one female slave, who, according to census documents, was probably elderly, while the rest stayed on as paid farmhands. In 1827, slavery was formally abolished in New York state. Over the next century, the Lotts sequentially employed Irish, German, and Italian workers as new waves of European immigrants swept through Brooklyn, each pushing the previous group one rung up the social ladder. "In this way, the house is unique," Ricciardi says. "It is absolutely a time capsule of American history."
In their digs over the years at Lott House, Loorya, Ricciardi, and Bankoff uncovered an array of meaningful artifacts, including pottery. Archaeologists hope to find pottery, since it can be quite revealing. "Ceramics are my favorite," Loorya says with obvious delight. Marine Park had no sewer system or running water until 1926, and residents continued to use privies long after they were antiquated — and then made illegal — in Manhattan and downtown Brooklyn. This meant that the Lotts essentially disposed of their refuse in holes in the ground until fairly recently. "And what is archaeology?" Ricciardi asks me. "It's holes in the ground!"
The stratigraphy of the soil, he explains, is like a layer cake. People tend to throw out broken dishes. These can be dated according to the depth at which they were embedded and the mineral content of the soil layer.
In the eighteenth century, the pottery the Lotts discarded was handmade and imported from Great Britain or the family's ancestral home in the Netherlands. By the 1800s, all their ceramics came from Brooklyn or Manhattan; they used the same dishes as their neighbors. The shift mirrors an industrial boom in New York City. But on a more personal level, it shows the Lotts, over time, embracing their local identity.
In addition to countless shards of pottery, the field school has disinterred ceramic doll heads from Germany, oyster shells that were scattered to mask the smell of the privy, Ella Suydam's I.D. tag from the city's Board of Education, and an empty beer bottle labeled "Excelsior Brewery." Loorya packs the artifacts into plastic sacks, which she brings to the basement of her house, just blocks away, where she has a fully equipped archaeological laboratory. She and her husband use picks and toothbrushes to remove debris. Each artifact is then carefully documented and stored. There are shelves and shelves of them in their basement: buttons dating to the Revolutionary War, fragments of an enormous blue china urn that have been taped back together, and endless rows of pearly oyster and clam shells. "That's why preservationists don't always like archaeologists," Ricciardi says. "Both of our ultimate goals is preserving history, but we have to move it and sometimes take it apart in order to preserve it."
The house's complex position in the history of northern slavery might seem like a powerful enough story to sell the Lott House to the public as a museum. The Lott House was once one of the largest slave quarters in New York City. In a few short decades, though, the Lotts went from slaveholders to abolitionists, and even went so far as to shelter fugitive slaves who were escaping from the South by boat through Jamaica Bay.
But neighbors are leery about publicizing the fact that their quiet block was once home to the brutal institution of slavery. Each year, Loorya and Ricciardi have helped the Hendrick I. Lott House Preservation Association organize an open house on the property. (The open houses have been a stunning success; as many as seven hundred people have attended, though the crowd is always mostly local.) As they prepared for the first open house, Ricciardi recalls neighbors begging him, "'Please don't talk about slaves anywhere.'" Two conflicting slavery narratives have posed more problems than solutions for the house's image. "Usually, in historic houses and museums, you have to pick a story and stick to it, whether it fits everything or not," Loorya says. "Here there is no one story. It's really the story of America, 1720 to 1989," messy and heterogeneous.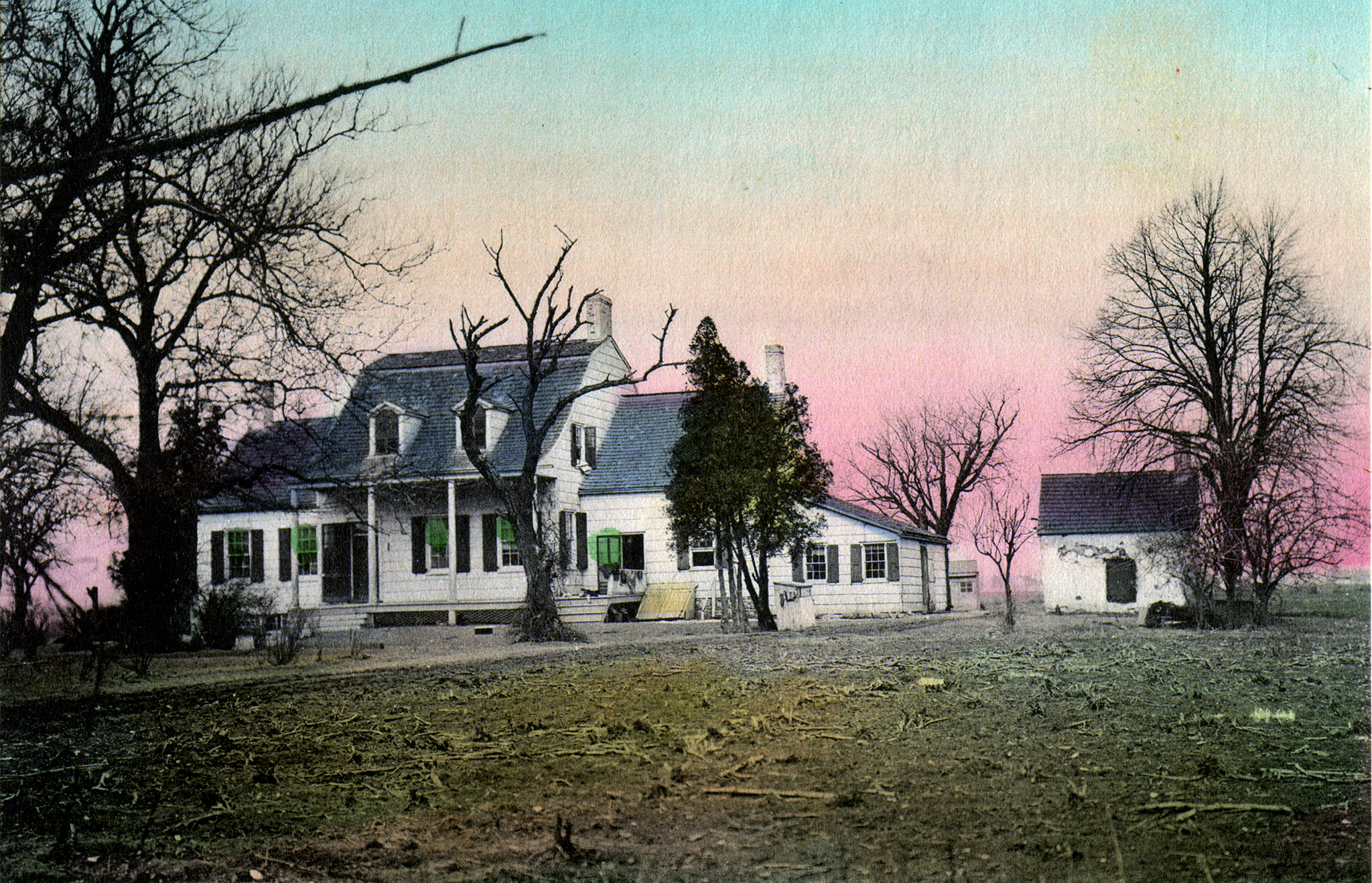 Geography, too, stands in the way of the Lott House's becoming a successful museum when it opens, hopefully this spring. The Lott House is at the nucleus of its community in Marine Park, and benefits from what the district's councilman, Lew Fidler, calls an "unusual" level of local interest compared to other historic houses. But it's just that: local. "We were trying to get some publicity for some archaeology that was going on, and I don't remember which news agency, but a major news agency said, 'Why would anyone want to go that far into Brooklyn unless there's a murder or something devastating occurring?'" Loorya says.
Though, now that "Brooklyn has become a brand," says Loorya with an ironic sigh, enthusiasm for the borough's history may be on the rise. Her company, Chrysalis, which works with construction firms on contract archaeology projects, is being hired for more digs in Brooklyn. The shift tallies with this year's numbers: Manhattan had 2 percent economic growth, and Brooklyn, 4 percent. Bankoff is hopeful about this trend. "I think that if Brooklyn is cool," he says, "then the history of Brooklyn is cool, and the archaeology of Brooklyn is cool. Cool carries everything along with it."
■
On the outside, the Lott House looks like a typical Dutch farmhouse, but on the inside, it is anything but conventional. As each generation built on the modest three-room home that Johannes Lott originally conceived, the rustic farmhouse grew more and more stately. The ceilings from 1720 were hardly six feet high, "not because the Lotts were short," Loorya clarifies, "but to keep the house warm." In 1800, Hendrick Lott raised the ceilings to nearly double that height and added an imposing grand entryway covered in hand-painted floral wallpaper — now browned at the edges and peeling off in sheets — thick wainscoting, and elaborate molding. "It would've been pretty impressive for anyone coming into the house in 1800 to see this," Ricciardi says. "These guys were wealthy, and they did a hell of a job."
It is my second trip to the Lott House — this time I'm better prepared, in hiking boots — and once again, I manage not to slip into the trenches. We go inside the house and climb a rickety staircase. The steps are uneven, and a depression at the center of each wooden stair testifies to centuries of foot traffic. Upstairs, the rooms are smaller, poorly lit, and covered in dust, but lined with the same intricately painted floral wallpaper, a different pattern in each room. When I ask who slept here, Ricciardi shakes his head. "These weren't bedrooms," he says. "The idea of bedrooms was a Victorian invention, when we started thinking that everyone needs personal space. Before that, all seventeen Lotts would sleep in one room. Even though they had the space, they would never think to do otherwise."
Ricciardi motions me toward the darkest corner at the end of the hallway. He asks me, conspiratorially, "You want to see something cool?" The dark wood panel looks just like the rest of the ceiling, but as Ricciardi pushes, the panel reluctantly slides back with a grinding sound. There is a tiny, black room concealed behind the second-floor wall. "That was our second big Indiana Jones moment," he says. "Hitting our head on the ceiling by mistake and having it open up as a trapdoor to find the room." Crawling inside the cavity with a flashlight, I notice that the walls are plastered with newspapers, like an elementary school decoupage project.
When Loorya and Ricciardi dated the newspapers to 1862, they knew they had something even more exciting on their hands. Nearby, they found a corncob cross — a West African cosmological symbol — and a plate marked with two X's on the bottom. Comparing notes with archaeologists in Manhattan and in the Caribbean, they discovered these were slave artifacts. "They owned things," says Ricciardi. "It kind of contradicts the idea of being a slave. They marked their possessions with X's. All at the same time, with other archaeologists, we started to piece together a bigger picture of what slavery looked like in the New World." The circumstantial evidence from the secret room, combined with the Lotts' social milieu as Dutch Reformers, was enough to convince New York state officially to recognize the Lott House as a stop on the Underground Railroad, one of only eight in the city. "But you can never be sure," Ricciardi admits. "The joke about the Underground Railroad is that they didn't exactly put up a neon sign saying 'Runaway slaves, come here!'"
As Loorya, Ricciardi, and I stroll the grounds, the caretaker, Kristy Di Cario, emerges from a hidden door on the side of the house. Di Cario, a 48-year-old former park ranger, patters over to us, squinting in the sunlight. She gazes into a pit that hadn't been there the last time she looked. Loorya and Ricciardi explain that two days ago, they found the well that Bankoff's field school students had been trying to locate all summer. Since they are often filled with refuse, underground wells can lead to important archaeological discoveries. But the parks department is not offering the funds to send a person to dig inside, Loorya says, even though a well is like a classroom all on its own. A gust of wind blows a door on the Lott House shut with a bang. Di Cario crosses her arms. Ricciardi says, "Kristy hates it when people say there are ghosts here." "I know there aren't because the family is good," Di Cario explains. "There's good energy in this place. They freed their slaves over 20 years before they had to. Except for one, which always gets me."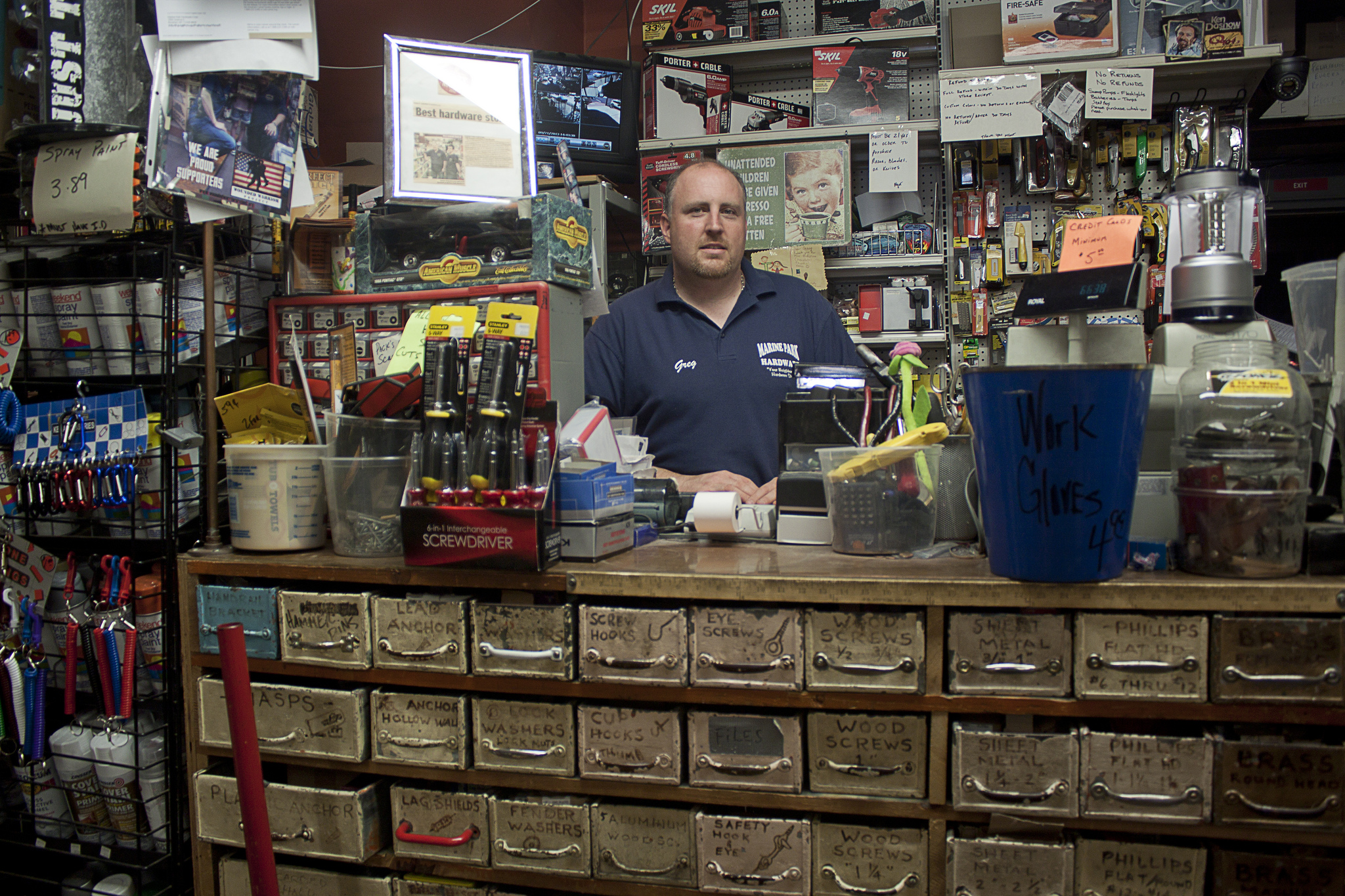 Loorya, Ricciardi, and I finish our tour and walk about three blocks to Marine Park Hardware, where Greg Borruso, the store's owner and the president of the Hendrick I. Lott House Preservation Association board, greets us warmly. Greg is not an archaeologist or a city official (though he once served as president of the Marine Park Civic Association), but he is active as the house's biggest cheerleader. He is eager to hear news about the most recent dig. A large man with a ready smile — "Greg" is stitched on the pocket of his uniform shirt — Borruso practically jumps up and down when Loorya tells him about the well. He is dismayed when he hears that they won't receive funding to send someone down inside it, but quickly bounces back. "I have a ten-foot ladder," says Borruso. "I'll get the ladder and we'll go there in the morning before I open the store. I'd love to find something neat, like an artifact." As the president of the preservation board, Borruso worries about the planting schedule for this fall. Trees have already been delivered for the perimeter, but to open in the spring, the landscapers must finish planting before the first November frost. "I don't even want to dig if we can't find nothing," Borruso says. "I want to get a metal detector out in the back. I mean, now's the time, you know?"
Correction (Nov. 21, 2013): An earlier version of this article stated that Alyssa Loorya and Chris Ricciardi have a grant from the New York City Department of Parks and Recreation for their work at the Lott House. Loorya and Ricciardi are actually under contract with the parks department.
Correction (Dec. 1, 2013): An earlier version of this story stated that excavation began after the City purchased the Lott House. Excavation actually began in 1998, before the house was purchased. It also stated that Loorya and Ricciardi consolidated two groups into the Hendrick I. Lott House Preservation Association. They did not create the group, but joined it. It also stated that fugitive slaves reached Brooklyn through Sheepshead Bay. They came through the larger port of Jamaica Bay, which encompasses Sheepshead Bay. It also stated that Loorya and Ricciardi found slave artifacts in the room of the house plastered with newspapers. The artifacts were actually found in other locations around the house.