In the areas of interracial, MILF, and amateur pornography, a man named D. Wise has appointed himself king. A few weeks ago, I found myself being led by Wise up the stairs and onto the roof of a Lefferts Gardens apartment building. The porn shoot I had come to witness had supposedly begun at 8:00 that morning, but when I arrived at 12:30, emerging from the stairwell into the crisp May air, it seemed nothing had yet gotten under way.
"Man, things in this world are so chaotic," Wise said. Clothed, he has a hip-hop vibe, with a diamond-encrusted, "DW"-monogrammed medallion around his neck and matching rings on his fingers. He takes particular pride in, of all things, a navy, long-sleeved waffle shirt, which he wore with black basketball shorts and white Nike Airs. "You'll notice I wear this type of shirt on almost every box cover," he told me.
Accompanying us on the roof was a buxom black woman. Timidly, she offered me her hand: "Hi, I'm Deseray Love."
"She loves anal," Wise said, and then cackled.
The rooftop shoot was for the benefit of the photographer I'd brought along. As we watched Wise in front of the camera, it took only a second to see that he's a natural fit for the business he's in. Wise needed no direction; the man was poised and puffed up like a rapper who'd just won a Grammy. Love, a New Jersey native soon to be signed with Wise's production company, Cheeky Pictures, took longer to warm to the camera.
From the sidelines, Wise coached. "Turn to the side. There you go. There you go."
After the roof shoot, we headed down to see Wise and Love "on set" — not a set at all, in fact, but an unkempt bedroom. As Wise reminded us, there's a reason it's called "amateur" porn. "This is the set," he said, miming sex with his fingers.
D. Wise asked us to excuse the mess in the apartment — laundry day. As Love used the bedroom to change into a sexier number, we waited in the living room. To make room for himself on an orange, plastic-covered couch, Wise tossed pink baby pants, bottles, and some rattles onto the floor. A baby swing also sat in the room, and a blonde woman, to whom we'd not been introduced, sauntered through the apartment to placate a shrieking infant in an adjacent room.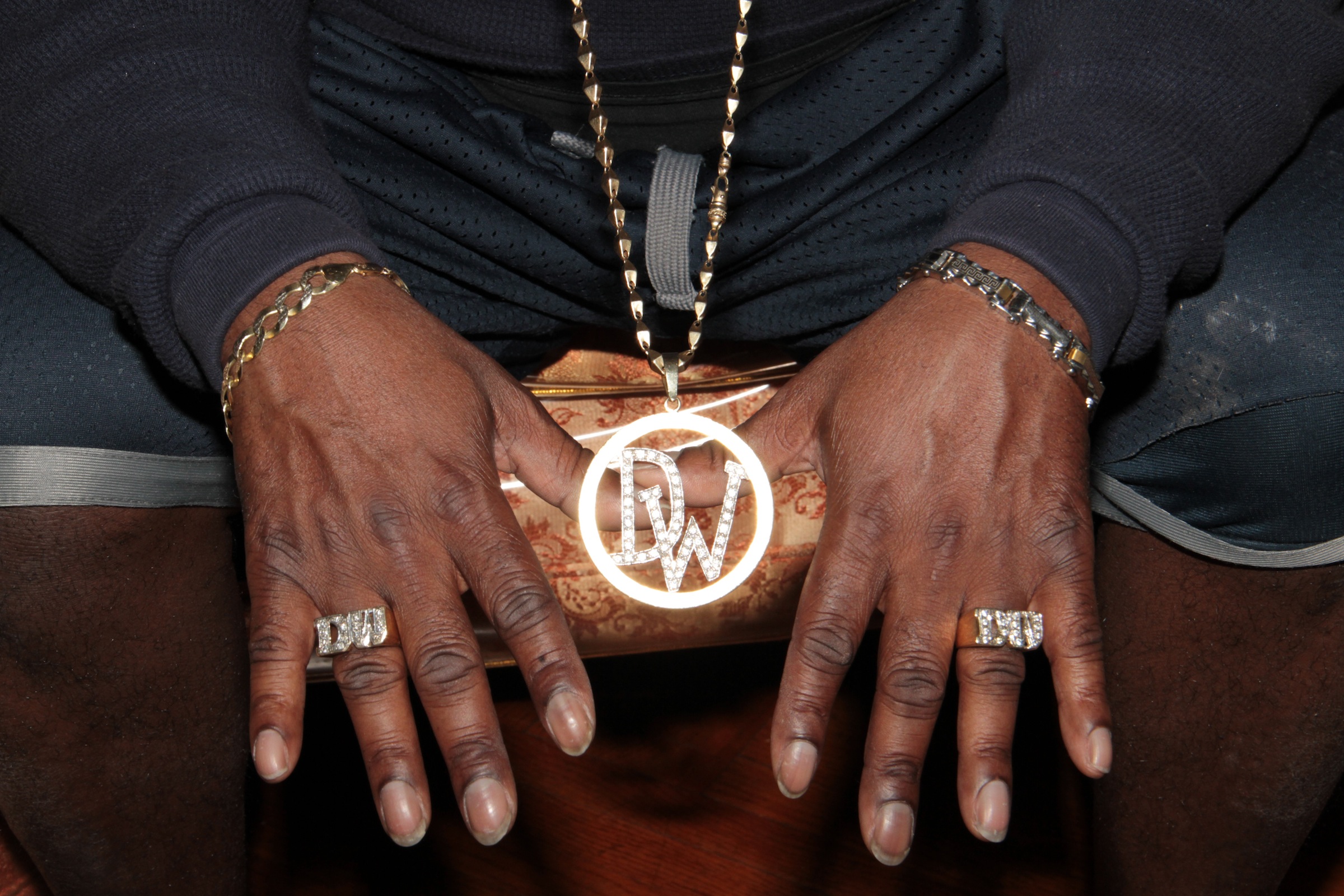 Once we got the OK from Love, we moseyed through a beaded doorway, past the baby room (also occupied by what I took to be a sleeping grandmother), and into the bedroom, whose door Wise left ajar. Love was geared up in a bright pink bra and panties and covered by a long-sleeved fishnet dress of the same highlighter hue.
"Don't shoot the crib," Wise told Nick, the photographer. I wondered if the box of Pampers perched on the boudoir was off-limits as well. Before arriving on set, I had heard that D. Wise lived with his girlfriend, with whom he had a family. The apartment's furnishings, including a framed photograph that hung in the bedroom of Wise holding an infant, a dead ringer for the one across the hall, seemed to confirm that story. But when I asked Wise if the apartment was his home, he evaded the question.
"If you're going to mention anything about the shoot today," Wise said, it should be that "she's getting it in the booty." He sidled up next to Love on the mattress, and they locked into a spooning position. I could see the bravado and sensuality that had made Wise's career. As the blonde woman lugged laundry past the bedroom door and peeked inside, I saw her eyes light up with affection.
Wise was focused on the shoot. "Am I covering her nipple?" he asked Nick. "Can you see my medallion?"
I had first tried to visit Wise on set a few months before. The night before the scheduled shoot, I confirmed the details with Wise, but in the morning, I awoke to a disappointing text: "Gotta work on another girl. The one I was just talking to can't." I would learn that unreliability is common in Wise's field. Big Max, Wise's friend and frequent collaborator, told me that Brooklyn's porn industry, in which he and Wise earn a living, is particularly fickle. "People pass up all the time," Big Max said. "If I tell you, 'Hey, I have a shoot going on,' there's a 50/50 chance it may or may not happen." To thrive professionally, Big Max, Wise, and others have adopted a "take what you can get" mentality.
I texted Wise back, "Keep me updated, and let me know if there's anything I can do." An empty offer, frankly. But his reply took me up on it: "If you know someone interested in shooting with me, that would be a great help."
■
Porn has always existed in New York City, as it has practically everywhere else in the world. In the middle of the nineteenth century, printed pornographic material streamed into the city from Europe and was sold on the street and in rail stations. A century later, pornographic consumption would memorably find a home in Manhattan's Times Square; in 1960, the New York Times named 42nd Street between Seventh and Eighth Avenues "the worst block in the city." In 1972, the release of the popular film Deep Throat inaugurated an era of more mainstream pornography, which helped keep Times Square X-rated for another quarter century.
Despite the long-standing popularity of pornography in the city, its production in New York never developed into a proper industry the way it has in Los Angeles's San Fernando Valley. The Valley has its geographic advantages, of course. Most crucially, by way of its proximity to Hollywood, the San Fernando industry can offer lucrative alternative careers to frustrated stars and starlets. But there's another factor. It's legal to make porn in California. It's not, exactly, in New York.
For the first several decades of America's history, the regulation of pornography varied widely across the country. Before the Civil War, only four states had obscenity laws. Then, in 1873, the Comstock Act was passed. The act, championed by Anthony Comstock, founder of the New York Society for the Suppression of Vice, made it a federal crime to send obscene material through the mail. Following its passage, 24 states enacted similar measures, known collectively as Comstock laws, that cracked down on intrastate dissemination of porn. The state of New York even commissioned Comstock's Society for the Suppression of Vice to serve as a sort of moral police, with the authority to search and arrest suspected pornographers.
Parts of the Comstock Act are still on the books, but the legal definition of obscenity has evolved. In its 1973 ruling on Miller v. California, the Supreme Court established what's come to be known as the Miller test, at whose heart is the idea that obscenity should be defined by what a local community considers prurient and offensive. If a part of the country is relatively tolerant of pornography, the Miller test says that there, pornographic material shouldn't legally be considered obscene. The gradual relaxation of local standards explains the presence of X-rated magazines on New York City newsstands, something that wouldn't have been tolerated when Comstock's moral police patrolled the streets.
In addition to obscenity laws, though, porn production has been hampered by state pandering laws, which are generally written so broadly as to prohibit the recruitment of not just prostitutes but also porn actors and actresses. In 1987, it was under a pandering law that the state of California prosecuted Harold Freeman, a well-known director of adult films. Freeman was convicted. He lost a first appeal, but when he appealed again, the California Supreme Court overturned his conviction, ruling that the production of pornography was distinct from the recruitment of prostitutes. In effect, the decision gave a green light to California's porn industry. But aside from California and New Hampshire, whose state supreme court made a similar ruling in 2008, no other state recognizes the "pandering versus porn" distinction. That includes New York, a state with a law on the books authorizing the police to seize an adult film director's equipment.
It's a little odd to talk about a Brooklyn porn industry when the industry's entire existence is technically forbidden. And yet it exists nonetheless. In fact, for the many people I spoke with who are involved with Brooklyn's porn scene, its illegality is, practically speaking, immaterial. They hear no ominous knocks on apartment doors or shouts to hand over cameras.
If porn's illegality hasn't exactly driven Brooklyn-based directors and performers underground, it has put constraints on how they operate. In New York's legal environment, money and talent — almost all of which is represented by the Valley-based agencies LA Direct, OC Modeling, Spiegler Girls, and World Modeling — are harder to come by. That makes contending with California's glossy, bleached, and silicone-implanted production values more difficult.
But Brooklynites in the porn trade can and do make it, provided they understand the challenges that come with the terrain. Those who have carved out a niche — those who have entirely stopped competing with the generic, cookie-cutter creations of the Valley — tend to have an advantage. Because in this business, hustling gets you only so far.
■
For those looking to break into the industry by being distinctive, fetish pornography is a natural draw. Mike Dreyden, for instance, has turned his Brooklyn roots into an asset. Dreyden, who grew up near Williamsburg's Hasidic community, was raised Jewish, and after a stint as a personal trainer at a David Barton gym, he began a career as a gay porn performer, where his religious identity came in handy.
"It was something that set me apart," he told me. "I think everyone gets a kick out of the fact that I wear my yarmulke everywhere I go."
And while Dreyden doesn't go out of his way to wear it during scenes, it does make the occasional appearance. Dreyden described one particular project in which the script didn't call for the kippah. "My character was coming in from the bathroom, and I was wearing my yarmulke," he said. Realizing his mistake, he asked the director if they could do another take, sans yarmulke. But the director found a way to fit it into the next scene. "During my sex scene, as we're getting undressed, I sort of nonchalantly flick it off my head." Mail soon poured in, with fans writing to request that Dreyden masturbate at temple or ejaculate on religious texts.
For years, Dreyden performed for Lucas Entertainment, a New York-based production company that has proven just how big a business fetish can be. The company's founder is Michael Lucas, a gay Jew who grew up in the Soviet Union and who has turned Lucas Entertainment into a multimillion-dollar juggernaut through sheer force of personality. A political firebrand, Lucas pens columns for The Advocate and the Huffington Post, opining on subjects that range from his own industry's practices to Israeli-Palestinian relations. (In his own words, he "[does] not like" Muslims.) His company's films are equally attention-grabbing and have introduced fetishes — like "guys in suits" and flatulence — that seem to have caught on. "Michael Lucas is a really important figure, I think, in adult films in New York," said Mickey Boardman, editorial director of Paper magazine and, in his own words, its "resident gay porn connoisseur." Boardman credits Lucas with fetish porn's emergence into mainstream pornography.
As the growing Lucas Entertainment empire seizes much of New York's gay porn market with its diversified portfolio of fetish offerings, another company, Cockyboys, has taken a different tack. In contrast with the breadth and range of Lucas's Entertainment's productions, Cockyboys films focus on a niche market they felt had yet to be capitalized on. Their fascination is with twinks, gay men defined by lithe, youthful features. Twinks aren't much of a presence in the porn that comes out of the San Fernando Valley, where male actors, said Boardman, typically have "super-buff muscles, waxed butt cracks — that kind of look." He thinks Cockyboys — both the company and its male talent — could exist only in Brooklyn.
The most sought-after Cockyboy these days, Max Ryder, boasts a cherubic face and a chiseled physique. At eighteen years old, he's already a star. And though he's been flown all over the world, from Amsterdam to Montreal, he prefers his Williamsburg digs, close to Cockyboys headquarters. Ryder credits most of his success to his candor, which he sees as an extension of his company's — and his home borough's. "You can watch any porn from California, and not once will you get a glimpse of who the person is outside of the set," he told me. "It's so fake and scripted."
In fact, one trend that's emerged in Brooklyn-produced pornography is an emphasis on representing sexual experiences genuinely. Take the Greenpoint-based couple Violet and Rye. (Yes, both are noms de porn). Inspired by a shared distaste for the selection of pornography they could find, they began posting their own homemade erotica — writing and photography at first, then videos — to their blog Uncommon Appetites. Both Violet and Rye have artistic backgrounds, and their videos are composed and beautiful in a way that mass-produced, Valley-made porn typically isn't. But what really sets the videos apart is their politics. It's important to Violet and Rye that they're represented enjoying themselves onscreen; inevitably, for instance, the videos capture both Rye's and Violet's orgasms.
"I think that's part of what excites readers, that her sex drive is high as well," Rye told me.
Violet, the more outspoken of the two, chimed in, "If people realized women have orgasms and want to have orgasms, people would make so much more money."
That's certainly been true for Rye and Violet, whose films caught the eye of Cindy Gallop, a Manhattan-based advertising consultant who landed herself in the amateur porn business after giving a TED talk in 2009 called "Make Love Not Porn." Gallop's lecture, and the website that it spawned, advocate for the re-education of people, especially young men, whose understanding of sex has been almost wholly shaped by mass-produced hard-core pornography. MakeLoveNotPorn.tv invites people to upload their own videos, which viewers can rent for $5, with half of the proceeds going back to the creators. Rye and Violet's videos have earned them a significant following and a steady stream of supplemental income.
For some porn producers and actors who have seen success, though, Brooklyn's limitations have become too constraining to bear. In 2002, while finishing a degree at Rutgers University, Brooklyn-born Joanna Mostov moved to Williamsburg, began stripping under the stage name Joanna Angel, and started a porn website, Burning Angel, that featured "alternative" types — think pierced, tattooed, slightly surly. At the time, Angel's venture was groundbreaking — alt-porn on the Internet hadn't yet coalesced into a coherent genre — and Angel, as a filmmaker and entrepreneur, was green.
"Like every landlord in Williamsburg, my first one was Orthodox," Angel said. "I hinted at the fact that I would be running a porn company out of my loft, and he said he didn't care what I did as long as I paid my rent on time."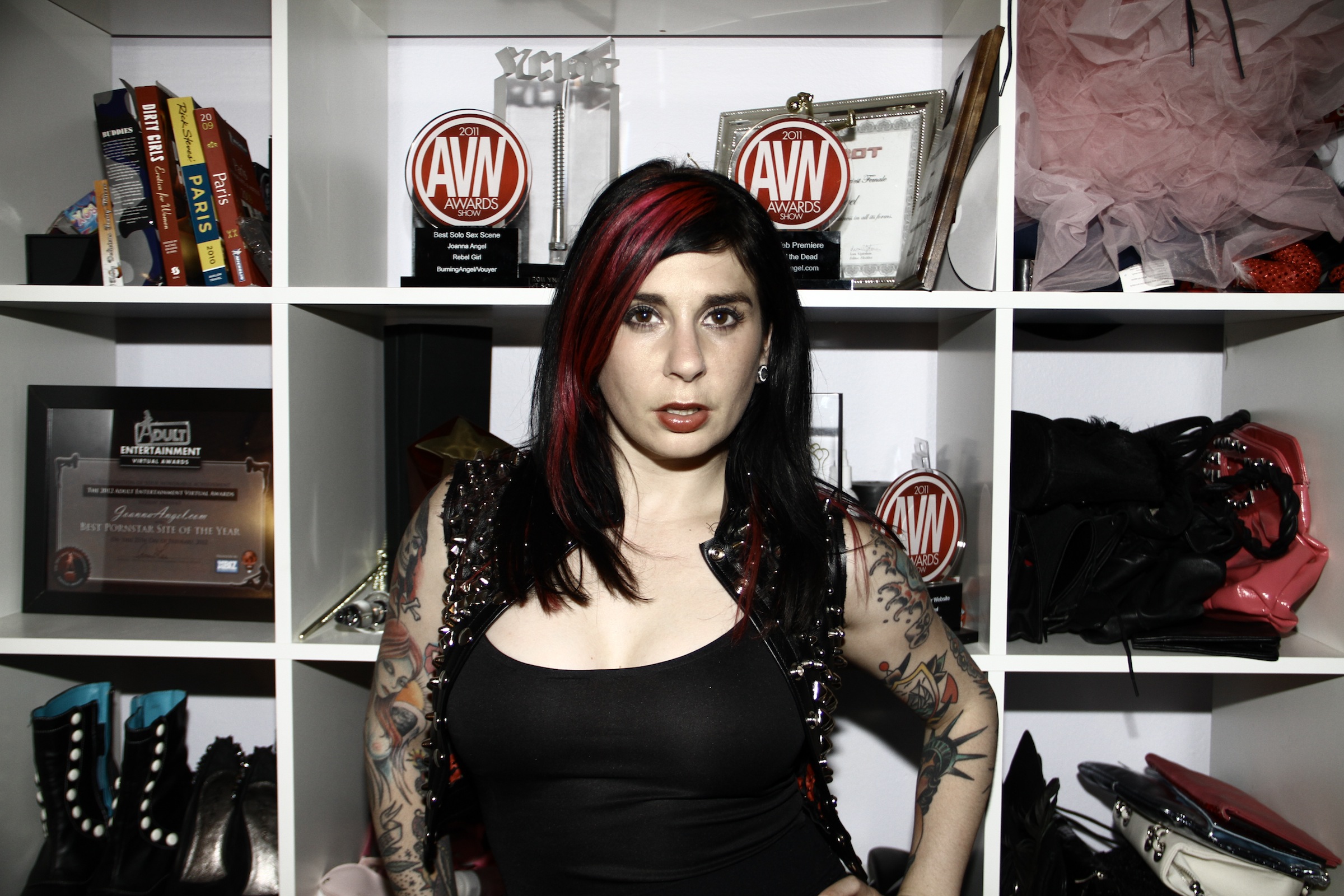 Early on, Angel shot at her own pace. "We used to just kind of shoot when we felt like shooting," Angel said. "We didn't really have the funds to put stuff out on a regular basis."
But as her site began to attract notice, her schedule picked up, and Angel found herself making occasional and then regular trips to California. "I was going back and forth for a really long time," she told me. "I just called myself bicoastal." Sometimes, for Brooklyn shoots, she'd recruit L.A.-based actors, who'd have to travel in the opposite direction. "We were flying male talent from L.A. to New York, and it just started to seem silly," she said. Eventually, it became wearying, and she permanently moved Burning Angel's headquarters to the West Coast.
She didn't withdraw from Brooklyn entirely, though; East Coast—based talent still congregates for shoots at a satellite office in Williamsburg. One Brooklyn-based performer, Roggie, has no desire to pack up and head west to join the Burning Angel mother ship. "Brooklyn, compared to L.A., has so many diverse characters in porn," she said. "You see much more realistic stuff."
And Angel herself, though content with her company's move, does miss the improvisational spirit of its early Brooklyn days. "The negatives of shooting in Brooklyn always make it a positive," Angel said. "You're always shooting in cramped spaces and working with a lot of things against you, but I think that forces you to be a little more creative."
■
D. Wise — on a roof, in his apartment, or elsewhere — thrives on that chaos. Brooklyn-born and Queens-raised, Wise hungered, from an early age, to appear on stage and in front of the camera. Before finishing college, he left New York and headed to — where else? — Los Angeles, where he appeared as an extra in the 1990 film House Party, which starred flat-topped hip-hop duo Kid 'n Play. After a taste of the West Coast, he returned to New York to complete his degree and found employment as a social worker, but after two years, he was back in California, pursuing hip-hop dancing opportunities. Wise claims to have performed for a "major" rap group (he wouldn't specify which) and to have traveled in the same circles as Cypress Hill and Ice-T. Soon he crossed paths with adult film director Bud Lee, who introduced Wise to the San Fernando Valley porn industry.
Wise worked behind the camera at first. But one day, on set, the male talent didn't show. To perform a sex scene in the industry, one must first be tested for HIV and other STDs; Wise, perhaps anticipating his eventual debut in front of the camera, had the paperwork on him to indicate he had passed such a test. When asked to fill in for the missing actor, he obliged. And after that moment, Wise told me, "the phone just didn't stop ringing."
Several years ago, Wise moved back to Brooklyn, and by his own estimation, he has done as much as anyone to cultivate his home borough's small pornography ecosystem. With a few fellow performers — Moe the Monster, Lil' Freak, Lee Longwood, and Unyque Swizzer — Wise started what he's calling a porn union. (He's had business cards made for all of them, which read, "The Union: Brothers United In Pornography." ) The union — more of a small trade organization, really — is designed to help the group promote its collective work and to ensure that, thematically speaking, the individual performers don't step on each other's toes.
"Everybody knows if D. Wise is doing a chick, he's gonna do anal," Wise said. His colleague Moe the Monster, on the other hand, is the "aggressive" one. "He'll choke a broad," Wise told me. "And I choke a broad, don't get me wrong. But that's not my thing." By respecting these territorial boundaries, members of Wise's group have found a way to coexist.
But it's been a challenge. His own proclivities aside, Wise doesn't make videos with an especially novel point of view. He catalogued his titles for me: "I have a series called Chasing White Booty, and then I have Chasing MILF Booty, Chasing Asian Booty, Chasing Latin Booty, and so on." The videos can be organized into genres, inarguably, but they don't distinguish themselves from what Valley-based companies already do well.
Without studios to shoot in or agency talent to employ, Wise embraces Brooklyn's ad hoc way of doing things. "The porn shoot here is mostly just, 'Get it on!'" Wise said. "There's no skit, no plot, no rhyme, no reason." It's only after a shoot that Wise will review the footage he's captured to see if it's usable. Unfortunately, spontaneity doesn't always breed quality. In one of Wise's scenes, set in what appears to be the messy aftermath of a house party, Wise, standing, is pleasured by two women while he eats a slice of pizza. The scene is disorderly — and not particularly enticing.
For Moe the Monster, spur-of-the-moment filmmaking launched what became a more typical career in the industry. Encouraged to try making porn, Moe eventually gave it a shot. Most memorably, in 2005, he filmed a video on an A train as it passed through Brooklyn. "I thought, 'Why not?'" Moe told me. "It was live. People were on the train." He uploaded the video to YouTube, and since the website was still young, it took six months for the video to be flagged and removed. Recently, though, Moe ditched Brooklyn for L.A., where he's performing full-time and where it's easier, he says, to get gigs.
Wise, with a baby (and a porn set) at home, says he's not going anywhere. He has a family to tend to. The unpredictable rhythm of his current work suits him. And the West Coast, where his friend Moe now makes a living, is, to Wise, a place conquered. "Brooke Hunter, now retired, was a major commodity in the industry, and she was one of the ones who didn't do interracial," Wise, namedropping an L.A.-based industry star, told me on his roof last week. "Now here's the kicker. There are only three interracial scenes of her out anywhere, right? I'm the male talent in all three."