Frank Russo wanted some concrete answers.
"I understand you're a Republican, so you'll cut taxes, but what do you actually want to do? Why are you running for mayor? What's the plan?"
Russo, president of the Brooklyn Tea Party and a member of the Brooklyn Young Republican Club, was grilling John Catsimatidis, billionaire businessman and a Republican mayoral candidate.
"I'm not going to let New York go backwards," Catsimatidis barked, his voice nasal and slightly pinched, like he was talking underwater.
"How are you going to do that?" Russo seemed genuinely confused.
"By winning and making a difference!"
"But how? What's the plan?" Russo said, his voice breaking slightly in frustration.
"We have the money to spend, we have the ideas!" Catsimatidis' belly shook.
They went back and forth, Russo pressing, Catsimatidis dithering, until finally, backed into a corner, Catsimatidis cobbled together a relatively coherent description of his plan to give high school students the opportunity to learn trade skills — the choice, in other words, to swap calculus and English classes for airplane mechanic and brick-laying apprenticeships.
Russo was unconvinced, though­ — he wanted tangible details about how the program would work. "You don't have an actual plan!"
Perhaps not, but Catsimatidis, had, apparently, had enough. "Oh shut up! Go bullshit yourself, if you want!" he bellowed, a spray of spit misting his tie and shirtfront.
Russo was understandably offended, yet he seemed to take it all in stride. As a Republican in Brooklyn, he's used to confrontation. Democrats vying for the mayoralty get most of the media attention in New York City, but here in Brooklyn, they're not the only ones slugging it out. Ever since a schism opened up in the Kings County Republican Party more than three years ago, Russo and his fellow club members have been locked in a bitter battle with their fellow party members. Tensions are showing no sign of abating.
■
The Brooklyn Young Republican Club meets once a month in the back room of Ceol Pub on Smith Street in Carroll Gardens. Club meetings are informal; often, they simply serve as designated times for members and non-members (those who come, but don't pay the membership fee) alike to drink pints of Guinness, eat fried bar food, and enjoy the luxury of being in a room filled with other Republicans, a rarity in a borough where Democrats outnumber Republicans by nearly eight to one.
In preparation for the Republican mayoral primary this September, the club has formalized its meetings slightly by inviting each Republican candidate to come and speak: media mogul Tom Allon (who has since dropped out of the race) was here in February, and Joseph Lhota, former chairman of the Metropolitan Transportation Authority, was here in March.
So far, though, Catsimatidis' hurled expletive has been the most exciting moment of the club's "Meet the Mayoral Candidates" series. After Catsimatidis' departure, members crowded around Russo, who fielded questions and appeared quite pleased with the attention. Arguments are a major driving force behind the club; members seem to revel in verbal jousting, especially if it involves a big name like Catsimatidis.
Meeting politicians is a long-standing tradition of the club. Founded in 1880 by Seth Low, who went on to became mayor of Brooklyn and mayor of New York, the Brooklyn Young Republican Club (not to be confused with the party-backed Brooklyn Young Republicans club, founded in 2010) has been addressed by four presidents, including Teddy Roosevelt and Herbert Hoover, and claims responsibility for the successful election of a fifth president (Republican votes in Brooklyn helped James A. Garfield carry the state of New York in the 1880 election).
The club's name is something of a misnomer; most members really aren't that young. On the day I visited, despite a few youthful faces, the median age was around 45. It's not a diverse group, either — in a room of 35, I was one of four people (five counting the waitress) who weren't white men.
"You see I do it a little differently," club president Glenn Nocera explained to me after the meeting. "Even though we are the Brooklyn Young Republican Club, if you are young at heart, you are more than welcome to come to our events."
At 38, Nocera still qualifies for the club on numerical age ("young" is defined as 40 and under; those over 40 can attend meetings but are not officially members). A big guy with a penchant for formal attire — that day, he wore a striped suit and red tie — Nocera is fastidious about his appearance.
Nocera, like the club he leads, has deep roots in Brooklyn. He was born and raised here, as were his parents; his family has lived in the same narrow white house in Kensington since the 1920s.
After the post-mortem on Russo's tiff with Catsimatidis, the room's focus shifted back to Nocera. Russo extended an invitation to his birthday party, and another member asked if he would be joining the rest of them for dinner. The battery in Nocera's car was dead, so someone offered to give him a boost.
Nocera clearly relished the attention. But he made a point of reminding me that club isn't just about camaraderie — it's also about politics.
Politics play a major role in Nocera's life, and they're at the center of some of his earliest memories.
Sitting in the corner of the room, he brought me back to the moment he became a Republican. It was March 30, 1981, and he was sprawled on the kitchen floor of his childhood home, watching the news coverage attempted assassination of Ronald Reagan. The story transfixed him and for the rest of that day, a six-year-old Nocera pretended to be a news reporter, breaking developments in the story over and over to the great annoyance of his father and siblings.
Reagan would become Nocera's idol, first because of his personal style and confidence, but later because of his fiscal policies. (Reagan remains Nocera's hero and attacks against him still feel personal. "I hate it when people say that he slept through meetings, or call him an idiot," Nocera said. "Just look at the notes he took while in Office! He was the real architect behind everything!")
Nocera wasn't actively involved in politics in high school; it was only during his sophomore year at Brooklyn College that he became involved with the Young Republicans. He recalls seeing a fellow student stapling a poster advertising the next socialist student club meeting to a lamppost and thinking to himself: "OK, then where's the Young Republicans club?" It turned out there wasn't one. The club had been inactive for two years. Nocera resurrected it.
He also started attending Brooklyn Young Republican Club meetings, which would become a regular habit after graduation.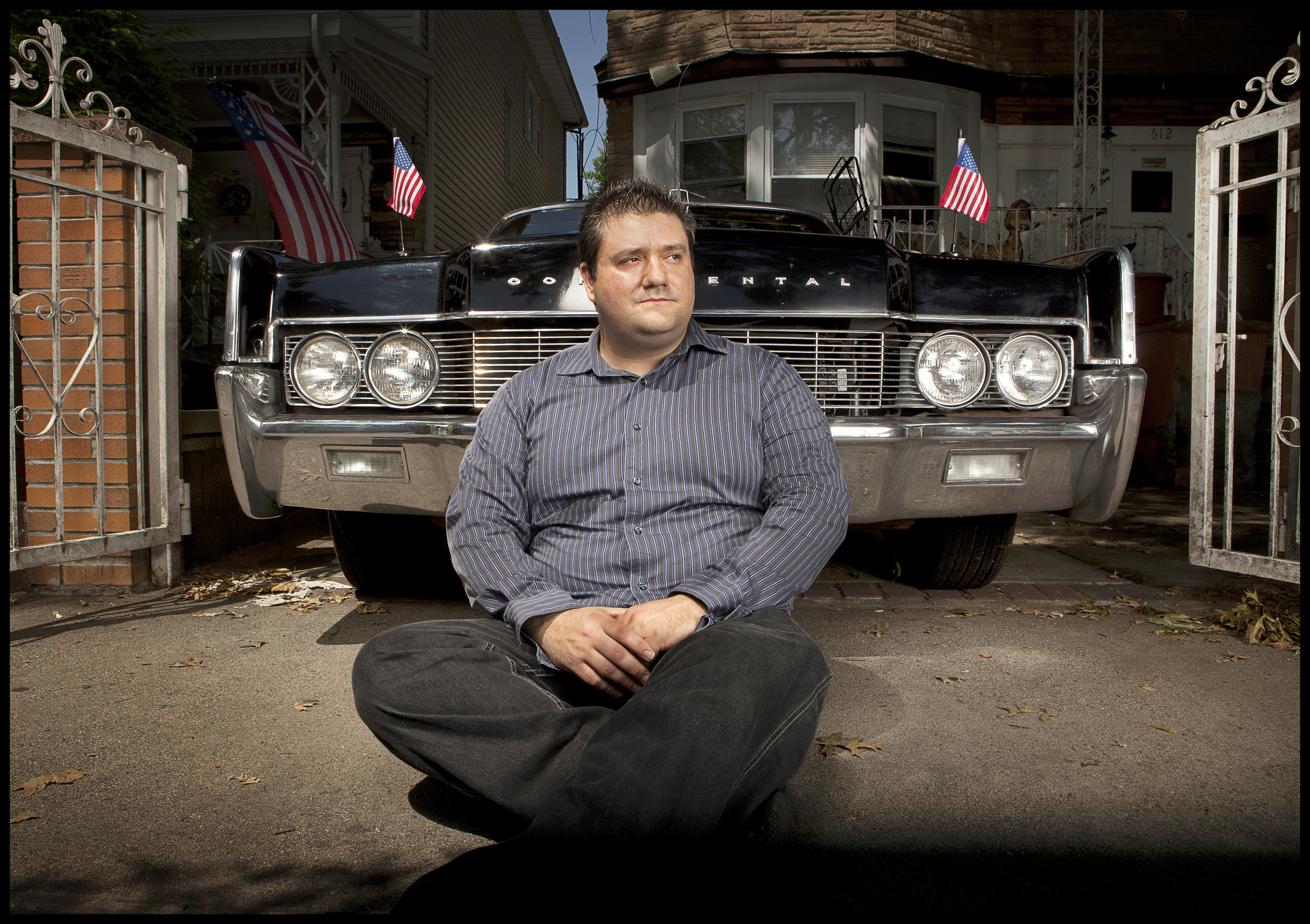 Ever since his childhood, growing up in a house with his father, three brothers, and two sisters, all Democrats (his mother died when he was five), Nocera has been the odd man out. "I was Alex P. Keaton's character on the show Family Ties," he joked.
He's outgrown the Alex P. Keaton comparisons, but he still lives in the political minority. "Being a Republican in Brooklyn is an uphill battle," he said. "Romney only got 19 percent of the vote — he lost 81 percent to 19 percent, which is horrific, especially in light that the economy was horrendous."
In this hostile environment, Nocera believes that the Brooklyn Young Republican Club should focus on bringing people together. Members are encouraged to run for elected office, but the club primarily meets to talk; conversation often centers on personal lives as much as it does on the political issues of the day.
And anyone, regardless of ideology, is welcome. "I don't exclude people," he explained. "Democrats who want to come are more than welcome. How else are you going to try to convince the other side of your ideas you're just tooting your own horn amongst yourselves?"
Most members are fiscally conservative and there's a strong libertarian faction to the club. Socially, however, they're are all over the place: the spectrum ranges from anti-abortion, pro-gun Tea Partiers like Russo to members who support gay marriage, gun control, and abortion rights. "At the end of the day, we all just want New York to be a better a place to live where we aren't taxed to death and the streets are safe," Nocera said.
As often as possible, Nocera gets Brooklyn Republican politicians to speak to the club. There are currently just three: Assemblywoman Nicole Malliotakis, State Senator Martin Golden, and Congressman Michael Grimm. (Only slivers of Malliotakis' and Grimm's districts are actually in Brooklyn — the rest are in much more conservative Staten Island).
In a borough as blue as Brooklyn, it's often a struggle for a candidate to get enough signatures to enter the race, much less win it. Which is why it troubles Nocera that the borough's Republicans are currently engaged in a civil war, with two rival clubs competing for what is already a scarce resource in Brooklyn: young (or youngish) Republicans.
On one side: Nocera's Brooklyn Young Republican Club. On the other: the Brooklyn Young Republicans Club, sponsored by the State Young Republicans, and led by Kings County Republican Party chairman Craig Eaton and Eaton loyalist Russell Gallo, whom Eaton initially installed as club president and who now serves as treasurer.
The details of the war are a matter of bitter contention among those who participated. But the beginning of the rift in the party can safely be traced back to one name: Jonathan J. Judge.
■
Jonathan J. Judge. Even his name sounds larger than life, like he's a superhero or supervillain. And depending on whom you ask, Judge is either Brooklyn Republicans' heroic avenger, or the evil mastermind who tore the party apart.
On a recent Wednesday, I met Judge in Madison Square Park, near where he currently works as a freelance programmer. With carrot-colored hair and freckles to match, he has a distinctly boyish appearance — he certainly doesn't look like a supervillain.
Judge was born and raised in Kensington; his parents were both cops. As a kid, he was fed a steady diet of hair-raising accounts of New York City in the seventies and eighties. His parents' Brooklyn was not a place he wanted to live, and his political fervor grew out of a commitment to do his part to keep New York City from returning to what he sees as the bad old days.
Like Nocera, Judge was strongly influenced by a major Republican in power during his formative years; in his case, it was Mayor Rudy Giuliani. Giuliani's star has dimmed considerably since he left office (and he's widely reviled by no small number of New Yorkers), but to Judge, he was a great reformer. "Suddenly, there was a different group of people running things, and I saw how competition injected a whole new air of vitality into the political system," Judge said.
Judge's attraction to the Brooklyn Republican Party stemmed from his belief that a strong second party would weed out complacency and corruption in Brooklyn politics. He had no interest in the national party, which he called "the biggest monkey on our backs." Judge doesn't believe social issues have a place in politics. He supports gay marriage and is pro-choice.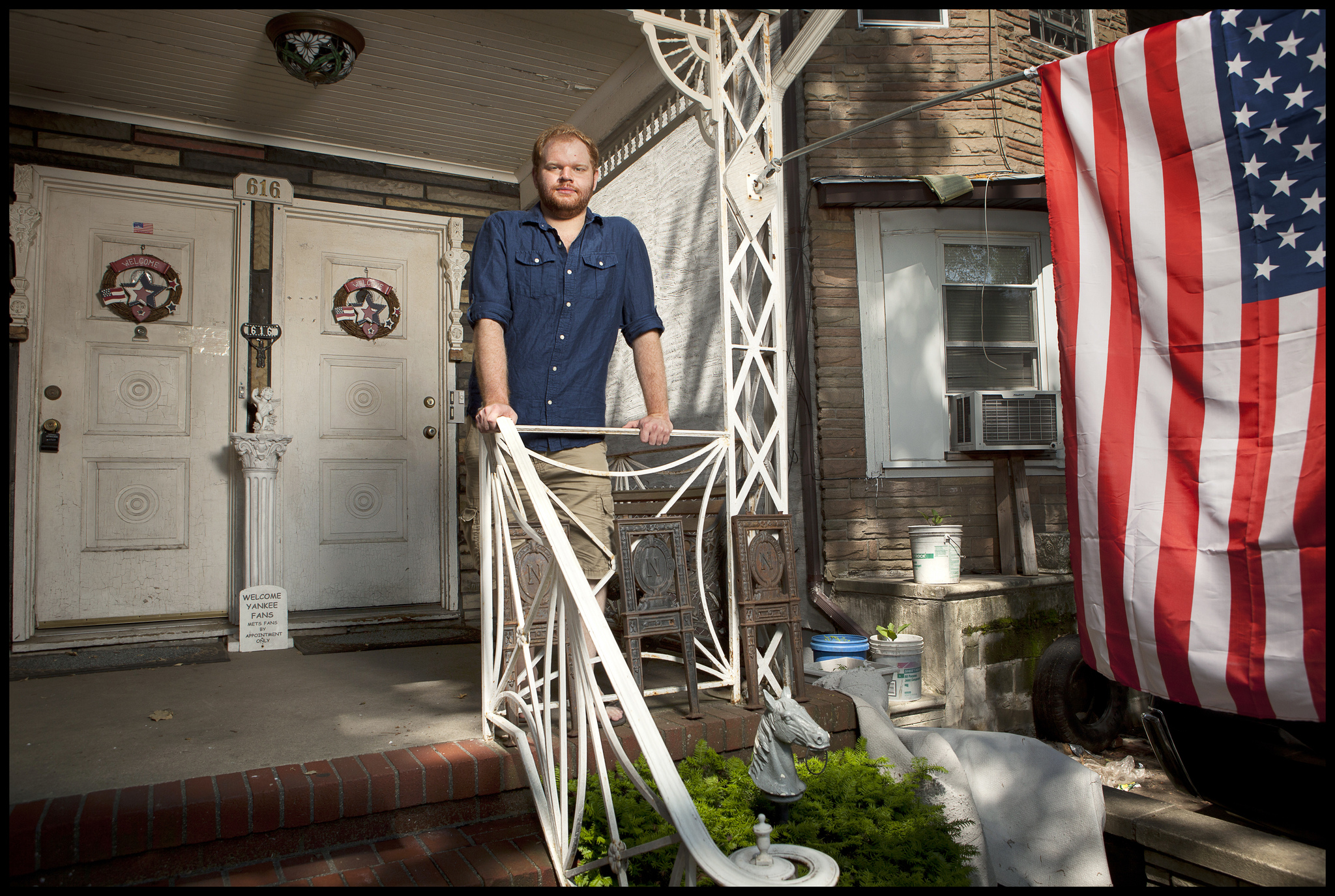 In 2005, at eighteen, Judge joined the Brooklyn Young Republican Club. He was elected secretary of the club the following year; in 2008, at 21, he was elected president. "I was completely doe-eyed," he said. "I was seeing rainbows and unicorns. It was like 'Ahhh! We can make so many things change!'"
As president, Judge immediately set about shaking things up, moving club meetings from sleepy Bay Ridge to north Brooklyn, where people his age tend to congregate. Being an actual young person, he made a sustained push to attract other actual young people. "We focused more on socializing, rather than having meetings where we did what 80-year-old retirees probably occupy themselves with," Judge said. "It was a different model."
Eaton, then already party chairman (he was elected in 2007), was initially supportive. Judge said they spoke on a few occasions about his plans for the club; he was happy that Eaton was taking an interest.
But the seeds of the conflict had already been sown. Judge's decision to change the location and format of club meetings without first seeking his approval bothered Eaton. (According to Judge, Eaton started the hostilities by abruptly canceling numerous meetings).
According to Judge, due to Eaton's cancellations, the two had few face-to-face interactions (Eaton denied canceling any meetings). But a mutual distrust quickly developed, born of differences in age and outlook, and fanned by rumors of disparaging comments from each about the other.
Then came August 2009, which saw the creation of the anonymously penned anti-Eaton blog Atlas Shrugs in Brooklyn.
Even those who actively follow Brooklyn politics could be forgiven for entirely missing the Brooklyn GOP blog war, which raged from 2009 to 2011. Unsurprisingly, the digital back and forth between obscure members of the minority political party in the borough didn't make headlines in major city outlets, although local publications like The L Magazine and the Brooklyn Daily Eagle covered the ugliness extensively.
To all those involved, though, it was a major event, full of grave accusations and vicious name-calling, played out in front of a small, but rapt audience.
In its first post, Atlas Shrugged laid out its sweeping mission statement: "We seek to facilitate the following in order to empower Brooklyn's Republicans and all of its concerned, hardworking citizens to initiate reform and secure true ownership in the governance of our Republic."
The blog was viciously critical of Eaton and his supporters, depicting Eaton as a paranoid dictator and Gallo as his loyal "pit-bull."
Several months after Atlas was launched, the anonymous, anti-Judge, pro-Eaton blog The Jig is Up Atlas appeared. (The Jig is Up Atlas is no longer live, but sections of the blog are still accessible through the Internet Archive.)

The two blogs fed off of one another, escalating the personal attacks and generally pissing everyone off. I did, however, get the distinct sense certain players enjoyed the attention. And, as a number of people told me wistfully, the blogs guaranteed that there was always something to talk about.

Atlas Shrugs' attacks on Eaton were particularly nasty. In one post, which accused Eaton of shirking his duties as party leader, Eaton is described as:

"The man whose charitable organizations have had questionable dealings."

"The man who maintained our party's headquarters at his personal law firm."

"The man who paid political consultant and Merlin of Malice Gerry O'Brien even after he ran amok this past year."

The post went on to compare Eaton to both Marie Antoinette ("'Let them eat cake,' is a phrase that comes to mind") and King George III.

For its part, The Jig is Up Atlas included Judge on its "Official Douchebag List," alongside Anthony Weiner and Kevin Parker, a Democratic state senator best known for attacking a photographer from the New York Post.

The vitriol of the blogs is remarkable. Eaton was labeled Macbeth, Gallo his enforcer. Judge and Eaton were both routinely charged with cutting deals with the Democrats, and Nocera was accused of praising the assassination of Abraham Lincoln (that claim riles him up the most).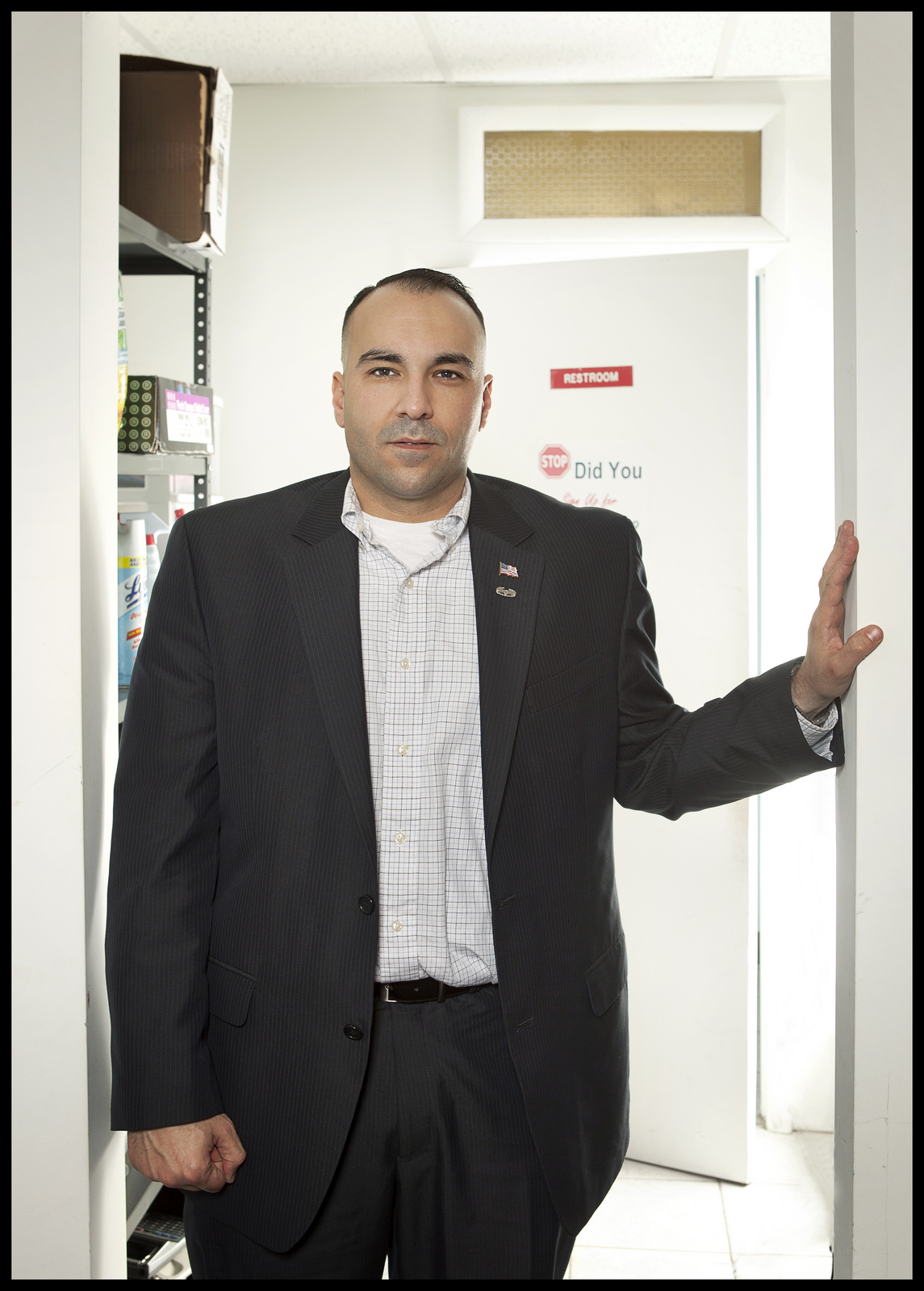 The war of words escalated in the comments sections. Some of the most vicious attacks have now been removed, but plenty of nasty comments remain: "Führer" Eaton was compared to Hitler, Judge labeled a fat alcoholic. Gallo, an ex-Marine, was accused of exaggerating, if not completely fabricating, his war stories.

"It was like high school crap," Nocera said. The "high school crap" included the creation of "The Nocera Files," a separate site (now defunct) featuring videos of Nocera's renditions of patriotic classics. Nocera refused to be embarrassed. "You know what? Good, I'm flattered; if you're putting a caricature of me, I guess I'm that powerful that you're going to create a site against me." (He still does karaoke. "It's a stress reliever," he said.)

In January 2010, Judge announced his candidacy in the special election for the 44th City Council district. When Judge failed to win the party's backing, the blog wars reached a boiling point, with posts announcing the start of the "Brooklyn GOP Revolution."

Recently, I sat down with Gallo at the GOP headquarters in Bay Ridge to hear his account of the 2010 special election.

Clean-cut, built, and handsome, Gallo could play the good cop in an action movie. But he speaks more like a politician, clearly articulating his points and smoothly defending his position on any given issue.

Leaning forward in his chair, Gallo explained how in early 2010, leading up to the election, the executive committee of the county party interviewed potential candidates, including Judge and a young lawyer named Kenneth Rice. The committee went with Rice.

According to Gallo, Judge never made the ballot because he didn't collect enough signatures; Rice did. (Judge contends he got enough signatures, but that thanks to an archaic and corrupt system he was unjustly removed from the ballot.)

Judge was furious. (He still believes that Rice was a puppet candidate, propped up by Eaton and the party establishment in order to keep him off the ballot.) In response, he endorsed Joe Lazar, a Democratic candidate in the race (liberal Democrat Kenneth Greenfield ultimately won the seat). Gallo claims the endorsement was an act of retaliation; Judge says that Lazar's positions on social issues were closer to his own than Rice's.

Special elections in New York City are nonpartisan — meaning candidates do not run in party nominating primaries, and ballots do not list a candidate's party affiliation — but Gallo felt betrayed by Judge's breach of political solidarity. "Rather than Jonathan being the bigger man, he endorsed the Democrat!" Gallo said. At that moment Judge lost Gallo's respect.

Gallo stewed on this, finally deciding that he couldn't be a member of any organization run by Judge. On September 20, 2010, six months after the election, he announced that he would no longer be attending Brooklyn Young Republican meetings. "It's no secret that the Brooklyn Young Republicans, under the leadership of Jonathan Judge, have marginalized themselves to the point of irrelevancy," he wrote in a statement published on the blog of Brooklyn GOP Radio, which is sponsored by the Kings County Republican Party and which Gallo co-hosts.

The statement, which was written in an elegiac tone (Gallo periodically repeated the phrase "it's a shame" for stylistic effect) ended with a challenge to club members. "I call on every member of that club to evaluate what that organization has done to advance the Republican Party and our ideals," Gallo wrote. "Upon review, I am certain that many of you will join me if you look at the situation objectively."

Gallo approached Eaton and, in the ensuing year, the two worked together to form a second club for young Republicans in Brooklyn that would, as Gallo put it, "actually adhere to Republican values."

Almost exactly a year after Gallo publicly broke with the Brooklyn Young Republican Club, the Brooklyn Young Republicans Club was born. Eaton oversaw the operation, and Gallo was installed as president. The State Young Republicans, who had worked closely with Eaton in the past, revoked sponsorship from Judge's club and handed it to Eaton's newly minted one.

Since then, the official club has been heavily integrated into the Brooklyn Republican Party. The club's executive board, including Gallo and current president Diana Sepulveda, are vocal Eaton supporters and have endorsed his bid for re-election as county chairman. Essentially, the official club is an offshoot of the county party; Eaton makes the calls.

Meanwhile, the original club operates independently, free from the strictures of the State Young Republicans' bylaws. The last two years have seen Judge take a less active role within the organization (he stepped down as president to serve as treasurer in 2011). He admits there has been a lot of attrition; for the most part, the young people Judge was so keen on bringing into the club no longer attend meetings. Still, under Nocera, the club has expanded its social media presence, allowing members to interact with candidates over Skype and encouraging political discussions on Facebook and Twitter. ("Our club's Facebook page," Nocera said proudly, "has over 800 members.")

■

The official club has a much more limited social media presence (its Facebook page currently clocks in at 101 members) and, for the most part, doesn't bother with online communication. It's an approach emblematic of the divide between the clubs.

Eaton believes the party is better served by in-person organizing. Political activism, in his mind, means "actually going out into the community, and talking to your neighbors." He thinks reaching out to people through the Internet is a lazy man's strategy. "We need boots on the ground; we need people in their twenties and thirties to step up," he said.

He's canny enough to give lip service to the importance of social media, but it's clear he sees these technologies as a passing trend.

This general distrust of technology as means for engagement is, Judge said, a typical complaint of "an older generation threatened by the younger generation. It's that because we don't do it the way they did it, we're doing it wrong."

But the differences run deeper: Judge doesn't think Eaton and his generation of party leaders even want to build the party. "Half of them are one foot in the grave and the other on the banana peel," he said. "These people have done this for so many years; they don't even have the energy to learn what's going on in their communities now … that requires a lot of work and interest."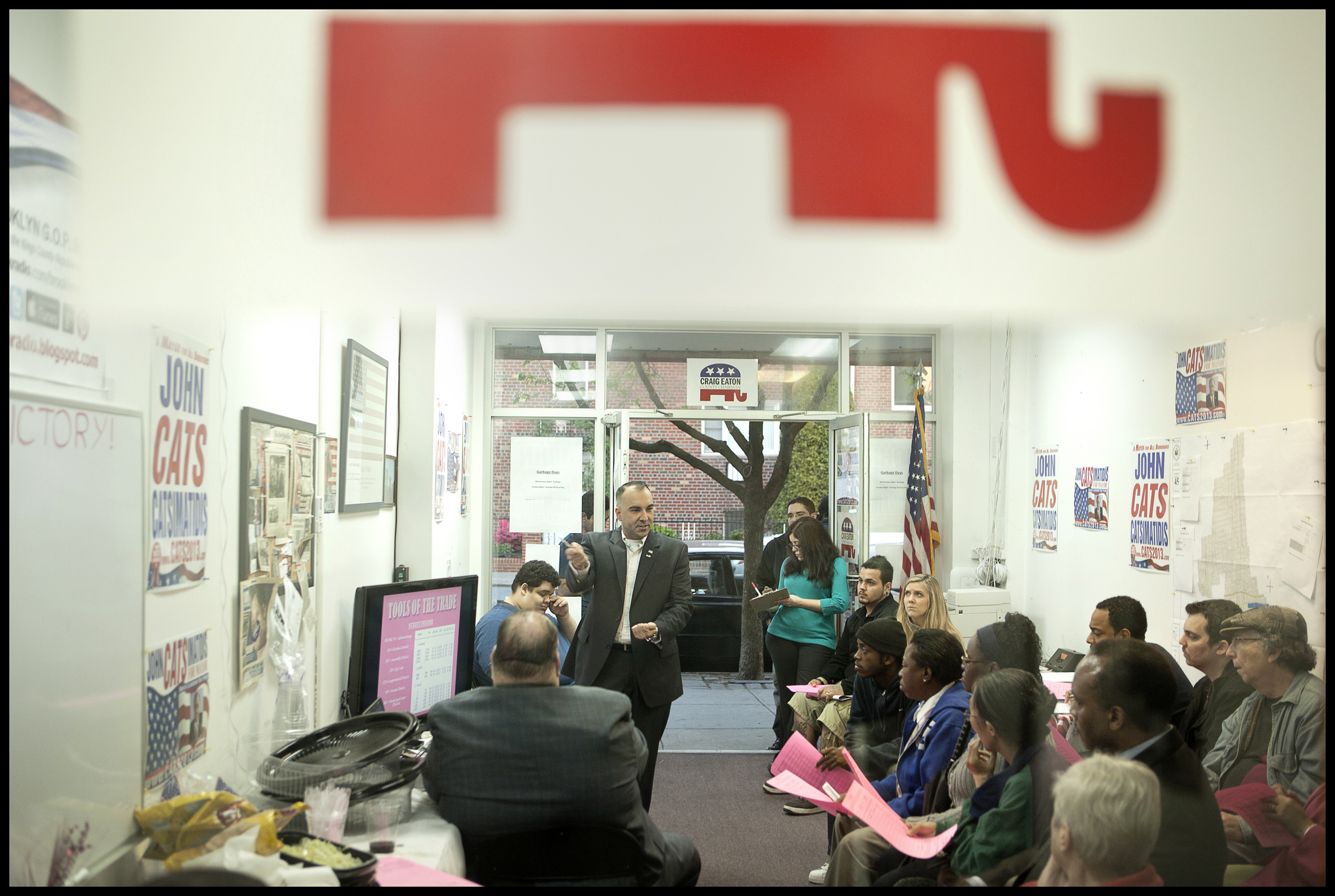 As Judge sees it, his generation has the energy and desire to make things better, to build connections, to improve the political system — Eaton's generation doesn't. And because Eaton's generation insists on clinging to power, the party is in disarray.

From this perspective, the Democrats aren't the problem; the problem is the party leaders, more concerned with protecting their own positions than with running competitive elections.

Eaton, unsurprisingly, denies this. He pointed to several competitive races that have occurred on his watch, including Bob Turner's upset in the 2010 special election to replace then-Congressman Anthony Weiner and David Storobin's nail-biter victory in a 2012 special election for the state senate. (Both Turner and Storobin quickly saw their districts carved up in redistricting. Storobin was defeated by Democrat Simcha Felder in the following election; Turner didn't seek re-election, instead mounting an unsuccessful bid for the US Senate.)

Eaton insists that he was simply a victim of his own success. "I single-handedly got Bob Turner and David Storobin into the races and got them elected," he said. "And because we were so successful, the Democrats decided to take those seats away from us! When they redistricted last year, they took seven or eight of my best leaders, and moved them all into the 46th assembly district."

When I ask Judge if he, like Eaton, is angry with the Democrats for the redistricting that caused Storobin to lose his seat, he cackles maniacally. "Are you kidding me? The Democrats were responsible for the redistricting? That was not the case at all," he said.

He explained that Marty Golden, Brooklyn's lone Republican state senator, was instrumental in the redistricting process, which handed him parts of Storobin's former district. Golden, Judge claimed, helped create the so-called "Super-Jewish" district, which includes large chunks of heavily Orthodox Midwood and Borough Park, for the purpose of delivering Storobin's seat to the Democrat Felder.

The events that followed the election do lend some credibility to Judge's version of history. Once elected, Felder immediately committed to caucusing with the Senate Republicans.

This is how it goes: up-and-comers like Judge are incensed at the state of the party and lay the blame on the older party leaders. And members of the old guard — the Craig Eatons and Russell Gallos — say they did the best they could, and would have done better if they'd had full support from the upstarts.

It's a story that plays out in every family: youth rejecting the old way of doing things, the elders refusing to yield. The generations are pitted against one another, each unable to comprehend how the other can be so grievously mistaken about everything, each so convinced of his own rightness. (One apparent exception to the generational divide is diversity — the official club looks a lot more like today's Brooklyn than Nocera's club, though the issue was never raised to me).

Judge said Eaton was always quick to dismiss his suggestions on how to improve engagement among young Republicans because Judge was too young. Eaton admitted to ignoring Judge's criticisms — including the broadside he launched over Eaton's 2009 endorsement of Michael Bloomberg — based on age. "I came to decisions from a much more diverse background, with a lot more life experience behind me than a 23- or 24-year-old kid that was still living at home," he said.

Judge sees in Eaton a stubborn old man clinging to a broken system; Eaton sees in Judge a green kid who doesn't know the rope and refuses to pay his dues.

The two men can't, or won't, understand each other, a problem that's mirrored in the two competing clubs. Nocera is proud of the club's independence from the party and unconventionality is proudly cultivated. In early June, the club even took part in a zombie walk, except the zombies were "Obama zombies," who roamed the streets moaning "freeee healthcare to all."

The official club, on the other hand, is more rigidly organized and hierarchical — club members attend petitioning classes and serve as poll workers, and they're expected to collect signatures for party candidates. The club hews closely to the vision Gallo laid out in the 2010 statement announcing his departure from Ceol Pub. "I always felt that the idea of a YR Club is to 'build the bench' for the County lineups of the future," he wrote. "We were supposed to be the Soldiers listening and learning from the more experienced leaders."

Is there a chance of reconciliation? Both Nocera and Gallo say they hope so.

"Being a Republican in Brooklyn is like being involved in the Alamo," Nocera told me. "We can't fight amongst ourselves over the raccoon hat over there, because there's only about a 100 of us in that fort, and there are thousands of them outside those walls ready to kill us. So you can't afford to split with each other."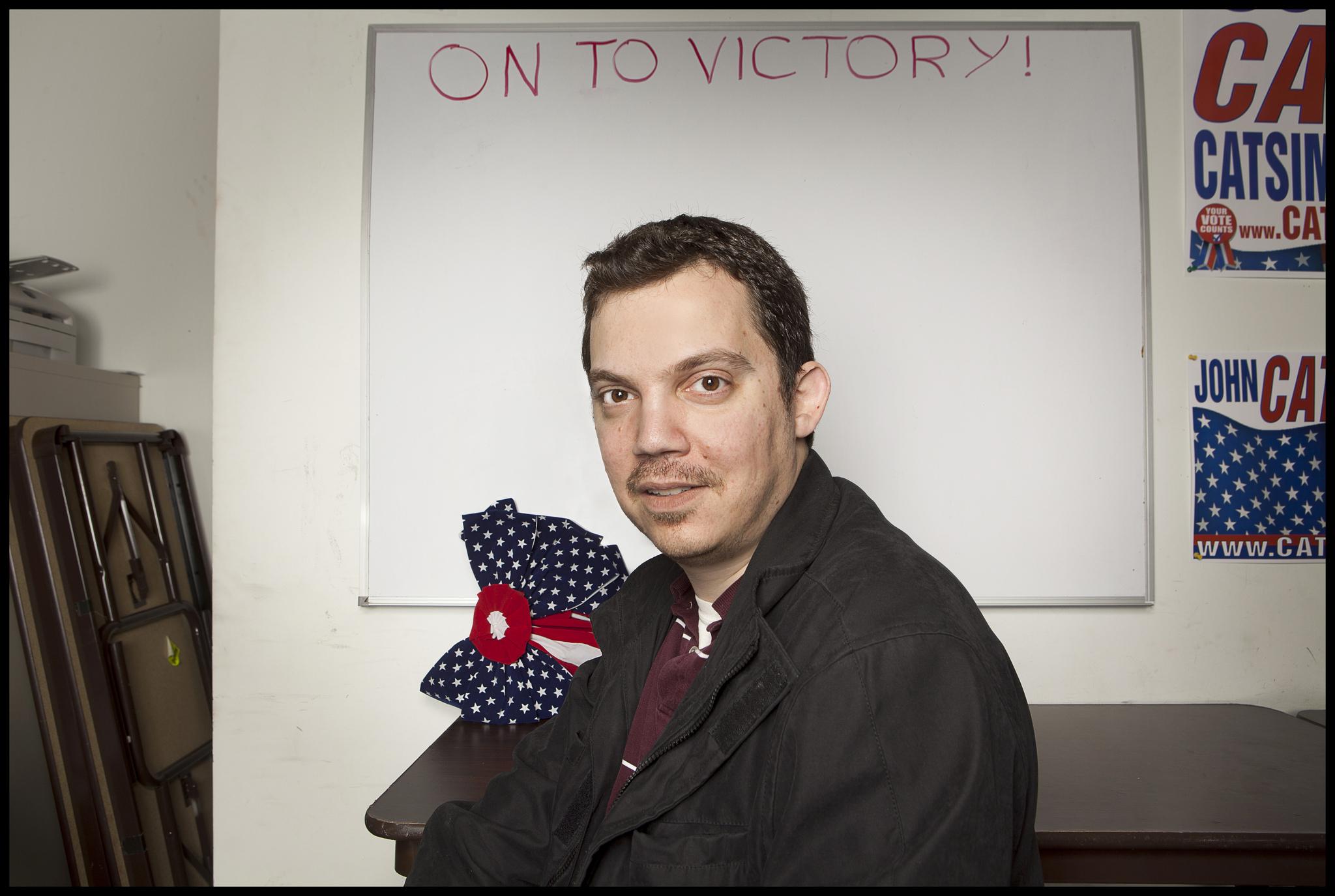 Gallo expressed some optimism that now he and Judge have taken a back seat — each stepped down as president and now serves as treasurer — the clubs can bridge the divide. There have been a few encouraging signs. Frank Morale, the official club's vice president, frequently attends the other club's meetings; Sepulveda, who took over as president when Gallo stepped down in February, said she'd like to see a reunion.

And Judge? Lately, Judge has stopped attending meetings, and Nocera told me he's struggled to get in touch with him. While he still serves as treasurer of the club, Judge claims he's done with Brooklyn Republican politics.

"Maybe as Republicans we missed the mark by trying to make politics in government our focus," he said. "What if we tried to help communities solve their own problems?"

Judge is a bit vague on how this might be done — he mentions small projects like "cleaning up an alleyway" or "planting trees," but it's not clear how he'd deal with larger structural issues.

What is clear is that Judge is tired of fighting to reform a political party he says he no longer believes in.

■

The stakes of the battle among Brooklyn's young Republicans appear, at least from the outside, to be rather low. This is a world where electoral victories, even close races, are a rarity and club treasuries contain little over a thousand dollars. But to those involved, it doesn't matter.

While the Anthony Weiners and Christine Quinns slug it out, the media covering every barb and every poll, here is an undercard that promises those paying attention (mostly, it turns out, club members themselves) an entertaining fight.

There's a certain seduction to watching that fight — and to stepping into the ring.

Come this fall, the Republican candidate for mayor (whether it be Catsimatidis or Lhota) will face long odds in the mayoral election (although crazier things have happened — just ask Mark Green). Club members know this well.

But the odds aren't going to stop them from showing up at Ceol Pub or at the official club's headquarters in Bay Ridge. Win or (much more likely) lose, they'll be there, arguing, demanding answers, and, if they're lucky, picking fights with the occasional speaker. After all, isn't that half the fun of being a young Republican in Brooklyn?