After the heat wave that scalded the city in July, I got to thinking about sweat. There are different kinds of sweat just as there are different kinds of rain. It depends on the way the droplets form, where they sneak onto your skin, the smell, and the taste. It might be a private humiliation or a kind of subway contagion — the seasonal equivalent of getting sneezed on by a stranger in winter. Sweat lurks everywhere in the city, its sour dampness dissuading even the most scantily clad from stepping out of air-conditioned offices. No amount of deodorant is enough to guard against New York in summer.
But under certain circumstances, sweat is invited. It's been said that in ancient Rome, wealthy men would greet each other at bathhouses by asking, "How is your sweat?" The word "sauna" comes from Finland, though, and it means "bath." According to Norse legend, a primordial frost giant named Ymir began to sweat, and from his perspiring armpits emerged a man and a woman — the ogres from whom all humanity descends. And so sweat, as it's defined by Scandinavian mythology, is the very source of our being.
The Finns — who dug primitive saunas out of slopes in the ground and used the first smoke structures not only for sweat but also for curing meat, drying flax, and even giving birth — immigrated in droves to the United States between the 1870s and the 1920s. They came looking for work, and many settled in the area stretching from Michigan's upper peninsula across the western shores of Lake Superior, which became known as the "sauna belt." At the same time, the first wave of Russian immigrants were settling in New York City. Like the Finns, the Russians carried their customs with them, including an attachment to the banya (the Russian word for "bath"), a close relation to the Finnish sauna.
Many of the Russian émigrés arriving at New York's shores were Jews fleeing from successive generations of political and religious persecution. For more than a century, they have kept up the banya tradition. "Banyas are social gathering places, community builders, and also places to relax from stress," the historian Annelise Orleck told me. "Jewish immigrants brought it to the Lower East Side as part of the Jewish religious bathhouses (mikvehs). With many apartments not having running water, non-religious Jews frequented many bathhouses in the city."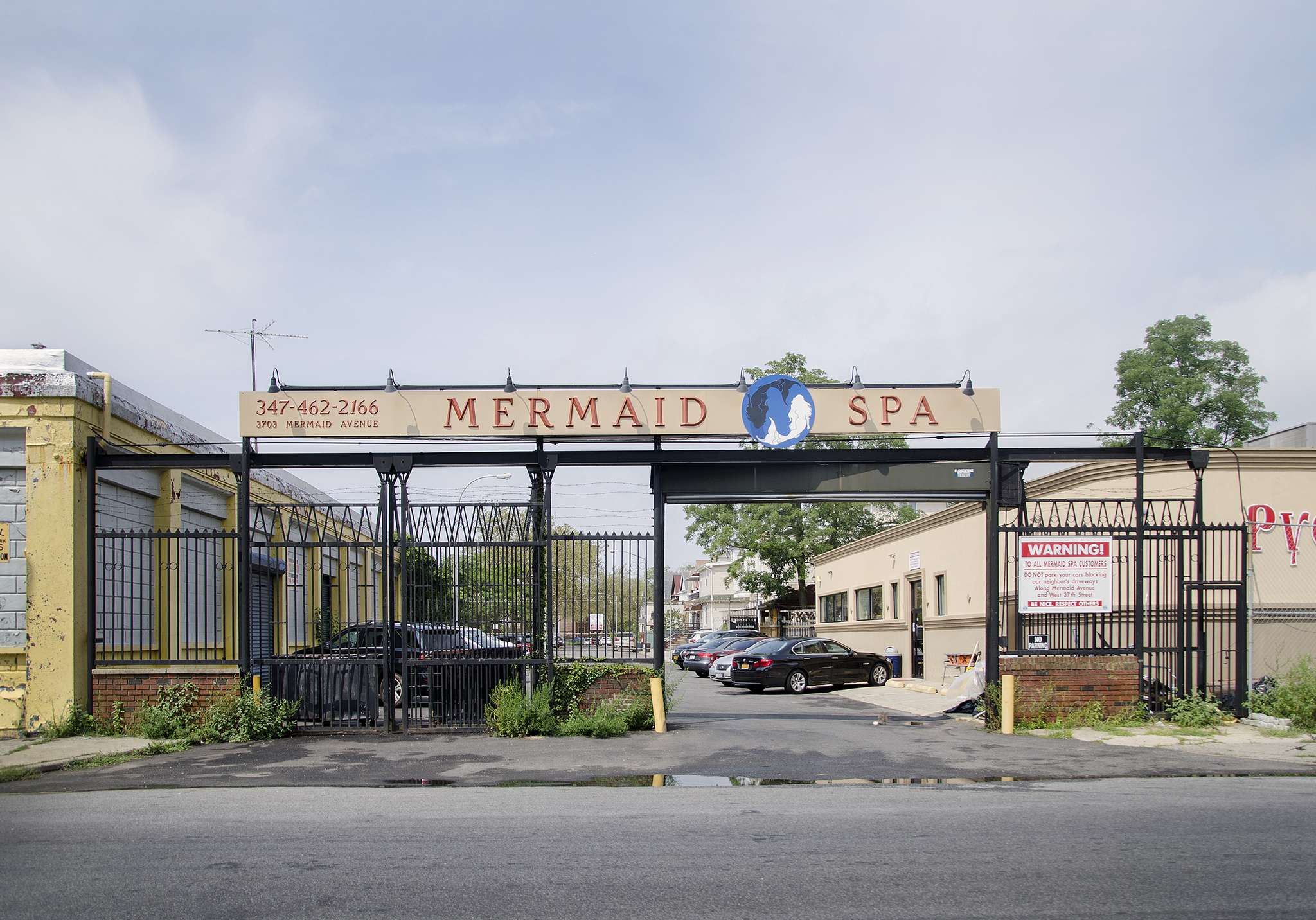 South Brooklyn became the city's primary Russian enclave. With a second immigration wave after 1917, in the wake of the Russian Revolution, and later, arrivals from the Soviet Union, the number of Russians living in New York swelled. By the early eighties, more than 30,000 Soviet Jews had settled in the square mile of Brighton Beach. And with the influx of neighbors from Ukraine, Belarus, Moldova, and other former Soviet republics, the area became known as Little Odessa and Little Russia by the Sea; today, you can check into the neighborhood on Foursquare. There were Russian shops, restaurants, and, of course, banyas.
The Russians of Brighton Beach spilled over into nearby Bensonhurst, Sheepshead Bay, Gravesend, and Midwood. Some émigrés found their way to the old resort town of Sea Gate, on the farthest western tip of Coney Island. Today, more than seventeen percent of residents in Brooklyn's community district 13 — the southern boot of the borough — are of Russian ancestry, more than double the number of the next-highest ethnic group, according to the most recent data provided by the Department of City Planning.
In a book published in June, One Out of Three: Immigrant New York in the Twenty-First Century, Orleck writes that half of all Russian-speaking Jews in the United States live in New York City, and about 60 percent of those live in Brooklyn. She adds, "The vast majority have remained in the regions where they first settled, with a substantial number in the twenty-first century still concentrated in the southern tier of Brooklyn — rarely, as they put it, 'going out into America.'"
There are now 89,000 people of Russian descent living in Brooklyn, and five banyas. A few days after the worst of the heat wave passed over — perhaps a meteorological intervention of my forgotten Russian ancestors — I took the Q train all the way down to the last stop, Coney Island, to the headquarters of sweat: the Mermaid Spa in Sea Gate.
■
Sea Gate is known as Brooklyn's oldest gated community. The gates went up in 1899, the same year as the formation of the private Sea Gate Association, which still runs the insular neighborhood and provides independent sanitation, police, and public works services. The Norton Point Land Company had bought up the area a few years earlier, in 1892; it constructed houses and gave the town its name. The company sold homes to some of the wealthiest families in the city and put up fences to create a barrier from the pandemonium of Coney Island. Sea Gate's prized attraction was the Atlantic Yacht Club, frequented by the moneyed elite, including Governor Al Smith.
In Sea Gate Remembered: New York's First Gated Community, local son Arnold Rosen describes the turn from "the Morgan-Whitney-Dodge-Vanderbilt era" to the period following the Great Depression, when "Sea Gate was all but middle-class Jews." When Isaac Bashevis Singer, the Polish-born Nobel Prize-winning writer, arrived in Brooklyn in 1925, his brother lived in Sea Gate. "A quiet little village of retired people, Jews, intelligentsia," he told the New York Times in 1983. "When I went out from Sea Gate to Coney Island, I went from paradise into hell. I couldn't believe that such a quiet place and such a loud place could exist next to each other."
The Mermaid Spa opened its doors in 1997 and soon became a nerve center for Russians in Brooklyn. Zina Kotlyar, one of the banya's owners, described it as a social scene. "People can come here, rejuvenate, escape their problems at home, meet each other here, have business talk, discuss what's going on in the city, they can have beer," she said. Kotlyar was born in Russia and has been living in Brooklyn for 35 years. Her parents went to the local banya when she was young, and she tagged along a few times. "Of course, people who came here from Russia, they will always have a part of the Russian culture," she said. "It's like everywhere — with Chinese people who come from China. But we are American. We would like people to come from not only Russia — anyone can come here. They can have an experience, like with a little Russia."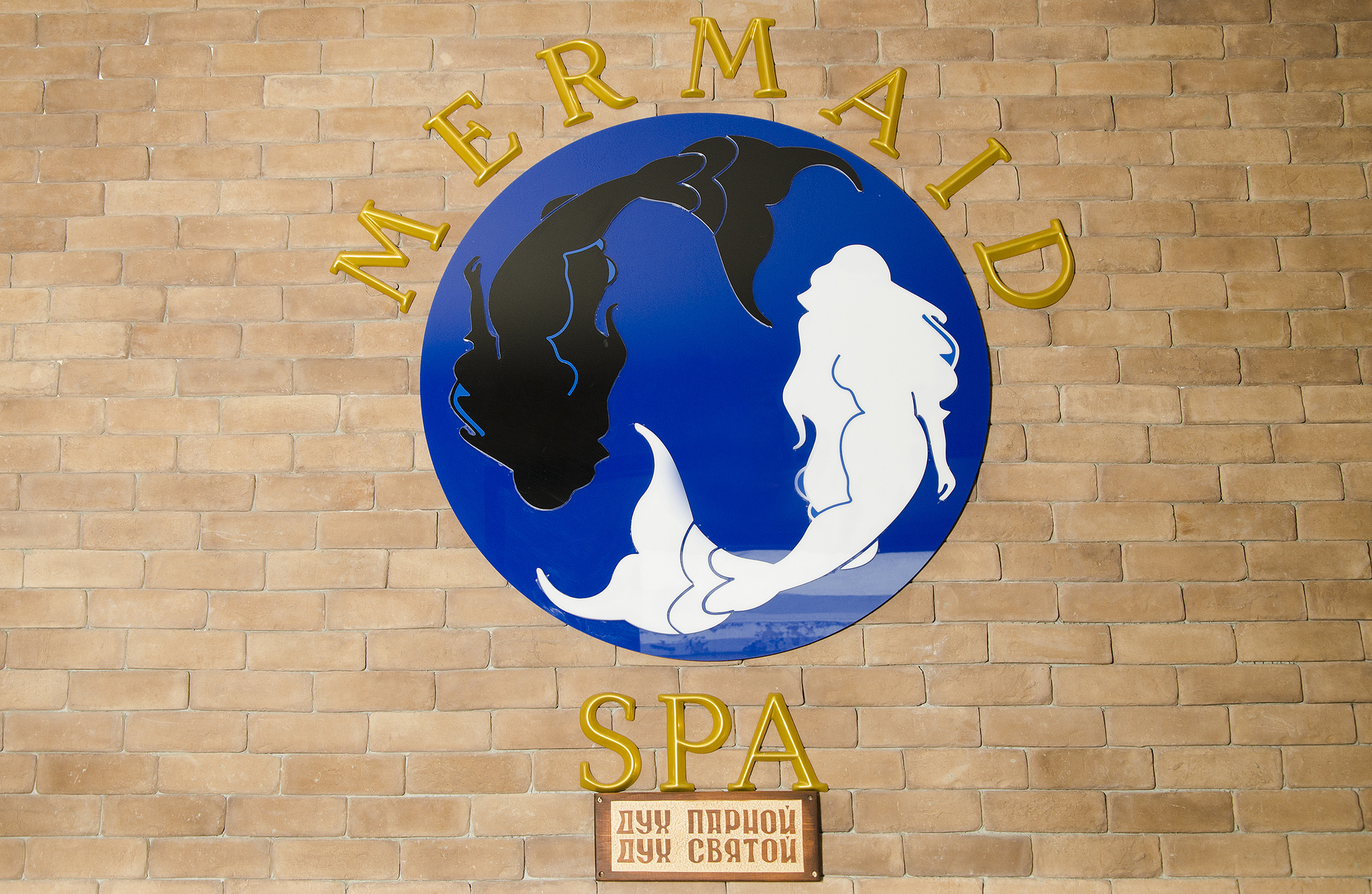 In 2005, the banya caught fire. The building was entirely destroyed. "We rebuilt the place, and in 2008 we re-opened it," Kotlyar said. "The clientele, they didn't change pretty much. We have more American people who come here, who visit us — who just try it — not necessarily to stay."
In a Russian-language promotional video filmed when the new Mermaid Spa opened, New York State Assemblyman Alec Brook-Krasny announced how pleased he was to be at the reconstructed banya. Brook-Krasny, who represents the southwestern tip of Brooklyn, including Sea Gate, was the first Soviet-born Russian-speaker to be elected to the assembly. He said, "It's been through a lot — 'to go through fire, water, and brass pipes.'" That's a Russian idiom that translates as "to go to hell and back," or to overcome adversity. Fire and water are physical challenges, and brass pipes — the sound of trumpets — are a test of character. He was punning that the banya, having been engulfed in flames, its pipes destroyed, has persevered.
It has also withstood onrushing water. Hurricane Sandy ravaged Brooklyn's coastline; of the 832 houses in Sea Gate, almost two dozen were crushed, and many more were ripped to pieces by hulking eight-foot waves or smashed in by fallen power lines. The headquarters of the neighborhood's small private police department was destroyed, and Sea Gate's 35 cops set up temporary shop in a trailer. But Sandy hardly touched the Mermaid Spa. The banya had a little water inside, but the damage was mechanical, not visible, Kotlyar said, and easy enough to fix. Electricity came back within a few days, so the banya opened its doors to the neighborhood. "People who wanted to take showers, they could come, or use the line for their phone to recharge," Kotlyar said. "But people who live in Sea Gate and wanted to stay here, we charged them. But we gave them a very good discount."
The area leading up to Sea Gate feels like a hazy beach town, and as I rode the B74 bus along Mermaid Avenue, I could see the edges of the shore peeking out at intersections. I passed other sites for remedies, including "Cingular Pharmacy: All You Need is Love," the Coney Island Beauty Salon, and a newer-looking Mega Aid Pharmacy. To my right was a 99-cent store, down to just nine cents, the second red "9" on its sign having disappeared. A heavyset woman with short hair bleached blond waved over the bus, apparently after a long time of waiting, and, with a thick Slavic accent, expressed her gratitude to the driver. "Thank you, you are a very nice man," she said. "A very good man."
The Mermaid Spa's website warns, "Do not enter Sea Gate, go around." The banya is located right on Sea Gate's border with Coney Island, at 3703 Mermaid Ave., where it meets West 37th Street. From a distance, it looks like a junkyard. Next door is an auto repair shop made of gray cinderblock, with yellow stripes painted on the side. The sign for the banya is a similar shade of yellow, and it rises above a tall gate that wraps around the parking lot, in between the divergent body shops. A red and white warning sign outside reads "BE NICE. RESPECT OTHERS." I walked through the gate, underneath the logo of two mermaids in black and white silhouette.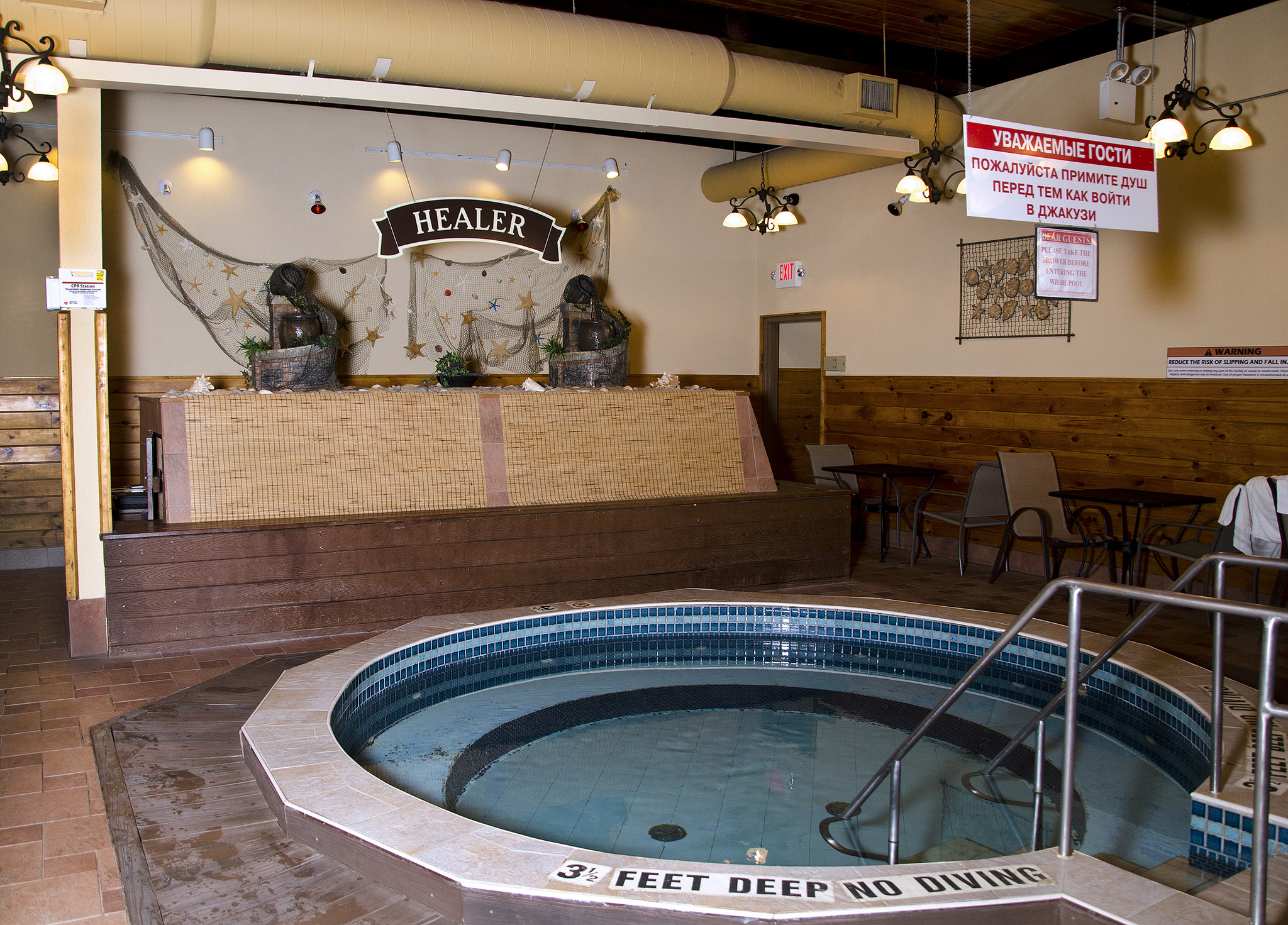 Inside, I was greeted by Alena, a lanky woman with long, straight, dark hair, who has been working at the banya for about two years. I paid my entrance fee of $35, and she walked me around the premises. We passed a few misty banya rooms. She led me into the main hall, which serves as the dining room of the spa's restaurant and contains two small pools. The space was set up like a cabin with patio furniture and chandeliers. There were extravagant beachy ornaments in every corner. The wall between the side windows was painted as a light blue sky, adorned with miniature logs of wood designed to resemble a fence and faux sunflowers peeking out. There was a watering can dangling off to the side and cardboard birds flying overhead. Just outside the door of the kitchen — which prepares old-style Russian dumplings, blintzes with red caviar, borscht, and chicken tabaka — we passed two middle-aged men, both in tiny navy Speedos. One wore something on his head that suggested a sleeping cap, but more architectural — a traditional white wool Russian spa hat. The men were hunched over a table, inspecting some fish shrink-wrapped in plastic. They spoke in Russian, gesturing at the fish with hearty enthusiasm. On the far end of the room was a long table with towels draped over every chair; nobody was seated at the moment, but I noticed a pot of tea, an open box of cigarettes, and plastic bags brought from elsewhere. Everyone seemed to feel right at home.
"They come here, and they just like it because they're relaxing," Kotlyar said. "I mean, I'm not a doctor, but as far as I see, they're coming back. We have a lot of steady customers who come every week."
I asked Alena about the spa's massages. They're known to be similar to Turkish massages, though those are typically sudsier. "The platza," Alena said. "I have been getting platza every week for three years." She shrugged. "It has just become a habit. It's good in the winter. It makes you strong." The platza costs an extra $40. But Alena seems so at ease and has such good posture. "Well, if it works for you — " I began. She smiled, "It's your first time here. Let me know when you're ready."
After changing into my bathing suit in the locker room, serenaded by a mixed soundtrack of R&B and Russian pop, I headed over to the dry banya. The Mermaid Spa keeps a binder with a log of the hourly temperature in each room; on the morning I went, the dry banya was 186 degrees Fahrenheit. You can cook an egg at 150. In the dimly lit room, with dark wooden benches and a coal stove burning, I inhaled slowly and felt my skin roasting. Even on the days when it was so sweltering in Brooklyn that a walk down Fulton Street made me dizzy, I hadn't felt anything like this. And then it came, as if a sudden downpour over a dry, empty field: the big sweat.
■
In Russia, going to the banya is traditionally accepted as a health measure. Since medieval times, it has been considered "the people's first doctor," followed by vodka and raw garlic. Between 1877 and 1911, more than 30 dissertations were published in Russia extolling the banya's ability to heal, according to a comprehensive history called Sweat, by Mikkel Aaland. More recently, Russian Life magazine described the inside of a Moscow banya: "The blanket of heat is filled with masochistic promise. Barely have you found a seat on one of the crowded wooden decks inside this four-by-eight meter box (the higher you go, the hotter it gets), then you start to ooze sweat. The toxins absorbed over the last week are relentlessly drawn out through your pores." A 2011 study published in the Alternative Medicine Review found that "sauna therapy" improves blood pressure in people with hypertension, treats symptoms of depression, reduces the incidence of the common cold, and is "an effective and underutilized treatment for a variety of cardiovascular problems." Others hold a more measured view. According to a Harvard Medical School newsletter, saunas are safe for most people, but, wrote Dr. Harvey Simon, "There is little evidence that they have health benefits above and beyond relaxation and a feeling of well-being." At the extreme, such intense heat can be fatally toxic, as in the case of a Russian finalist in the World Sauna Championships of 2010, whose death brought the event to an unfortunate, permanent end.
The Mermaid Spa website promises that guests will be "walking out of the banya, feeling ten years younger, with skin soft and smooth like babies." From my spot on the scalding bench, I couldn't say for sure whether I was feeling any healthier. Within about ten minutes, though, my brain was stir-fried, and I desperately wanted a dip in the refreshing water of the whirlpool. As soon as I slipped in, I noticed a young man in a Bud Light T-shirt slowly turn a dial to the right. The jets came on. I gave him a thumbs up. He nodded. Later, I would learn that he is Andrei, from Moldova.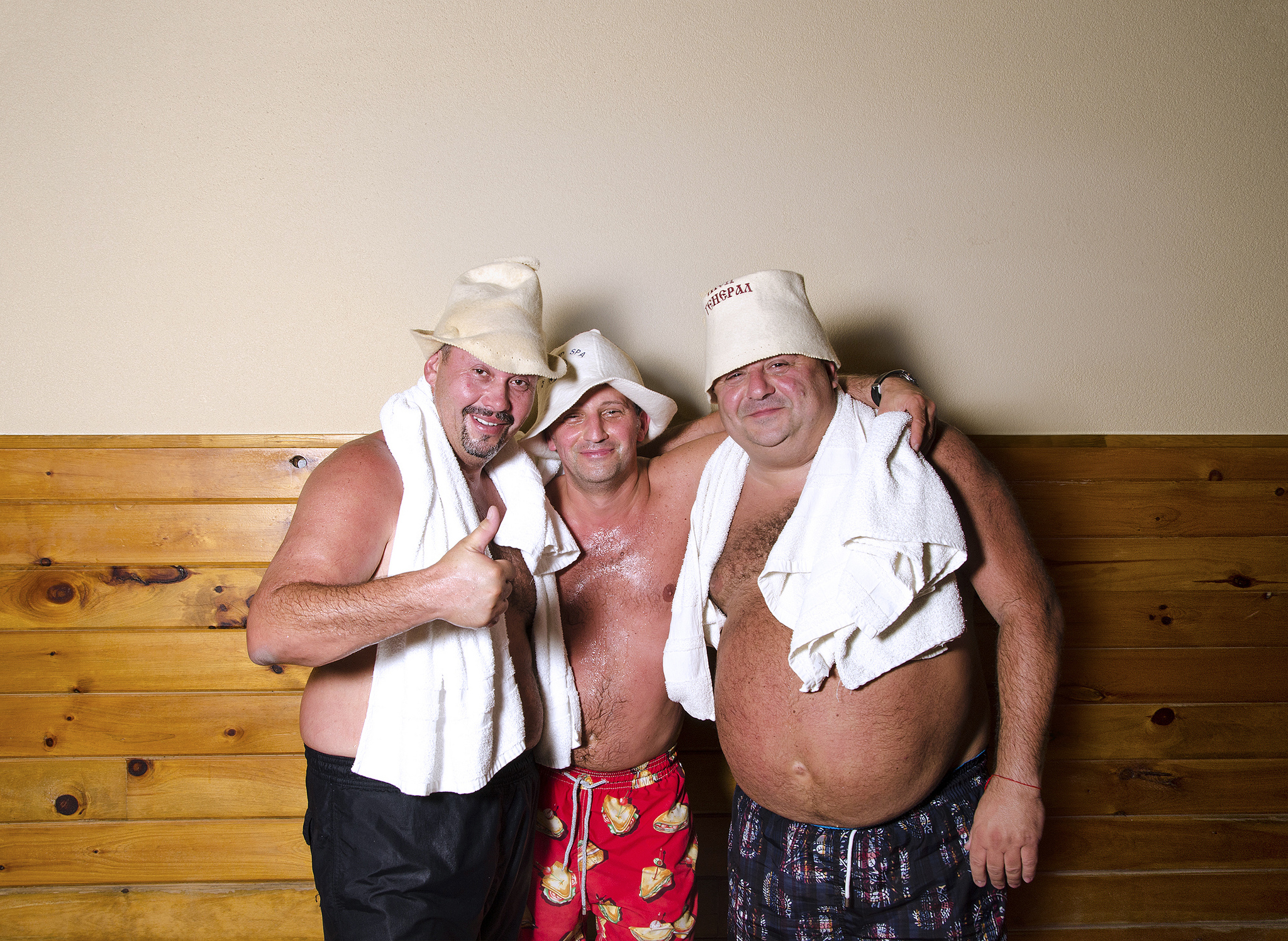 Once I had cooled down, I decided that I was ready to go for the platza massage. Alena pointed to a case on the wall behind her desk, with what looked like a bouquet of dead, leafy branches. "The venik," she said. She called over Andrei, and they exchanged a few words in Russian. I waited as he dashed back and forth, from a rack of towels to a banya and back again, for small pillows and another dried-out bundle of leaves. When he came to retrieve me, his shirt was off and a wool spa cap was on: he was half lifeguard, half wizard. He waved his hand. "Where are we going?" I asked.
"Follow me!"
Andrei led me into the wet banya, which was 152 degrees and steamy. White towels padded a pathway up each level of the wooden bench that lined the room's perimeter. "Go up to the top," he said. "Lay down. Head down." I started to turn to the right. "No," he instructed. "This way."
Andrei has been doing this for five years, but I made it clear that this was my first platza experience. I asked him about the venik. "I don't know the word in English," he said, losing patience with me. "My English is not so good."
I rested my head on a folded towel and felt the brush begin to whack against my back. "Ven-yeek?" I was not sure that I had the pronunciation right. "How do you say it again?"
"Relax!" he said. "You can ask me later!" (Translation: "Zip it.")
"Sorry," I told him. "I'm not used to relaxing."
One of the first recorded descriptions of a banya, and of this style of massage, comes from the Russian Primary Chronicle of 1113, in a chapter called "The Apostle Andrew Comes to Russia." The missionary says, "I saw the land of the Slavs, and while I was among them, I noticed their wooden bath-houses. They warm them to extreme heat, then undress, and after anointing themselves with tallow, they take young reeds and lash their bodies. They actually lash themselves so violently that they barely escape alive. Then they drench themselves with cold water, and thus are revived. They think nothing of doing this every day, and actually inflict such voluntary torture upon themselves. They make of the act not a mere washing but a veritable torment."
The lashing in Brooklyn is not that bad. There is some lashing, and then some slapping, brushing, wiggling, fluttering, and occasionally, thumping. "Platza" means "back" in Yiddish, and that's where most of the action lands. It didn't hurt much, but the venik — a bouquet of leafy birch or oak twigs — is fiery hot to the touch, and it burned my skin as it flapped down. This went on for about ten minutes, and then Andrei commanded me to turn around — some more whacks this way — and sit up with my arms out. Now he was beating my forearms like a nun disciplining a classroom delinquent. Leaves were flying everywhere. I closed my eyes to avoid any airborne arboreal tatter and shreds.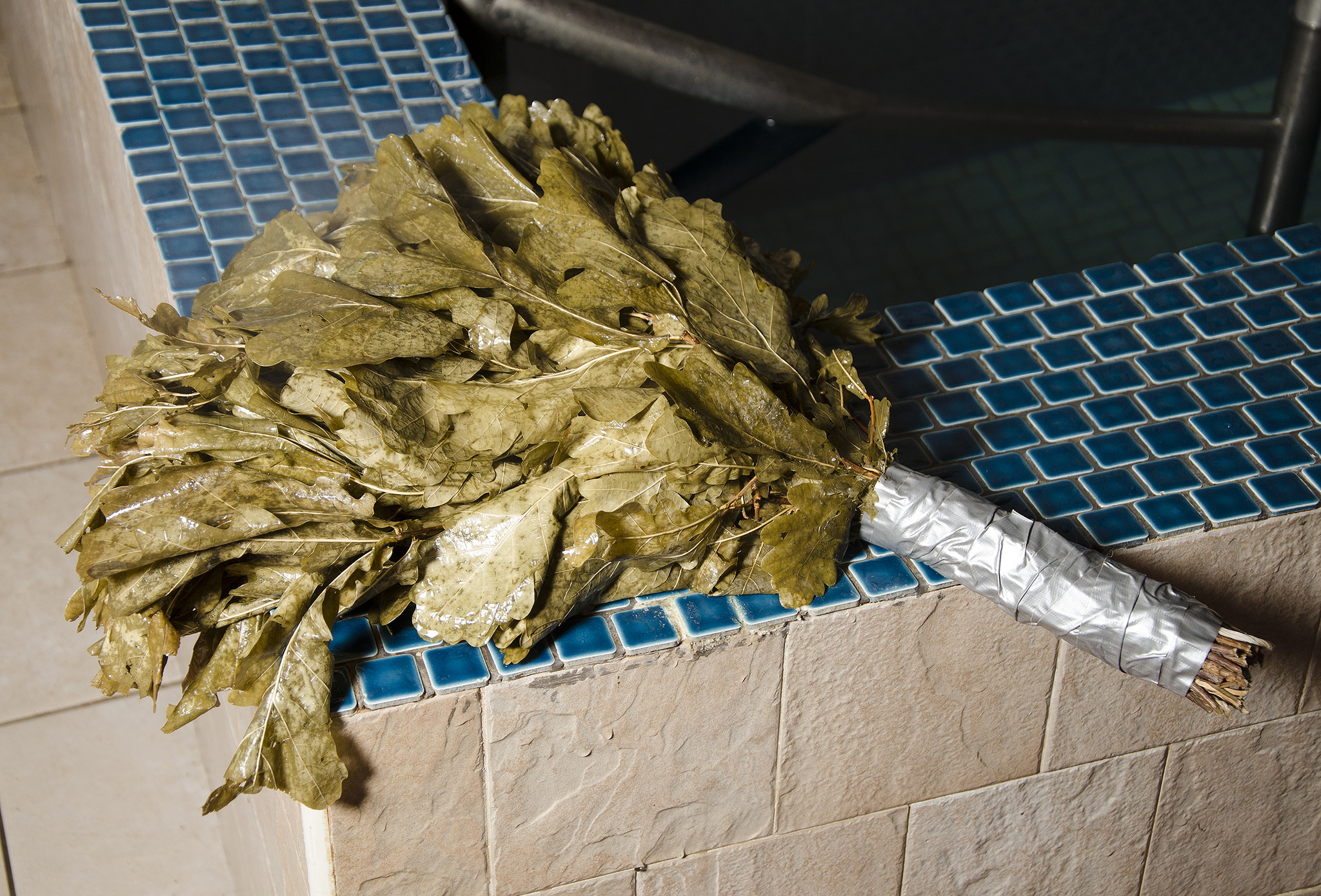 Suddenly, I heard Andrei say, "Okay!" and I remembered how warm the room was. "Follow me!"
Confused and a little dizzy, I took his hand and slipped back into the one-size fits-all sandals. He led me to a second pool, this one four feet deep. "Just jump in," he said. "It's freezing." The whirlpool had been so pleasant earlier that I descended quickly into the water, and before I could pause to feel it biting at my knees, Andrei demanded that I speed things up. "Go!" I plopped all the way in. I shrieked at the frigidity, and in that instant, forgave every second of sweat that had preceded it. I tore back up to the surface. Andrei was grinning "Follow me!" he said again. He helped me out of the pool. "Don't slip," he said. "Cold shower."
He led me to the showers, and turned on the water — not too icy — and I laughed as the shock of the extreme temperature changes rushed through my system. "Did you do this every day in Moldova?"
"Oh, yes, sure," Andrei said. "Every day."
With one last "Follow me!" he led me outside to the patio, wrapped me in towels like a mummy, and told me to wait. Then he disappeared.
I waited outside for a while, unable to move my arms, and peacefully content. I don't know how long I was lounging before it occurred to me that I had forgotten my locker key in the banya. But I didn't have that pit of fear in my gut of something left behind. As it was, the rest of Brooklyn seemed to have fallen away. This place felt far removed from the bus, the subway, and all the steps I had taken before I found myself reclining in the narrow yard decorated by bushes and potted plants, quiet except for the din of Russian voices that carried out from the restaurant, which had started serving an early lunch.
■
When I asked Zina Kotlyar about whether the banya makes her feel connected to her heritage, she withdrew. "I've been living here a long time," she said. "So for me, I don't know. I can't answer this question. I see the Russian people, I hear the Russian language. But they live here. I see American people. They speak Russian, they do Russian business, but they are here."
She went on, "Because people speak in Russian, of course you feel like you're in a Russian place. But you are not in Russia. Maybe some people feel that, but not me."
I had been the only one out on the patio, but as time passed, several men stepped out and sprawled on the plastic chaises. A couple of guys smoked cigarettes in a wooden gazebo tucked in the corner. There were only two other female guests at the Mermaid Spa that morning: a young mother and her small daughter, with blonde ringlet pigtails, who withstood the banya's heat. Outside, the men spoke of business and politics, with towels draped over their heads like keffiyehs. They sat in a circle, switching between Russian and English.
The conversation turned to apps. "The teenagers are on Instagram, whatever. They get tired of it and move on to the next one," said a man whose accent was purely American.
"What's the new one?" asked another.
"Snapchat. Apparently it deletes everything after you send it."
"Oh, yeah?"
"It's the ultimate Weiner app! Snap, get it over with, and erase it after that." They laughed.
"All politicians break laws," the first man said. "Unless they're not having any fun at all, like monks."
Andrei came out to deliver my locker key. He told me that he moved to New York City six months ago, on a work visa. Although he struggles with English, there's plenty of opportunity. "I came here for work, because in Moldova it's not so good," he said. "Here it's better." And then he raised his arms and smiled, "It's America!"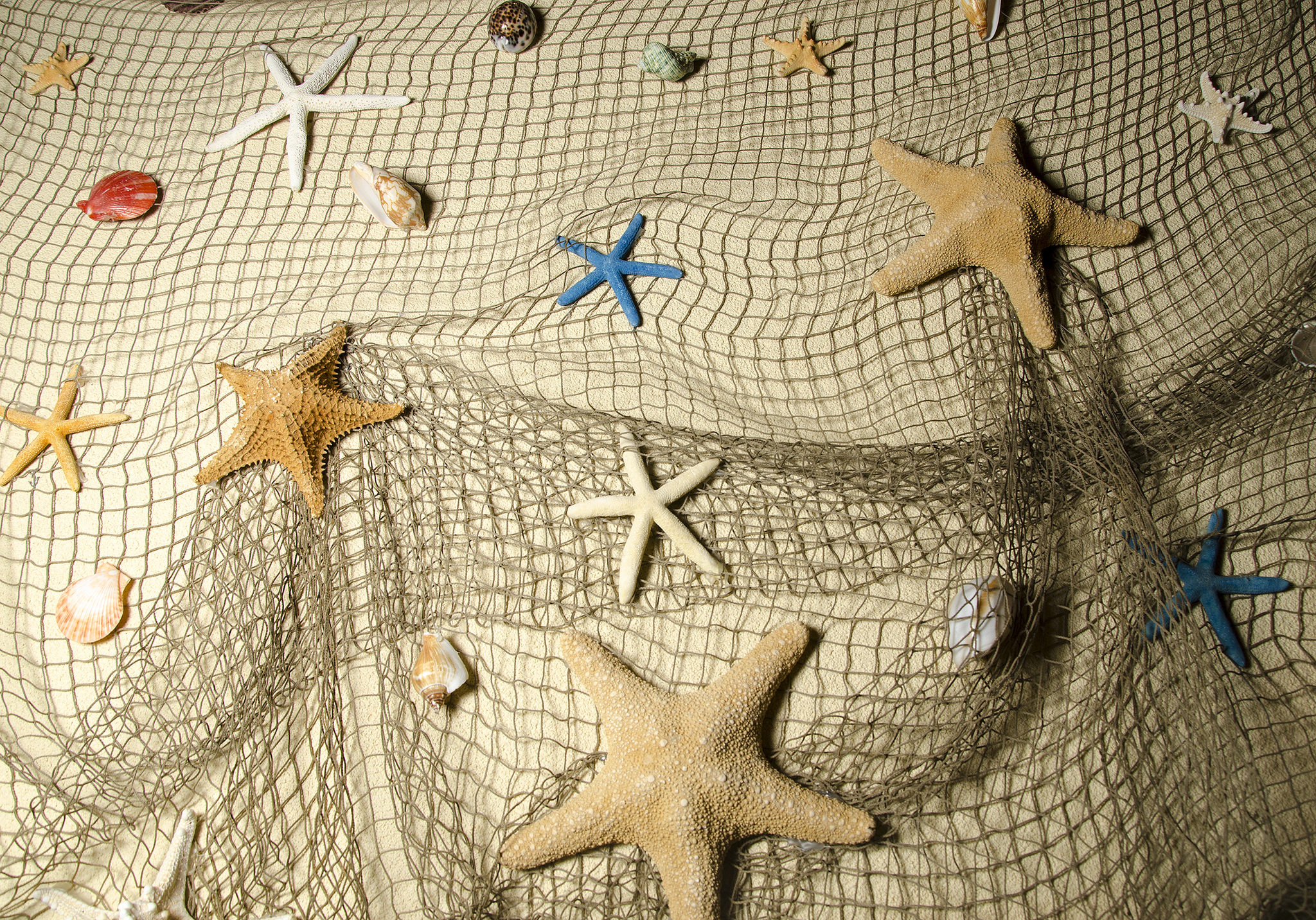 The banya, like Russian weather, forces you to adjust to extremes. Sitting in the ice sauna, essentially a restaurant freezer with snow-coated walls, the necessity of adaptation — sizzling to frosty, baking to swimming, Russian to English — was as striking as the chill. The transition from one to another is therapeutic, invigorating. Alena told me she feels relaxed, though I did not. For me, it's more like a jolt to the system, a bodily change that forces you to straighten out and perk up. By the time I walked back to catch the bus on Mermaid Avenue, the pinch of a headache was coming on. But then I felt calm, loosened, limber. I wasn't sweating anymore. I got on the Q at the Coney Island station, and as the train pulled away, I could see an aerial view of the Ferris wheel, resting for Sunday. The whole, colorful park was motionless and quiet — as if some paradise had spilled over the gate.