"The happening new generation is here!"
And with that exclamation, former Brooklyn Councilman, current Public Advocate, and City Hall aspirant Bill de Blasio ate thin Neapolitan slices and eased into the young crowd at Rosco's, the Crown Heights pizzeria. "Hipsters for de Blasio" — the actual name of the campaign event — was but one in a string of stops mayoral hopefuls have made in Brooklyn in recent days. With the Democratic primary less than a month away, the campaigns have kicked into high gear. City Council Speaker Christine Quinn has chatted with voters in Brooklyn Heights. Anthony Weiner has handed out cookies to senior citizens in Brownsville. John Liu, the scandal-plagued comptroller, has met with concerned residents near Gowanus. Bill Thompson, Mayor Michael Bloomberg's challenger from the last go-round, has toured a Canarsie produce market alongside Brooklyn Democratic Party chair Frank Seddio. And so on.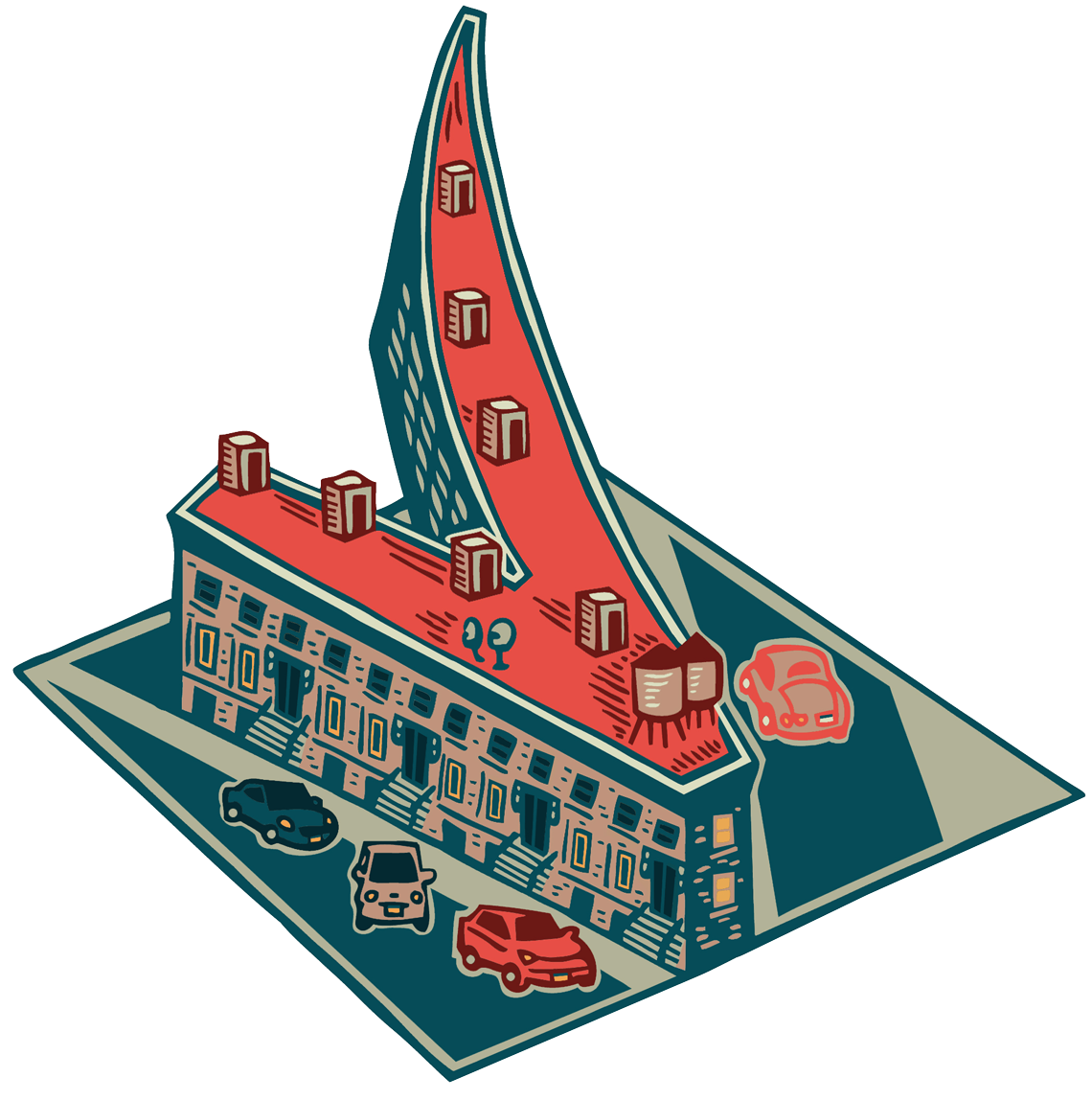 With its 1.3 million registered voters (more than any other borough), Brooklyn is already crucial territory for any would-be mayor to cover. But given the slate of issues at the center of this year's race — from affordable housing to income inequality to police tactics — the borough's more than a crucial campaign stop.
It's exactly what needs to be fixed.
■
Sinatra was probably right: if you can make it here, you can make it anywhere. Because anywhere besides New York is much, much cheaper.
Rents are rising, and the increases are hitting Brooklynites hardest. Just look at these numbers: the average price for a Brooklyn rental this past July was $3,035 a month, an increase of 8.2 percent — 8.2 percent! — over July of last year. Manhattan also saw its rents increase, but only by only 1.2 percent. Brooklyn rents have risen so quickly that reports are now showing an exodus back to Manhattan. But because the boroughs are the top two most expensive places to live in the country, every road leads to a wall of dollar signs.
It's a shift in the cost of living that has come to characterize our existence in this town, and that, disappointingly, has yet to be addressed realistically by the mayoral candidates.
Quinn, for example, has proposed combatting rent hikes by establishing "permanent affordability" in middle-class apartments, of which she wants to build 40,000 additional units across the five boroughs. This measure would take new and existing housing off the market and ensure rent stabilization for years to come. Except, in order to do so, Quinn must have the proposal passed by the state legislature in Albany — a body that's resisted rent restrictions for decades.
Bloomberg's successor will confront a kingdom nearing the limits of affordability. A metropolis that boasts a statue with the inscription, "Give us your tired, your poor, your huddled masses yearning to breathe free," can barely take care of its own, including a middle class that could once count on Brooklyn as an affordable refuge.
The rent problem points to a broader concern, one that will likely define the discourse, if not the policymaking, of the next four years: income inequality. Brooklyn, in particular, has one of the widest income gaps in the country. And though the income gap in Manhattan is unsurpassed, its newest wealthy citizens — including billionaires lured by Bloomberg — have moved into already-wealthy areas, while Brooklyn's wealthy are pushing eastward into the borough, transforming neighborhoods as they go. New York has always been a place where the rich co-exist with the poor — consider the million-dollar condos of Williamsburg's waterfront facing the Jacob Riis housing projects across the East River — but two details came to light this year that make this ever-present state of affairs an increasingly pressing issue.
First, in March, we learned that the level of homelessness in New York has reached its highest level since the Great Depression. This year, more than 50,000 people without shelter, almost half of them children, have settled into homes provided by the city or nonprofit organizations. The number is so large that the city is scrambling to build more shelters to accommodate the influx, which has swelled the homeless population to a size not seen since Fiorello LaGuardia lived in Gracie Mansion.
Then, in April, came reports that half of New Yorkers are living in, or near, poverty. The city keeps tabs on a near-poor benchmark, which is one and a half times the poverty line. For a two-adult, two-child family, that number comes to $46,616. Only 54 percent of the city is above that, which means almost half of us are officially just scraping by.
Of course, the health of the nation's economy affects New York's. But the city hasn't used all the policy levers available to it. "You can raise low wages, you can get significant tax breaks from the city to pay higher wages, and if you're contracting, you can make sure the 2,000 workers employed at nonprofit agencies that are providing social services for the city are paid better wages," James Parrott, a city economist at the Fiscal Policy Institute, told me recently. Bloomberg, he said, "has done almost nothing in that regard to make the situation better."
Those in the Democratic field have unleashed their anti-Bloomberg rhetoric and sketched out their proposals, calling for updated living wage laws, higher taxes on the wealthy, and the aforementioned plans for affordable housing. But the income gap — the widest nationwide since the Gilded Age of Rockefeller and Carnegie — is entangled in a web of issues, including rising housing costs and the anemic job market. No simple solution exists.
The disparity that's defined Brooklyn throughout the Bloomberg years is further apparent in the worrying state of access to emergency health care in Brooklyn. The threatened closings of Interfaith Medical Center in Bed-Stuy and Long Island College Hospital in Cobble Hill are being forced by rising costs, health care profiteering, and the inaction of Governor Andrew Cuomo. The hospitals are vital institutions in these resource-strapped neighborhoods, posing a problem for thousands of people should they close. Though Manhattan recently endured a similar crisis with the closing and demolition of St. Vincent's, the situation in Brooklyn is uniquely dire.
Bill de Blasio stands alone on this hard-to-digest campaign matter. After being arrested in a protest against LICH's closing, the candidate proposed the creation of an agency that would be known as the Brooklyn Health Authority, which would be run by both the city and state to keep hospitals like LICH afloat in tough financial situations. His rivals, meanwhile, have remained largely silent.
New Yorkers see evidence of inequality in their wallets and in hospital waiting rooms, but many New Yorkers, especially minorities, also experience it walking down the street. Over the past decade, the number of stop-and-frisk searches conducted by the NYPD has jumped from 97,296 in 2002 to 533,042 in 2012. The NYPD celebrated its 5 millionth stop in March. A study conducted by the New York Civil Liberties Union showed that 89 percent of the New Yorkers stopped and frisked last year were not charged with any crime, and 87 percent of those stopped were either black or Latino. Hardest hit have been Brooklynites, specifically the residents of police precincts 73 and 75, which cover Brownsville and East New York. Stops of blacks and Latinos in these neighborhoods actually surpassed the populations recorded by the census, which suggests that cops sometimes stopped the same person multiple times.
This week, a crack came in the controversial policy at the heart of Bloomberg's law enforcement legacy. The Manhattan federal judge presiding over Floyd v. City of New York, a class action challenging stop and frisk, found the practice to be wholly unconstitutional, violating the Fourth Amendment's ban on unreasonable search and seizure and the 14th Amendment's equal protection clause. Some considered the policy to be gussied-up racial profiling, the latest offense by an institution that already has a long history of conflict with New York's minority communities. Now that courts have validated this notion, Ray Kelly's NYPD finds itself in the public relations shadows.
A new mayor offers a new opportunity to ease a tension between the NYPD and the people it polices, one that has only intensified over the past few years with the unwarranted shootings of Kimani Grey in Brooklyn, Sean Bell in Queens, and Ramarley Graham in the Bronx. Only John Liu has called for an absolute end to stop-and-frisk; the other candidates have sought to reform the practice. This all changes with the court's order to establish a police monitor to enforce reform. The establishment of such a position lay at the heart of the Community Safety Act, a community-based reform package pioneered by Councilman Jumaane Williams — whose district encompasses parts of East Flatbush, Flatbush, Canarsie, and Flatlands — and passed by the City Council this July.
"Stop-and-frisk practices employed under a tone-deaf administration have made our police officers an unwelcome presence in some communities," Williams told reporters the day of the decision. "We need to redouble our efforts as a city, collectively, to work together to solve the issues of gun violence and crime."
The relationship between the NYPD and the citizens they're sworn to protect — especially those in poor, heavily black and Latino neighborhoods like Brownsville — could use a reboot.
■
For the first time in twelve years, no candidate's last name will be "Bloomberg."
On the campaign trail, each possible successor to the current mayor's throne — especially Quinn, who's been called his political sequel — has chosen to stand apart from Hizzoner, invoking the administration only as a target of criticism. But in this important election — one that will also decide the city's new comptroller, about half of the City Council, and all five borough presidents — New York needs more from its leader than an all-too-easy attack on the past.
Over the past twelve years and three terms of his administration, Bloomberg has transformed New York into the city we now know by resculpting what City Hall could be for its people: an agent of drastic change, change sometimes forced by the executive. As a result, we've been passengers on a metropolis stuck in hyperspeed. Urban migration has accelerated, with neighborhoods evolving and demographics shifting more quickly than we've seen in recent memory.
In that sense, Brooklyn is the most visual product of the Bloomberg Age. With its high-rises and low incomes, it comprises de Blasio's oft-cited "two cities." But Brooklyn offers hope, too. Within the borough can be found promising templates for urban revitalization. We stand, then, at a fork in the road, with one path leading us toward what New York City can be, and with one leading us toward what it's quickly becoming.
It's little wonder, then, that the candidates have spent so much time in Brooklyn. It best encapsulates the challenges that lie ahead for the city, and it stands to gain — or lose — the most from the next occupant of Gracie Mansion.
It's where the race for City Hall ends.
If you'd like to write a letter in response to this essay, please email letters@bklynr.com.