More than 4,000 artists live or work in Brooklyn, according to the borough's chamber of commerce. But they don't usually stay in one place for long.
Their migration pattern is familiar. Artists all over the world move into low-income neighborhoods of culture-rich cities like Chicago and Los Angeles in search of cheap studio space. At first, their presence touches the neighborhood in small ways. The local bodega sees more business than it's had in years. Residents who once knew the names of everyone in their building start noticing unfamiliar faces — often young, often white — smoking cigarettes on the stoop.
Then the changes get bigger. A cocktail bar opens up next door to the bodega, whose business starts to flag just as rent begins to rise. Before too long, investment companies are racing to buy out the bodega and the artists' studios next door. By the following year, both are replaced by condominiums with big glass windows and orchids in the lobby.
Most artists are lucky if they spend a decade in a studio before being pushed out by astronomical rent increases. Longtime residents, many of whom have raised families and started businesses in the area, are usually forced out alongside them. (Unsurprisingly, then, locals don't always welcome their new artist neighbors with open arms and a potted plant.)
Against this backdrop of rapid change and no small amount of tension, Ursula von Rydingsvard — a world-renowned sculptor who has been working in Brooklyn for 32 years (and Bushwick for the last eleven of those) — is staying put. Von Rydingsvard, whose work is included in the permanent collections of the Metropolitan Museum of Art, the Brooklyn Museum, and the Museum of Modern Art, is the rare artist whose success, good timing, and good fortune may enable her to remain in Bushwick long after most artists have been forced out.
Today, von Rydingsvard is among the most respected living sculptors in New York, and her largest sculptures can command hundreds of thousands of dollars. In April 2014, Yorkshire Sculpture Park — England's premier venue for sculpture — will hold a retrospective of von Rydingsvard's work. But that's a world away from when she arrived in the city in 1971 — a single mother with a young daughter. In those early years, von Rydingsvard subsisted on food stamps. She scrimped and saved and, in 1973, was able to enroll in a sculpture program at Columbia University, earning her master's degree in 1975. Dealers and curators up and down the East Coast took a liking to her monumental wooden sculptures, and she secured a coveted teaching position in the sculpture department at Yale University.
A steady salary, as well as proceeds from her early sales, enabled her to buy a studio on North Fifth Street in Williamsburg in 1981. Two years later, she won a Guggenheim Fellowship. Grants from the National Endowment for the Arts and a Skowhegan Medal for sculpture followed. She bought a cavernous new studio in Bushwick in 2002, just before property values began to skyrocket.
Throughout her career, von Rydingsvard has demonstrated the kind of dedication to Brooklyn that one might not expect of a globetrotting artist. Now nearly 71 years old, she says she has no intention of leaving Bushwick, no matter how much the neighborhood changes around her. Her art needs this place.
A casual observer might assume that an artist of von Rydingsvard's stature remains in Bushwick in spite of her international success. The truth, of course, is that she can stay only because of it. Artists who come after her likely won't have the same opportunity.
■
On a recent afternoon, I visited von Rydingsvard at her studio on Ingraham Street, where she's overseeing the final touches on a project that will permanently alter Brooklyn's landscape. The studio is located on a nondescript block lined with gray, windowless warehouse buildings. You can hear the whirring of power tools as you approach her door. Inside, the space — a former coffin manufacturing facility that takes up about half the block — is filled with piles of wooden beams, sculpture fragments, and sawdust. Almost a dozen works in progress tower high overhead. It looks a bit like Oz, if Oz were made entirely of cedar.
The commission, titled Ona, is a 20-foot-tall bronze bowl-shaped construction that will be installed in front of Barclays Center to mark the arena's one-year anniversary in September. While most public sculptures have a limited run, typically remaining on view for about one year, Ona will be permanently anchored. It is von Rydingsvard's first permanent commission in the borough.
Because Ona, once installed, will never move, von Rydingsvard had to design it to last, well, forever. Permanent public sculpture must be prepared to withstand hundreds of years of rain, wind, and snow. Von Rydingsvard's preferred medium, milled cedar, wasn't durable enough. So she had Ona cast in silicon bronze, an alloy that is denser than steel and designed to retain the same shape over 2,000 years.
Most artists making large works submit a small model of their sculptures to a foundry (a factory that produces metal castings), which scales the model up to the artist's specifications during the casting process. But von Rydingsvard insisted on building a full-scale cedar version of Ona. "I'm a fanatic about control in every part of the process of a sculpture," she says. In February, Ona traveled on a flatbed truck from von Rydingsvard's Bushwick studio to the Polich Tallix foundry in Rock Tavern, N.Y. The piece was so large that she had to divide it into more than 50 sections to be cast individually.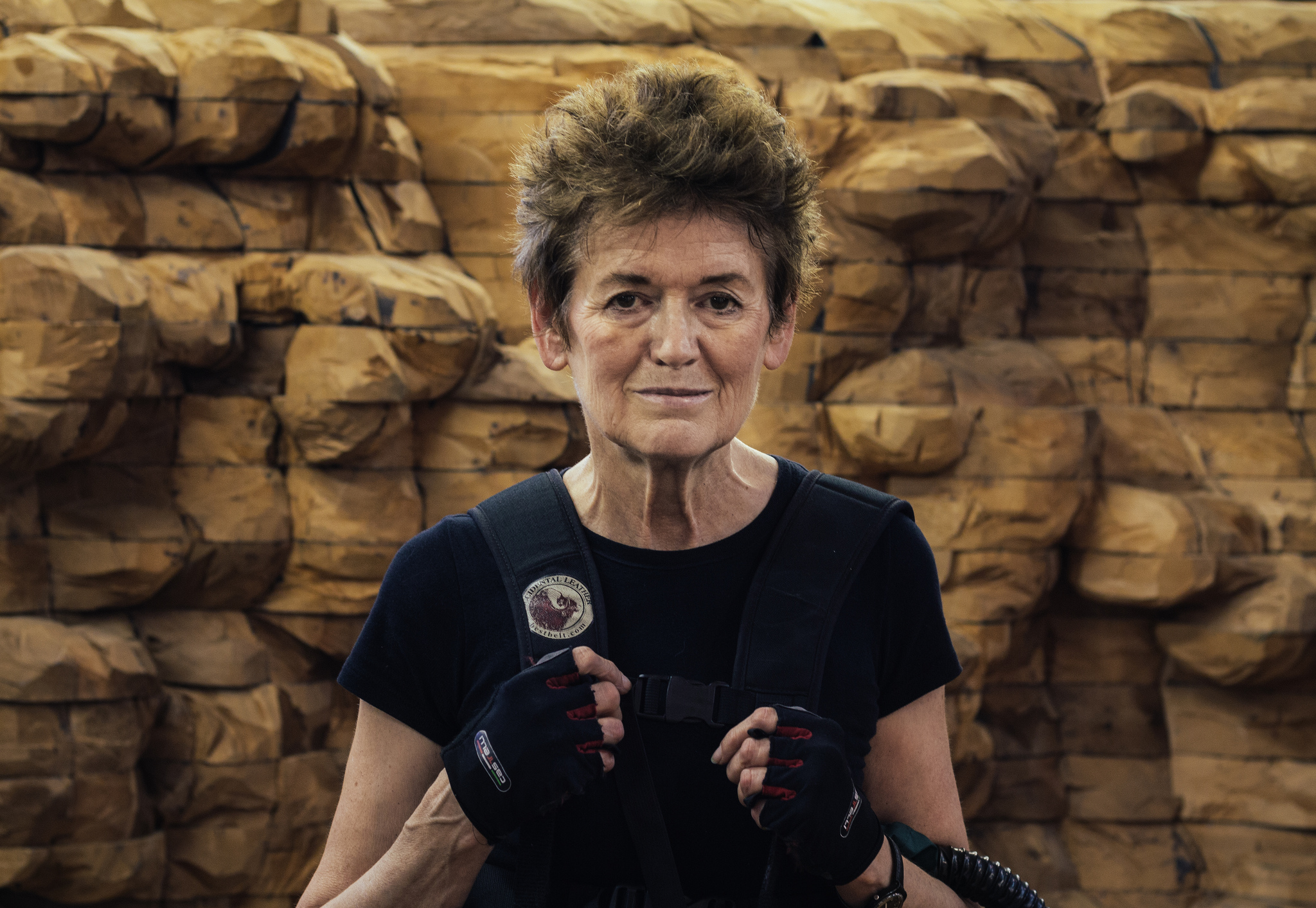 Once complete, Ona will rise high above commuters as they exit the subway in front of the main entrance to Barclays Center. It will be visible from passing cars on both Atlantic and Flatbush avenues, which intersect at the arena. Von Rydingsvard hopes the undulating, wave-like surface will tempt passersby to drag their fingers across the sculpture. "I was thinking about the possibility of that touching marking the surface, because there are always acids on people's hands," she says. (The bellies of Buddha sculptures are always shinier than the rest of their bodies for this reason, she explains.) "I don't know if it is going to be that seductive, but certainly the possibility exists." Over time, she hopes, the rich bronze color will become lighter and more lustrous where viewers' touches have worn away the surface.
Ona — which means "she" in von Rydingsvard's native Polish — is built not only to last but also to change over time. Patricia Phillips, the associate provost of the Rhode Island School of Design and the author of Ursula von Rydingsvard: Working, a book about von Rydingsvard's practice, says Ona, which will be visible to everyone commuting around the arena, has the potential to become a local landmark.
"What's great about public art is that some people see it one time, but often people see it each and every day on their way to work," she says. "Ursula's work has the kind of richness that makes it seem never completely finished or formed. It has an enigmatic and mysterious quality that makes it feel resonant in a public space." Von Rydingsvard's work, like all good public art, rewards close examination, Phillips says. Because Ona's shimmering, tactile surface looks different based on the season and the time of day, a commuter could have passed by it every day for a decade and still notice something new.
Still, like any work of public art, Ona isn't simply an altruistic and selfless initiative. Since ancient Rome, works of art have been commissioned, in part, to reflect well on the commissioner. Ona is designed to position Barclays Center as a pioneer of a new kind of stadium — one that offers up high art and culture alongside professional sports and Justin Bieber concerts. (Barclays isn't alone: the Cowboys Stadium in Dallas has also assembled a world-class art collection.)
"In our first months as Barclays Center, we've seen that the arena is a crossroads for Brooklyn in a profound way," said Bruce Ratner, the majority owner and developer of Barclays Center, in a statement. "We want to continue to serve as a model for how an arena can be at the center of the cultural life of its community. Putting an artwork as significant as Ursula's on view outside, where passersby and arena visitors alike can enjoy it, is a critical part of doing that."
For Ratner, Ona is a symbol of Barclays Center's cultural aspirations; it's also a symbol of the developer's might. The tall bronze sculpture will be an imposing presence in front of the arena, itself a towering monument to Ratner's power. For many, the hulking, rust-colored edifice, the centerpiece of the most expansive and controversial development in the history of Brooklyn, serves as a stand-in for the slew of developments rapidly reshaping the face of neighborhoods across the borough.
From this angle, Ona's dedication will be bittersweet. For von Rydingsvard, the sculpture is a capstone for her artistic life in the borough. Yet it also marks the end of an era. An artist starting out today can't expect to spend her entire career in the borough as von Rydingsvard has. Few can hope to purchase the kind of affordable, expansive, and convenient studio space she occupies.
■
The path that led von Rydingsvard to Brooklyn spans four decades and two continents.
Born in a refugee camp in Deensen, Germany, in 1942 to a Polish mother and a Ukrainian father, she is one of seven children. Her parents were driven out of Poland after World War II, and for the first few years of her life, she and her family lived in eight different camps across Germany with other Polish refugees. She spent nights inside stark wooden barracks, sleeping on flat planks of wood.
In 1950, von Rydingsvard and her family left Germany en masse and settled in Plainville, Connecticut. Her parents were mostly absent. Both worked outside the home full-time, her father at a tool-making factory. She doesn't like to talk about her childhood. "I don't want people to think it is the key to understanding my work," she says. "I think there's more to the work than that."
Von Rydingsvard went to college at the University of New Hampshire, where she studied art and met her first husband, Milton von Rydingsvard, a premed student. After moving with him to Coral Gables, Fla., so he could attend medical school and then to Berkeley, Calif., for his residency, their marriage fell apart. She left for New York with her daughter, Ursula Anne, in tow and enrolled at Columbia's Graduate School of the Arts.
She discovered cedar during her final year at Columbia. Michael Mulhern, an artist friend and former monk, dropped some beams off at her studio. It was a revelation. "I had been working with welded steel and not getting very far," von Rydingsvard recalls. "I could never get the bigger steel works to feel sensuous."
Like any artist developing her style in 1970s New York, von Rydingsvard had to confront the dominant artistic movement of the time: Minimalism. Pioneered by artists like Dan Flavin and Donald Judd, minimalism strove to eliminate all nonessential adornment in favor of sparse, elemental forms. As she browsed galleries in SoHo and flipped through art magazines, von Rydingsvard was constantly faced with this new kind of sculpture, which positioned fluorescent light bulbs and simple Plexiglas boxes as icons.
"I thought the Minimalists were interesting, but I would get pissed at them for washing themselves of all emotion, including sexuality," she says. "They were so even and almost inhuman. It almost felt that because you couldn't see or feel much vulnerability in their work — that you almost felt as though they had a kind of key to the truth."
Cedar gave her a tool with which to oppose the dominant fashion. (She uses other materials, too, including resin, paper, and even the linings of cow intestines, but she has been more committed to wood than many artists are to any single material.) Von Rydingsvard decided to embrace the mark of the artist and focus on process and form rather than strictly on concept.
She surrounded herself with artists who also eschewed the cool remove of Minimalism for a more expressive style. She shared her studio building in Williamsburg with Judy Pfaff, a London-born artist who creates elaborate environments using materials ranging from wire to artificial flowers. She bought a home upstate near Martin Puryear, a fellow sculptor of wood, and became close with Kiki Smith, an American artist famous for sculpting human forms in ceramic, glass, and wax. Though rarely considered part of a cohesive artistic movement, von Rydingsvard and her friends were rewarded for making art with their hands as much as with their heads.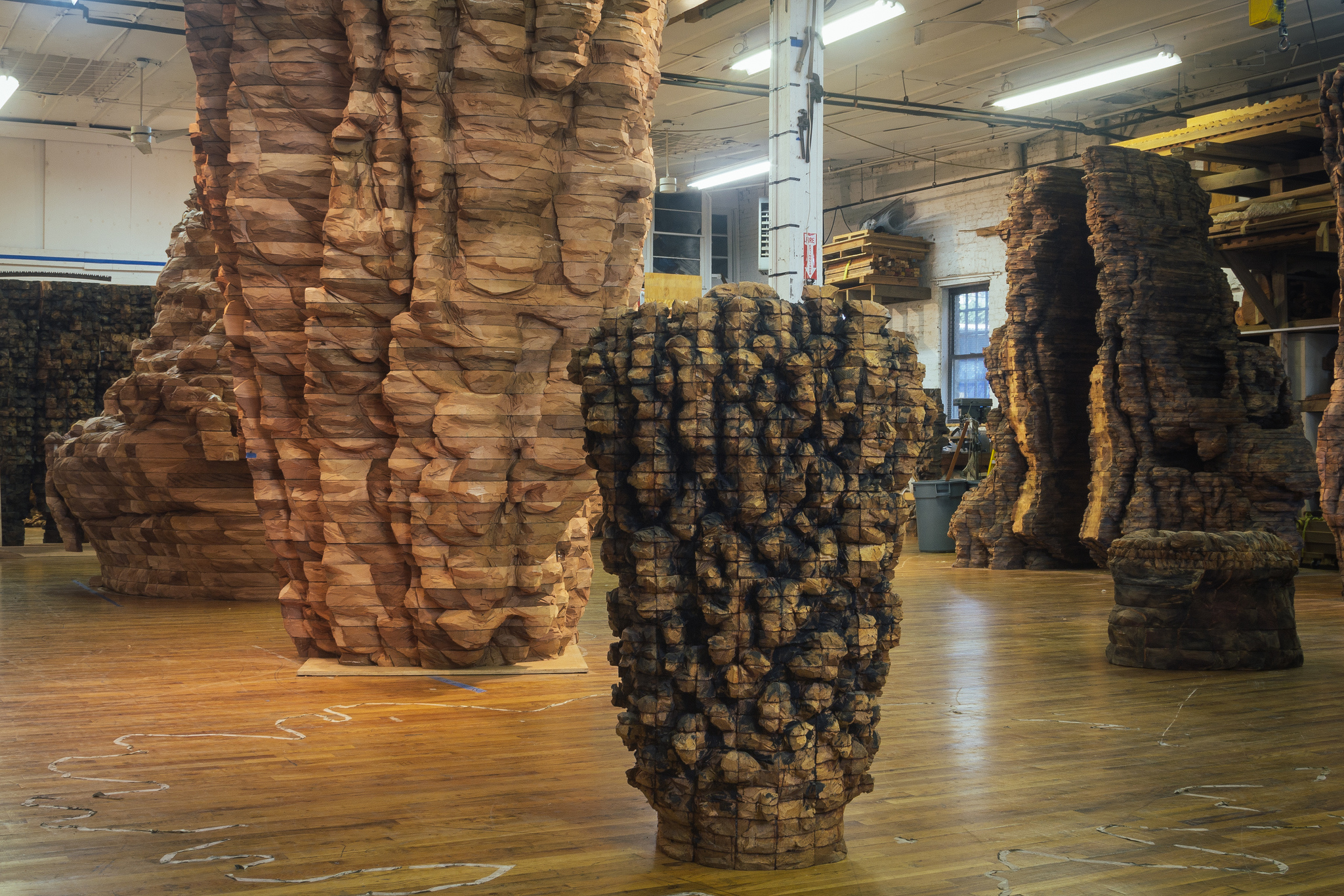 She literally carved out a niche for herself, working with cedar beams, a round saw, and glue. Even when she collaborated with other artists, she insisted on using the same materials to create her art. "I think that Ursula is possessed," says Pfaff, who collaborated with von Rydingsvard on the 1992 installation Zygmunt. "She is the most disciplined person I know, and she's charted a course."
Although von Rydingsvard is hesitant to attribute the formal elements of her art to her upbringing, she admits her work ethic is informed by her childhood. "If my father took one day off, Sunday — which was mandatory because we were Catholics — he would get a migraine," she says. She's internalized that industriousness. Most of what surrounds her she makes by hand: her studio tools, her Christmas gifts (wooden cutting boards), even the custom dining table at her birthday party. She goes jogging every morning before arriving at the studio at eight and stays until seven in the evening.
"Another reason I work so hard is that, on the one hand, I feel extraordinarily lucky that we came to the U.S. as a family, that nobody died, that we're all here," she says. "But I felt, also, that I and my family have been beaten up unjustly. I'm somebody that is pretty calm, but there's a lot of stuff that's still fuming in me, which I think is helpful."
Over time, von Rydingsvard has developed an allergy to cedar that forces her to wear protective gloves and an air-purifying mask in her studio. The gear makes her look a bit like a beekeeper. "I probably should have stopped a long time ago, but I haven't and I won't," she says. "I will work until I die."
■
After she graduated from Columbia, von Rydingsvard moved into a cramped apartment on Spring Street in SoHo. Because she didn't have a separate studio, she was constantly climbing over piles of wood. Everything in the apartment except the bed, table, and sofa was made of cedar. It "looked like a lumber yard," she says. Eventually, all the artists living in the building moved out and families moved in. She had to find another place to work. "Everyone was very excited to get rid of me then," von Rydingsvard says, "because I exhausted sawdust out the window and I made a lot of noise."
She and Pfaff, whom she met teaching at Yale, bought the first two floors of a building on North Fifth Street in Williamsburg in 1981. The rest of the space was used to manufacture burlap bags, which were quickly being replaced by cardboard boxes for everyday use. The landlords would use the bags to plug leaky ceilings and insulate windows.
For fifteen years, the two women were the only artists on the street. Because there were no supermarkets or restaurants in the area, von Rydingsvard would bring groceries from Manhattan and cook lunch for her studio assistants every day. "When I first moved in, there were crack vials by the hundreds as you walked from the subway and bullet holes in my windows," von Rydingsvard says.
"We became fairly close to some of the Puerto Rican and Dominican families there," says Pfaff. She and von Rydingsvard invited them inside to do art projects and even hosted several quinceañera parties in the garden.
In 1988, when von Rydingsvard was 46 years old, she got her big break: a solo exhibition at Exit Art, a now-defunct alternative exhibition space in Hell's Kitchen. Legend has it the late Metropolitan Museum of Art curator William Lieberman stayed up all night after the opening in anticipation of purchasing one of her works for the museum. From that point on, demand became so steady that von Rydingsvard was able to resign from Yale and work in her Williamsburg studio full-time. (Currently, about half of von Rydingsvard works are sold to institutions, like Barclays or the Met, while private collectors purchase the rest, according to her dealer Mary Sabbatino, vice president of Galerie Lelong in Chelsea.)
"I liked it better then because it was familial," Pfaff says of their long days in the studio in the late 1980s and early 1990s. "Now basically none of those families are there." Indeed, by the time a critical mass of artists flocked to Williamsburg in the mid- to late 1990s, many locals had already moved east to Bushwick. (The manufacturing jobs that had brought them to Williamsburg in the first place had moved in that direction, too.)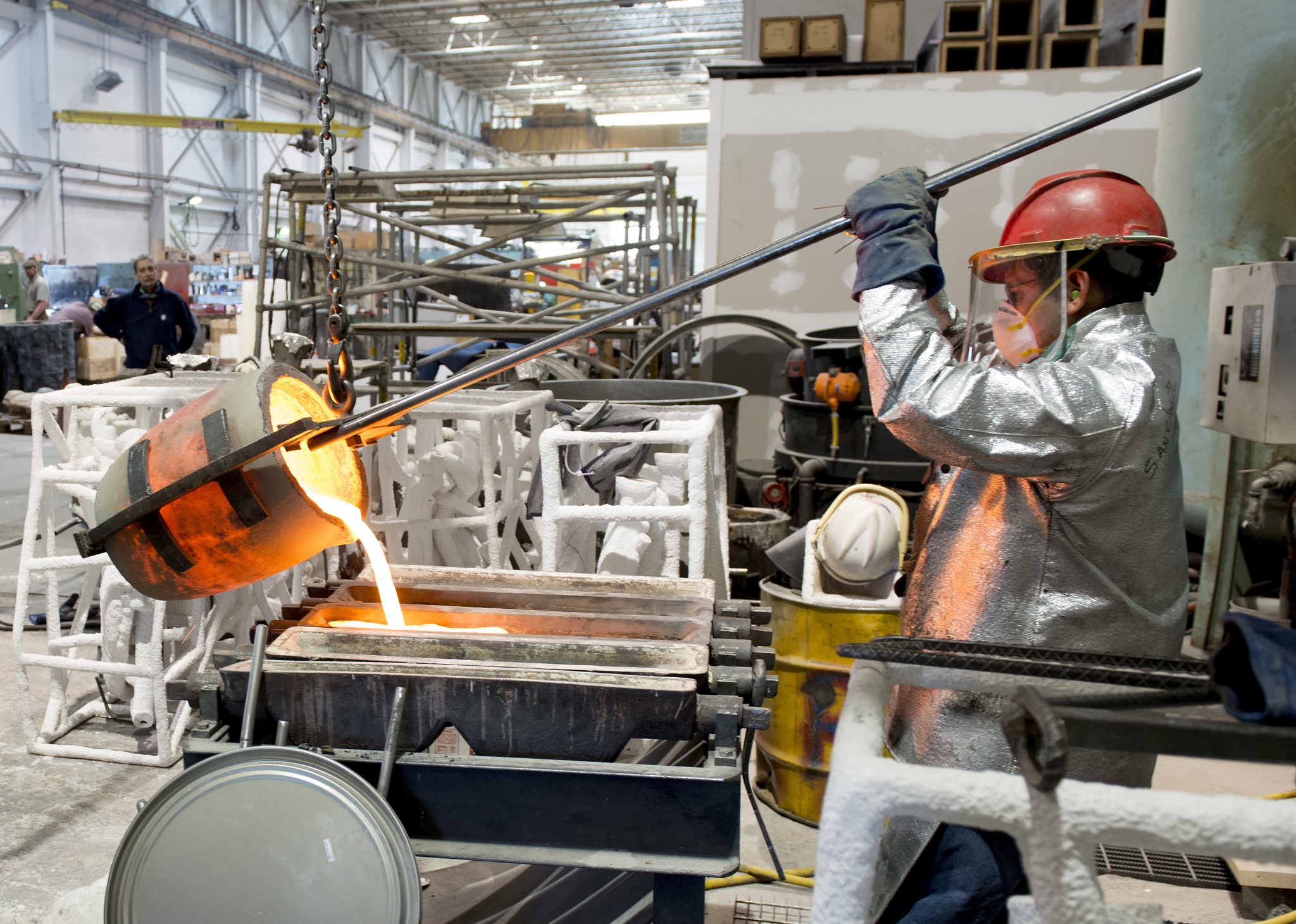 Von Rydingsvard left for Bushwick in 2002, just as Williamsburg was transforming from an artist enclave into a haven for recent college graduates with jobs in finance and consulting. She interacts with her neighbors less frequently in her new neighborhood, she says. "I'm basically here [in the studio] all the time, so I don't know except what I see going past the front door." Still, she says she can't imagine working anywhere else. Her four full-time studio assistants live in the area (three in Bushwick and nearby Ridgewood, one in Crown Heights).
Pfaff moved out of the Williamsburg space last year. She now has a studio upstate. "It wasn't fun anymore because the people who bought the building were so nervous about noise and fumes," Pfaff says. "But I do miss the city."
■
Von Rydingsvard's New York trajectory — first SoHo, then Williamsburg, then Bushwick — mirrors the migration of hundreds, if not thousands, of artists. And like SoHo and Williamsburg before it, Bushwick is quickly becoming too expensive for most of them. The forces pushing artists and longtime residents out of these neighborhoods are, of course, not unique to Brooklyn (though they are unmatched here in their strength and speed).
According to Frank Morales, a writer and housing activist who has studied homelessness in New York since the 1970s, developers often regard artists as a tool to transform a neighborhood. "Real estate companies market these areas to artists in order to create a terrain within which development can be accomplished," he says. "They are viewed as kind of the first wave to come in and pacify areas, to create a better environment for investment. But of course they themselves then become subject to the same processes. Gentrification is a consolidation of neighborhoods by a more wealthy population — but a wealthier population one year can become a target five years down the line."
The familiarity of this process makes it no less divisive and no more comfortable. Artists' uneasiness about their role in the gentrification process is often overshadowed by practical concerns. After all, they have to work somewhere.
"On one hand, the process of gentrification that follows artists invariably involves far more people who may not have any awareness of the pressures they put on the surrounding community or would even care if they did," says the Bushwick-based artist William Powhida. Powhida's longtime studio at 173 North Third Street — one of Williamsburg's last reasonably affordable spaces — will close at the end of the month following the building's purchase by Waterbridge Capital, a London-based venture capital firm.
"On the other hand, because it is a problem of social justice and equality, the number of activists who oppose gentrification remains relatively small," says Powhida. This advocacy vacuum "creates a feeling among many people, artists and non-artists, that gentrification is just too big, a persistent, systemic result of free-market capitalism, for anyone to do anything about."
Indeed, the evolution of these neighborhoods forces newcomers to ask uncomfortable questions. Who is privileged enough to be granted access to affordable spaces? Who gets pushed out? "Families that have lived here for decades are one step from becoming homeless," says Gabriela Rendon, an architect and urban researcher who is studying Bushwick. "Many of them are undocumented so when they receive eviction notices or rent increases they are afraid to fight."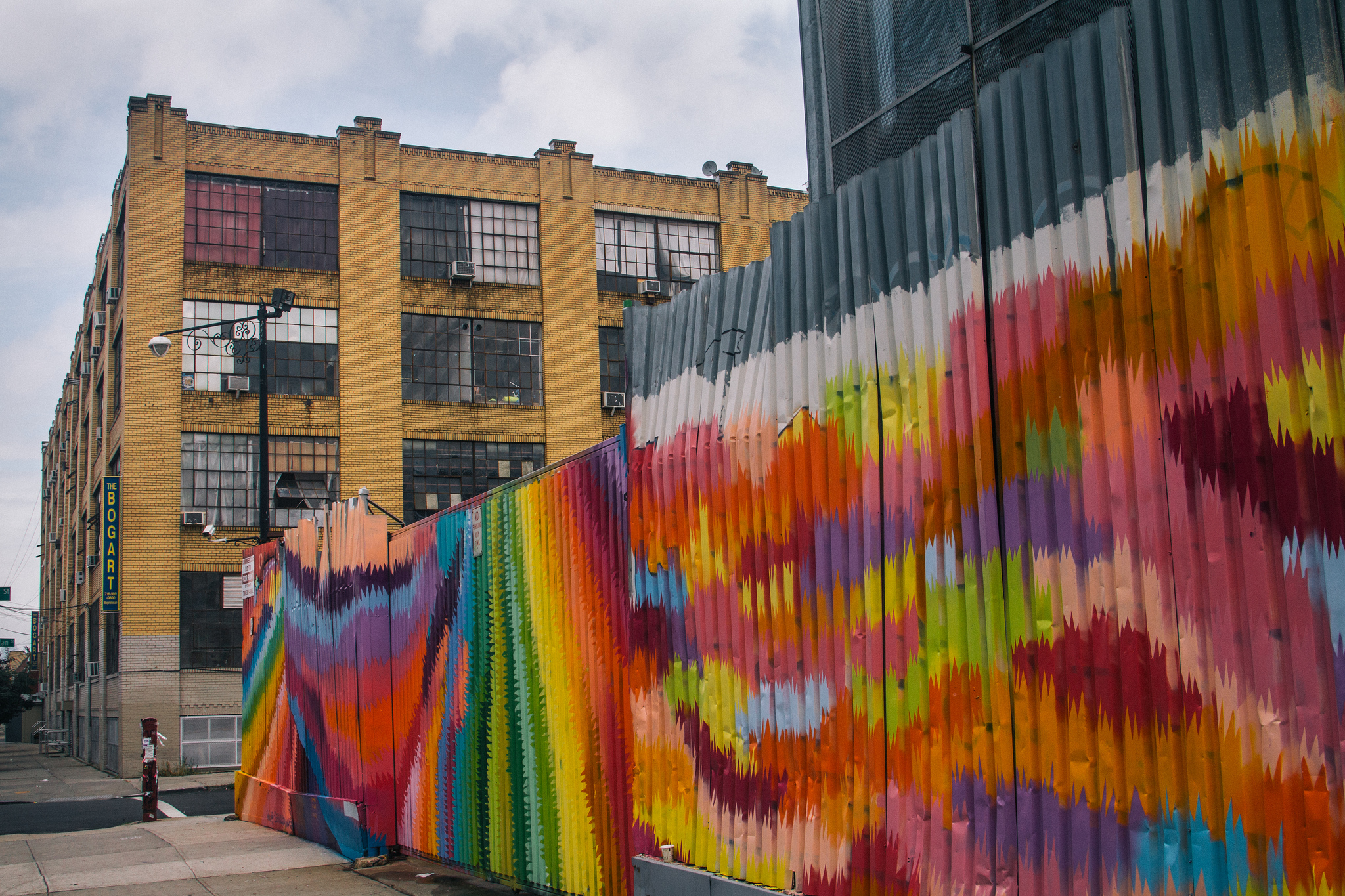 What makes Brooklyn — and Bushwick in particular — unique is the speed with which gentrification is taking place. Von Rydingsvard says her block has undergone a comprehensive transformation in the eleven years she has occupied her studio. "When I first moved here, all I saw was immigrants walking to sweatshops," she says. "Now it is 90 percent creative people — all kinds of artists."
Studios in less affluent areas like East New York and Canarsie are still affordable, and it is difficult to imagine that changing anytime soon. But there is no sign that the gentrification process will spare them. Twenty years ago, few imagined development companies would funnel hundreds of millions of dollars into Bushwick.
The velocity of the change in Bushwick is making von Rydingsvard nervous. "I'm afraid of the little lots around me starting to be sold and these high rises coming up right on top of me," she says. Located down the street from Roberta's Pizza and across from a project space run by the tony Chelsea gallery Luhring Augustine, her corner of Bushwick has changed even more rapidly than most. "I'm afraid that nobody is going to want me around when they have all these high-end places," she says quietly, almost whispering. "It is a true trauma for me to move. Let's not talk about it."
Her anxiety gets at the heart of what makes gentrification so insidious. Each new wave of inhabitants hopes — somewhat selfishly, no doubt — that the area won't change too quickly and force them out. But in a city full of immigrants, does "finders, keepers" apply? Does the second wave of inhabitants have a more legitimate claim than the third? What is the optimal point to press pause in a neighborhood's life cycle?
Among those attempting to answer these questions is Miguel Robles-Duran, the director of the urban ecologies graduate program at Parsons the New School for Design, which recently began a multi-year study of Bushwick's housing issues in collaboration with Morales and Rendon. "If you have been in a place longer, it doesn't mean you deserve that place more," Robles-Duran says. People should be allowed to move, he explains — but others should be able to stay put. The enemy, in this view, is not individual newcomers but real estate developers and investment companies that oversee suspect, and sometimes allegedly illegal, evictions. "The city belongs to all of us," Robles-Duran says. "Each of us has a right to produce and change our environment to create a place we want to live."
■
Even if von Rydingsvard can afford to stay, many of the artists who have flocked to Bushwick over the past decade cannot. Meanwhile, the buildup shows no sign of slowing down. In June, the Brooklyn-based Read Property Group LLC applied to rezone nine square blocks near the Flushing Avenue J train station in order to build an ambitious new development of high rises, 977 apartments, two added streets, and retail stores. (The project is awaiting city approval.)
Later that month, around 75 artists gathered at the studio of the Bushwick-based artist Jules de Balincourt to discuss the problem of rising rents in the area and brainstorm how to collectively buy workspace, take it off the speculative market, and offer it to artists. The informal gathering marked the beginning of what the organizers are calling the "Stay in Bushwick" initiative. Paddy Johnson, an art critic and co-organizer of the meeting, summed up the group's motivation in the first few minutes. "I'm sick of watching my friends leave because they can't afford to be here, and I'm sick of contemplating having to leave because I can't afford to be here," she said.
For some affordable housing advocates in the area, the gathering illustrated artists' ignorance of broader neighborhood dynamics: it was scheduled at the same time as a local community board meeting to discuss the Read Property Group development. This type of disconnect is typical of a neighborhood whose population is shifting as quickly as Bushwick's, according to Robles-Duran. "The problem with the newcomers is the lack of understanding of the existing population of their inhabitants," he says.
"The art world is incredibly insular," he adds. "When they talk, it is only what is going on with the artists. But no matter what, they are going to be displaced every ten to fifteen years unless they have a common strategy with different parts of the population." Indeed, groups like El Puente, a community development organization in North Brooklyn, have been advocating for more stable housing practices in the area for over 20 years.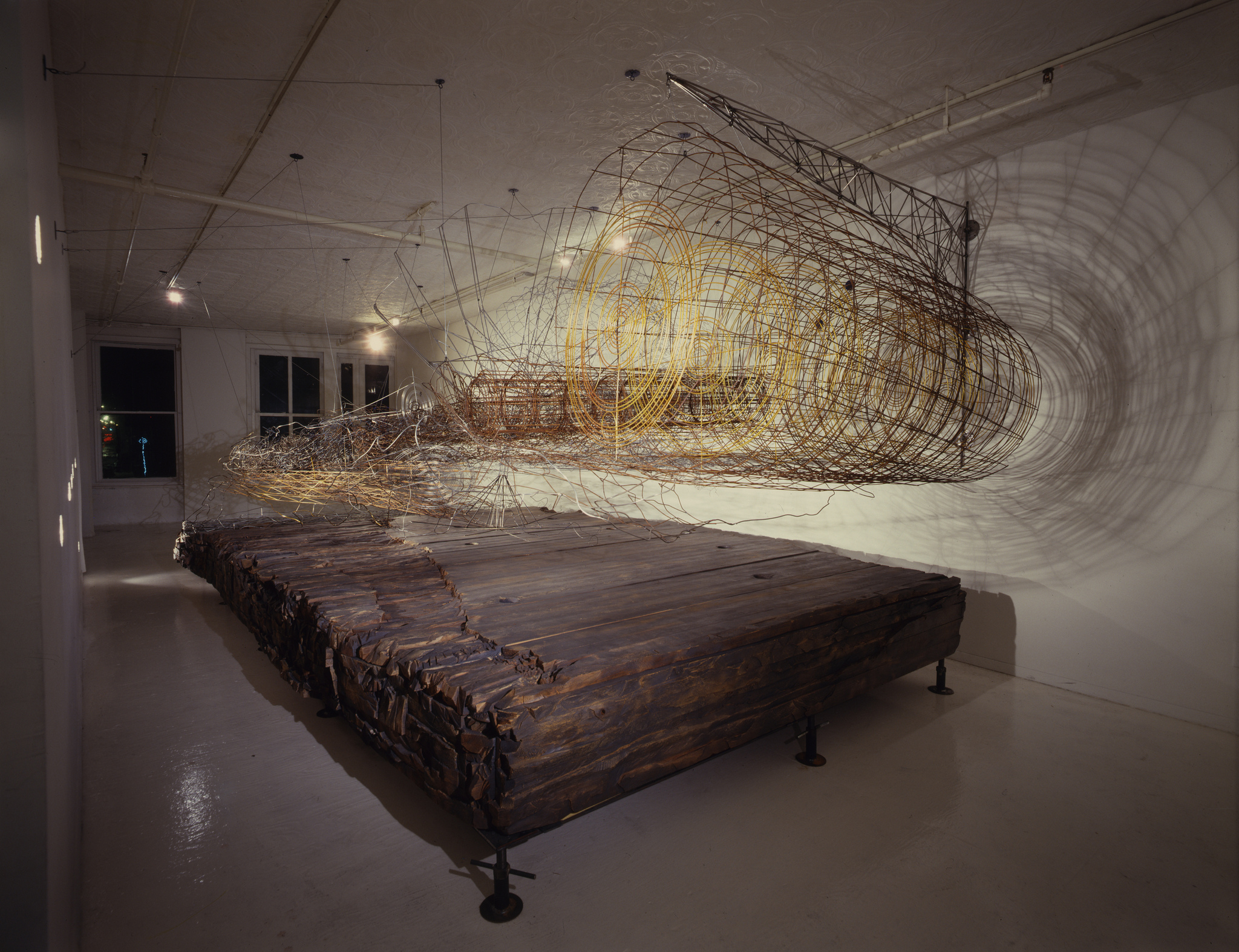 Artists, meanwhile, are uncomfortable with the narrative that casts them as the pioneer gentrifiers in a place like Bushwick. "I think there is a lot of ambivalence about this narrative from a kind of anger about the rapid commercial development that follows pricing us and the existing community out to a kind of guilt-ridden over-identification with the existing community that results in a lot of hand wringing but little collective action," says Powhida. "I don't think any artist would call themselves 'pioneers' in this quasi-Western colonialist narrative, which is insulting to the existing Latino and immigrant communities."
Later this summer, Robles-Duran, Rendon, Morales, and students from the Parsons program will publish a bilingual neighborhood gazette that outlines a number of proposals to address the housing issue. Drawn from four months' worth of meetings and conversations with local groups, their ideas include the occupation of vacant properties, lots, and buildings (Rendon estimates there are 380 such spaces in Bushwick); "sweat equity" subsidies for low-income citizens willing to renovate existing buildings; and the establishment of community land trusts.
The clock may be ticking, but Rendon is cautiously optimistic. "I think that Bushwick has everything to overcome the housing crisis and fight against displacement if the residents envision in a collective way tactics to acquire the land that is not yet in the hands of real estate speculators or developers," she says.
■
Artists want to be in Bushwick for more than just its large warehouse studio spaces. The neighborhood offers swift access to world-class galleries, museums, and bookstores in Manhattan, Brooklyn, and Queens. For von Rydingsvard, this kind of access was essential. The city's exhibitions "are so critical to my life, to my well-being, to my wanting to slurp things," she says. "I couldn't have made the work that I made without being in New York."
"New York for Ursula was like the holy grail," says Sabbatino, her dealer. "She says it was the place where she was born."
The city's architecture proved formative as well. "There's something about all of this brick, all of these hard edges, that makes you long for something round," von Rydingsvard says. The harshness of the city's warehouse walls and the brutality of the sidewalks compel her to create objects and environments "with give — things you can cozy up to." The longer she worked in New York, the more enveloping her sculptures become. Many are now large enough to enter or to hide behind.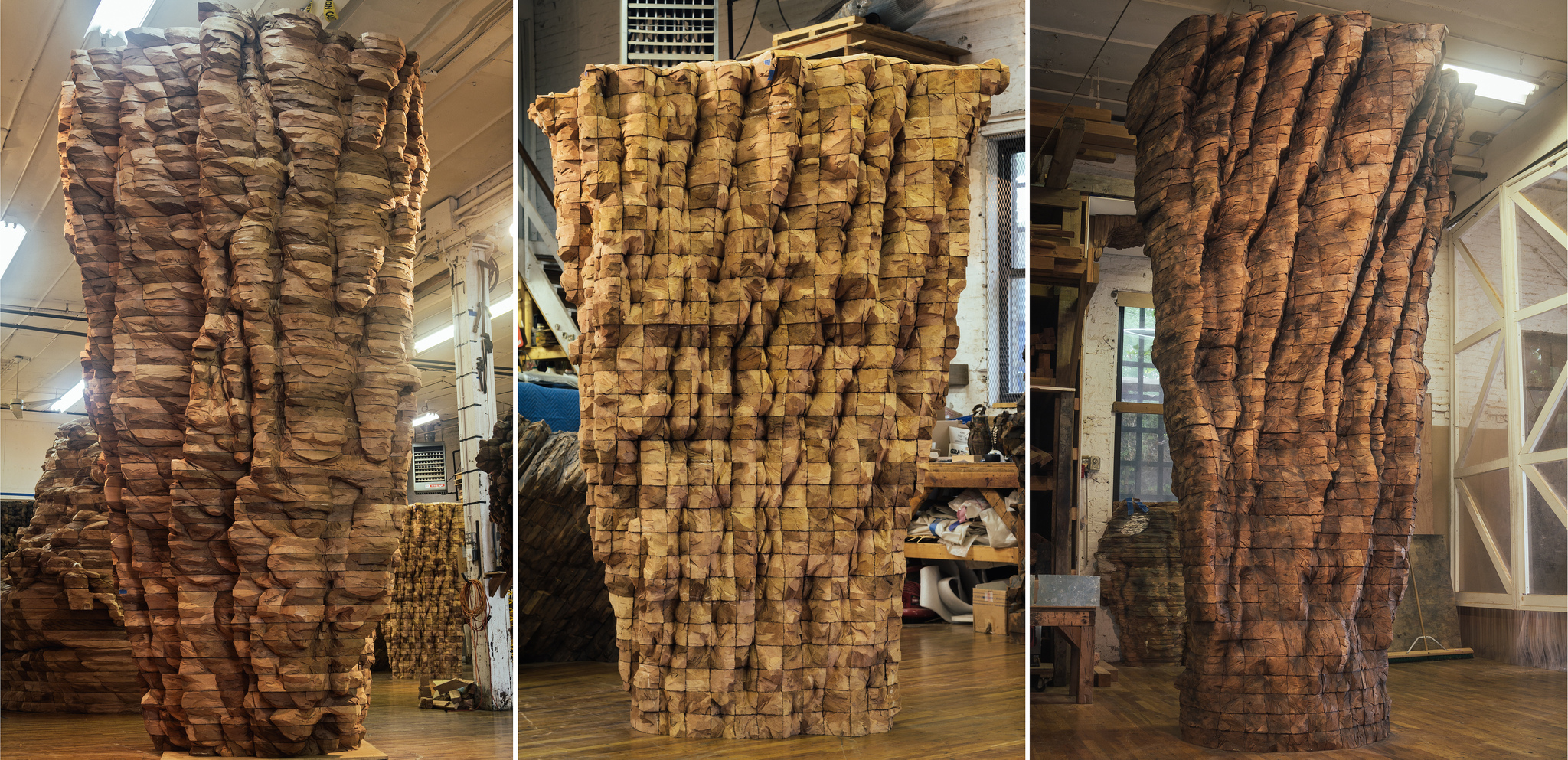 The futuristic, donut-shaped architecture of Barclays Center influenced Ona, too. With its scalloped edges and organic form, the sculpture looks almost prehistoric. Von Rydingsvard hoped it would act as a counterpoint to the stadium's central oculus, which is lined with an LED screen. "The oculus is hugely demonstrative of what it wants with its color and vibrating motion," she says. "I wanted to step as far away from that as I could."
The work will be situated between the entrance to the arena and the edge of the oblong roof, a backdrop that von Rydingsvard called "relatively neutral." In fact, little is neutral about the space, the bustling nexus of at least three distinct neighborhoods (Prospect Heights, Park Slope, and Fort Greene). Only an artist who has lived and worked in the dense urban landscape of New York for as long as von Rydingsvard could see one of Brooklyn's busiest transit hubs as a blank canvas.
■
Like all von Rydingsvard's sculptures, Ona started out as a chalk outline on the floor and a pile of four-by-four cedar beams. (She imports her wood from a single mill in British Columbia that knows her favorite trees.) Von Rydingsvard doesn't create preparatory drawings or determine a work's exact size and shape before she begins. Instead, she draws on each beam to designate exactly where her assistants should chip away with a saw. Hundreds of little jabs — von Rydingsvard calls them "nibbles" — transform the wood's surface into something resembling a craggy mountainside. Finally, she draws on the surface of the sculpture with graphite to add dimension and obscure the texture of the wood.
Understanding her laborious process is critical to processing the work, von Rydingsvard insists. Every visitor to her studio gets a comprehensive tour of the cutting, drying, and refining stations. During my visit, she lugged a towering ladder from one side of the studio to the other just so I could climb up to see the interior of one of her hollow bowl-shaped sculptures. (Lean and stronger than most people half her age, you would never know she is a few weeks shy of her 71st birthday.)
"She spends an enormous amount of time thinking how something is going to look outside, how it is going to hold the space, and where it should be placed," says Debbie Landau, the president of the Madison Square Park Conservancy, which hosted a temporary outdoor exhibition of von Rydingsvard's sculptures in 2007. For that project, von Rydingsvard spent a year visiting the park to study how the light changed with the seasons before building a set of site-specific sculptures. "There isn't one Ursula work I've ever seen — and I've seen a lot of her work — that doesn't look right where it is," Landau says.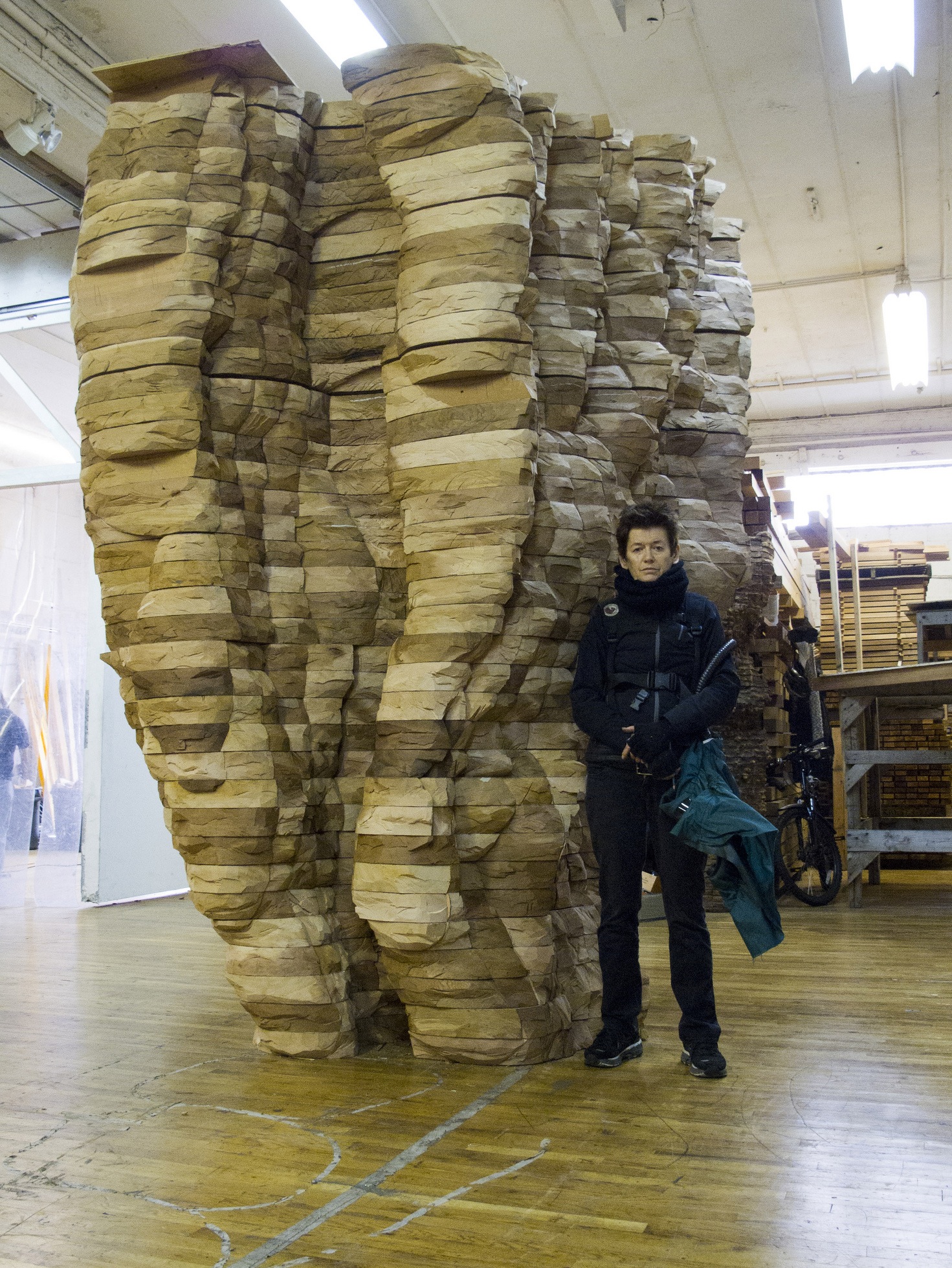 When Ona is installed later this summer, it will serve as a permanent testament to von Rydingsvard's illustrious career in the borough she made her artistic home. While Chelsea galleries cash in on slick sculptures that look as if they had been made by a computer, von Rydingsvard's work is an ode to the handmade. The artist's touch — and, perhaps, the touches of passersby — will be immortalized in the sculpture.
But Ona will also quietly immortalize something else: A moment in Brooklyn's history when artists spent their entire careers in the borough.
By the time Ona is installed, the Read Property Group development could be underway. Even if it falls apart, another equally ambitious project is bound to take its place. Affordable housing advocates are fighting to slow that development down, even if they are unable to stop it completely. "The happy moments, from my point of view, are the transitional neighborhood moments that last five to ten years, where you have a coming together of working artists who are in solidarity with the people who have been in the community for a long time," Morales says. "You have multiculturalism that is mutually fulfilling." These moments, however, are elusive.
Years from now, even if there are no artists left in Bushwick, Ona will recall a moment when thousands of people like von Rydingsvard were working in the neighborhood.
"For Ursula, it is the energy of human labor that animates the object," says Sabattino. "She doesn't want to hide that. She wants you to know that a person made this and that they made it by the accretion of thousands of gestures, just like history is made of thousands of moments that become civilization."