Living in Brooklyn means living in the shadow of the city just across the river; this is true of our crises as well as our accomplishments. Take, for instance, the library controversy that has captivated much of the city for over a year now, and which is literally a Fifth Avenue affair, centering as it does on the fate of the New York Public Library's main branch. Anthony Marx, the president of the NYPL, has proposed a dramatic, $300 million renovation of the Stephen A. Schwarzman Building, otherwise known as the Lion library, after Patience and Fortitude, the stone lions who keep watch outside. The NYPL's leadership claims that the plan, which entails closing two nearby branches and moving seven floors' worth of stacks underneath Bryant Park, will transform the research library into a grand reading commons; critics have charged that the plan is potentially a financial and architectural boondoggle that will undermine the main branch's mission of serving researchers.
Meanwhile, across the river, Brooklyn's central branch could also use some work, even after the recent repair of the landmark doors and the installation of an "information commons" that provides a large, lovely space for computer users who need access to free wifi. The real library crisis, however, is the condition of the other sixty-some branches in the Brooklyn Public Library system, which require significant repairs and reinvestment: new computers to replace beat-up PCs from the last century, new furniture to replace splintering chairs, new windows, working heating and cooling systems. All in all, the total price tag for this work comes to about $300 million — the cost of the NYPL main branch renovation. And unlike the NYPL renovation, the repairs for these branch libraries are increasingly an issue not of choice but of necessity. Eight branches were forced to close this summer because their air conditioning systems no longer functioned. One of those branches, the Pacific branch, requires about $11 million of work in nearly every conceivable area: a roof restoration, access ramps for the disabled, improved ventilation, interior and exterior renovation, you name it. At the time of writing, it remained closed, the gates padlocked.
The financial situation of the Brooklyn Public Library is equally dire. City funding this year amounts to only $84 million (compared to $112 million for the NYPL), and without a glitzy Fifth Avenue building for donors to slap their names on, the BPL has always struggled with fundraising. In 2011, the library brought in about $2.5 million in contributions — one-sixteenth of what the NYPL raised that year. Desperate both to raise money and to contain costs, the BPL has controversially pushed to sell off the valuable real estate under the Pacific branch (the very first Carnegie library in all of Brooklyn) and the Brooklyn Heights branch, which houses the business library. Citizens Defending Libraries, a group based in Brooklyn Heights dedicated to combatting library sell-offs, has accused the BPL of making sweetheart deals with private developers to sell the Pacific and Brooklyn Heights locations quickly, at the expense of the patrons of both branches.
The state of the Brooklyn branch libraries is a true tragedy, because if you want to be impressed by what your fellow citizen is capable of, these are the places to visit. While working in the branch libraries, I've sat next to men and women of all ages and ethnicities browsing massive volumes of legal codes, civil service exam textbooks, software instructional manuals, foreign language grammars — all manner of books marked by an extreme practicality (and which to me promise such transcendent dullness and technical detail that I'd never have the courage to even crack one's cover). Walking by basement classrooms with chipped paint and old chairs, I've seen gatherings of working men and women putting together their first résumés, studying English, even learning to read.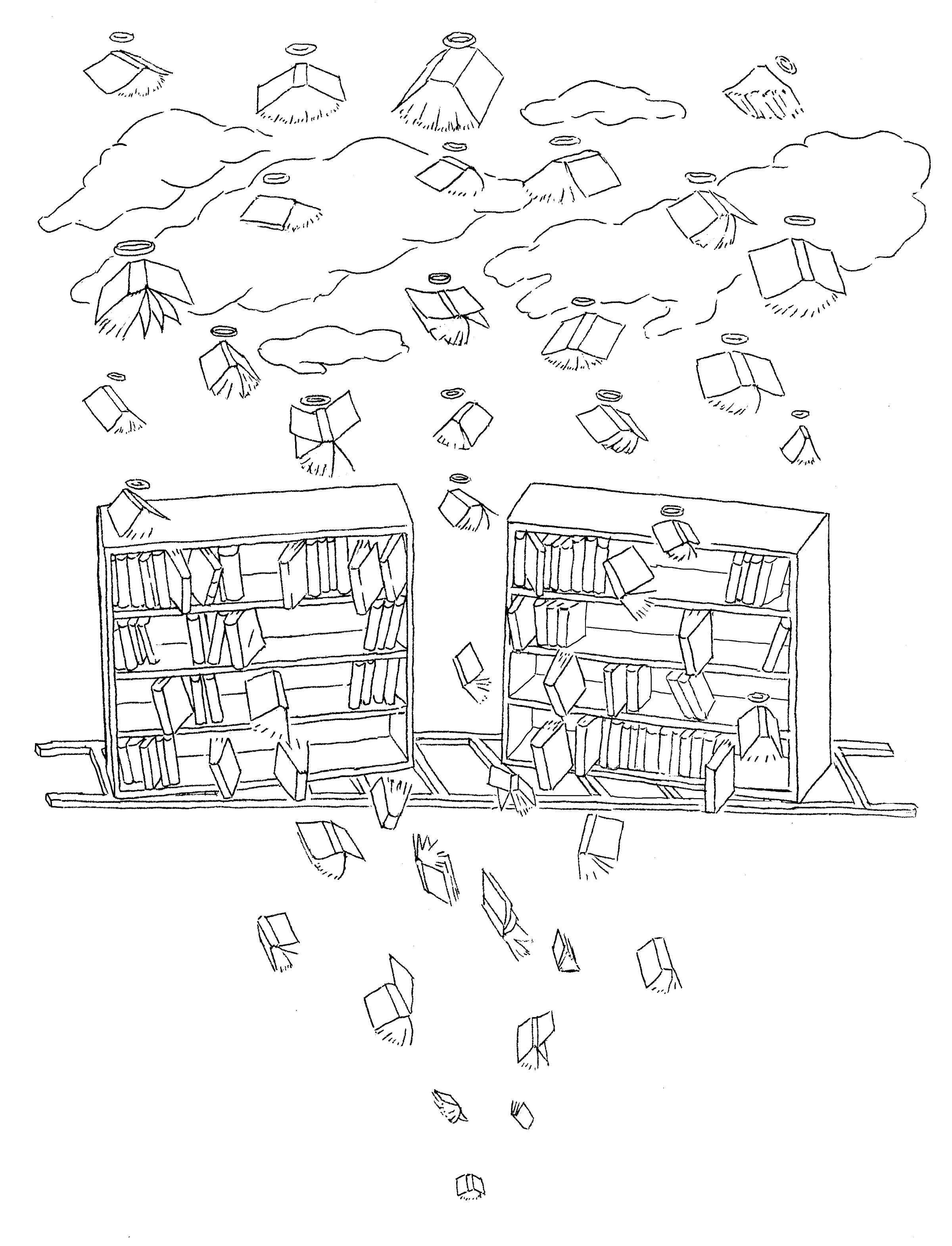 The environment that houses these resources has also become an increasingly rare amenity in this city: a clean, quiet, and free indoor space. People go to branch libraries to be together. I occasionally work at the Park Slope branch, a recently renovated testament to the value of this kind of space. During the day, parents gather on the mats of the kids' section and read stories to their children. The unemployed while away the working hours with dignity, staying in contact with the professional world through public computers, without having to spend $3 on coffee. After 3 p.m., a table full of adolescents chattily does homework. A curmudgeon like me might wish they were quieter, but in a city of tiny apartments (yes, even in Park Slope), the branch library may be the only comfortable place in which they can gather. These spaces are some of the last left in the city where ordinary members of the public can come together in an atmosphere dedicated to self-improvement and community, instead of one dedicated to buying and selling.
While I'm not interested in making the plight of the Brooklyn branch libraries into another tired "Great Mistake of '98" gripe — after all, the NYPL's network of branches faces many of the same problems — I do think there is something particularly Brooklyn about what the branch libraries represent. The borough has long represented the ideal of the middle-class urban community. Consider this Brooklyn Daily Eagle argument against consolidation:
Brooklyn is a city of homes. New York is a city of palaces and tenements. The very rich and the very poor make up its characteristic population. … The middling classes have in Brooklyn an ideal home. … Tell your tenement folk to come over here and settle in our outlying districts. There they can have real homes. Tell your half rich and would be richer folk to drop the tenements which they call flats or the flats which they call apartments and come over here and get a house with a yard in it big enough for the children and the dog.
To a certain extent, this argument was always more rhetoric than truth: the Pierreponts of Brooklyn Heights and the Leffertses of Flatbush weren't exactly proles. But true or not, people believed in this idea of Brooklyn as a home for free working men, an alternative urban vision to the plutocracy and alienating skyscrapers of Manhattan. It was not for nothing that Brooklyn, guided from the Plymouth Church pulpit by the colloquial oratory of Henry Ward Beecher, became a hub for abolitionism. "There never was a time when the bottom of society was so near the top as now," Beecher boasted. "The North binds society together, identifies its interests, equalizes it and kneads it, causing it to grow alike throughout, and makes it strong by the strength of its individuals, and gives to its individuals a commonweal. There can be no commonwealth of slavery." Slavery was an affront to the sensibilities of the Brooklynite, who saw himself first and foremost as a citizen in a community that held up equality as one of its chief values.
While this rhetoric might appear dead in the age of luxury developments, it remains, in some respects, a living discourse. Consider this year's ongoing discussion of which mayoral hopeful is the "outer-borough" candidate. "I believe in a vision for change for this city. Obviously I've been a champion for the outer boroughs," Public Advocate (and proud Brooklyn resident) Bill de Blasio has said. "I am always going to be an outer-borough boy at heart," Anthony Weiner claims. Even Christine Quinn, a Manhattan candidate if there ever was one, is fond of discussing her summers in the Rockaways.
What would it mean to "represent the outer boroughs"? To assemble only a few descriptions, these voters are "mostly white, blue-collar, and middle-class homeowners and small shopkeepers," "middle-class, outer-borough white ethnics," "the unfashionable middle-class strivers living in the outer boroughs." If "outer-borough voters" are people who work hard at unglamorous jobs so they can pay the bills, people who value their heritage, people who have managed to save up after a lifetime to own their own homes or businesses, people who don't want it all but simply want enough — if those are outer-borough voters, plenty of them live in Inwood, in Hell's Kitchen, and in Chinatown. The city as a whole looks more like a Brooklyn branch library on a weekday evening than the High Line on a Saturday afternoon.
These are people better served by branch libraries — and senior centers, and local parks, and good schools for all — than the flashy edifices the Bloomberg philanthropic-industrial complex has deemed fit to grant them. And yet the city establishment evinces bewilderment over New Yorkers' seemingly abrupt turn against the political status quo. In a recent column, former New York Times executive editor Bill Keller portrays Bloomberg's legacy as overwhelmingly positive, pointing to Hudson River Park, bike lanes, and Cornell's planned Roosevelt Island campus as significant accomplishments. The city's recent disenchantment is due to a mysterious ailment Keller dubs "Bloomberg fatigue." And as for the soaring inequality of the Bloomberg era:
Critics complain that Bloomberg gilded Manhattan to the point where nobody but the affluent can afford it, that the service class was pushed to remote neighborhoods with laborious commutes. There is some truth in that. But as Mitchell Moss, a professor of urban policy at New York University who has been an informal adviser to the mayor, points out, "New York City needs wealthy people, because we tax them." In turn, the people priced out of Manhattan (including young creative types) have brought new life — and new amenities — to parts of Brooklyn and Queens. Of eight million New Yorkers, Moss said, "1.6 million people live on Manhattan. The rest live elsewhere. And we've made elsewhere more attractive."
"The people priced out of Manhattan" have brought "new amenities," as if the hard work of community infrastructure spontaneously generated as the creative class moved across the bridge. Those of us less addicted to the wishful thinking of Bloombergism know that our libraries are crumbling from neglect, our hospitals are closing, and our schools are still failing. Or, a less charitable interpretation: for the Bill Kellers of this city, the people — the "creative types" who serve the rich as bartenders and baristas — are themselves amenities.
This Brooklynite and many others like him are sick of talking about the city as if it were a condominium and not our home where we live and work. We refuse a city where even the public sphere is increasingly geared toward the blessed elect: the increasingly inaccessible and underfunded CUNY system, charter schools that cherry-pick students, boutique parks in rich neighborhoods, a superfluous Norman Foster redesign of a Fifth Avenue landmark. Instead, we demand a city aimed at community and commonwealth. An "outer-borough" city. A branch library city.
If you'd like to write a letter in response to this essay, please email letters@bklynr.com.